I just want to send a reminder out about the Authorber Fest currently going on the Bookies Facebook Page (which I am an admin)!
We have had fun so far this month and the fun continues! Here is the full list of Author Takeovers: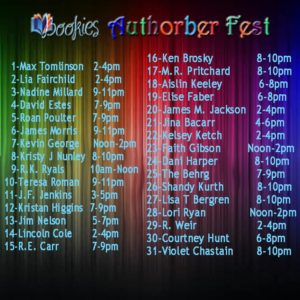 The times shown are Eastern Standard Time  in the United States.
What is an "Author Takeover?"  An author takeover is where an author controls the Facebook page for two hours and plugs themeselves, their books, whatever they want! There can involve giveaways!! I have already added some books to my neverending TBR (To Be Read) pile!!
I try to "attend" as many takeovers as possible, but I am personally looking forward to these takeovers, and hope to attend at least part of the takeover:
R.E. Carr – 10/15
M.R. Pritchard- 10/17
Aislin Keeley- 10/18- She has been interviewed and her book reviewed on this site.
Shandy Kurth- 10/26- She was featured in an Author Spotlight on this site.
R. Weir- 10/29- I have reviewed one short story and one book on this site. I am currently reading another of his "Jarvis Mann" novels.  I am really enjoying these books.
Please check out the Bookies site here:  Bookies
**Never miss a post!  On the lower right hand corner of the page click "Follow" and enter your email address.  You will get an email where you need to finalize the subscription. Then you will never miss a post.  I love my followers!!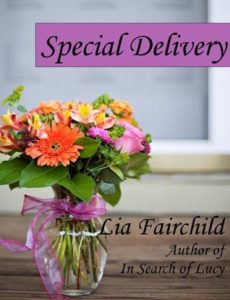 Author: Lia Fairchild
16 Pages in Kindle
Published: July 28, 2011
Dates Read: October 10, 2016
My Rating: 4 Stars
Short Story Summary from Amazon:
Free flowers every month for a year! Recently widowed Amy was delighted to find that she had won. Flowers had always been a big part of her life. But delivery driver Dave brings more than just bouquets. Can he help Amy find happiness again? Will Amy get even more than she bargained for? Find out in this short story about love, loss, friendship and flowers.
If you're looking for a quick read (only 5k words) with a sweet romantic feel, this is for you.
My Review:
I really enjoyed this short story by Lia Fairchild! It reminds me of the movie Bed of Roses starring Christian Slater and Mary Stuart Masterson, which I haven't seen in years! Special Delivery is like a fantasy most girls have: receiving flowers every month for a year! And it helps when the delivery guy is good looking too.
Amy receives a bouquet of flowers every month because of a contest she won. I very quickly identified with Amy: I am the same age as her, she was married for 4 years before her hubby died (I've been married just over 3.5 years and thankfully my husband is still with us), and I also have the same last name as Amy.
The story is very short, and has a conclusion. I only wished it was longer as I wanted more of Amy's story- before and after this story occurred! Yes, it is predictable but it is still enjoyable. Sometimes you just need a sweet and clean love story.
If you have 20- 30 minutes to spare, download this short story from Lia Fairchild! It is worth it. Just remember, you may want more to the story when it is over. I'm off to go watch Bed of Roses now!
[Top]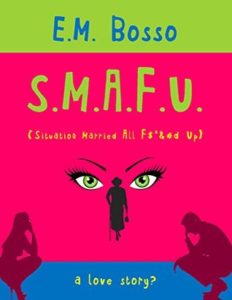 SMAFU: : Situation Married All F$" Up
Author: E.M. Bosso
281Pages in Kindle
Published: April 3, 2016
Dates Read: September 30- October 9, 2016
My Rating: 5 Stars
Book Summary from Amazon:
A sexy and humorous walk through life, as an elderly neighbor notices the impending end of a failing marriage and decides to step in and share her wisdom and life experience. If she can't help save the marriage, perhaps she can at least soften the pain.
Whether you are looking for a feel-good novel to inspire you to explore your dreams; a novel to help you affirm that you are not alone; or something to help you sit down and open up a new line of communication with your significant other, SMAFU will change your life.
My Review:
I was lucky enough to receive a copy of SMAFU to read for review from THE Book Club (TBC) on Facebook. I am thankful for the opportunity as I enjoyed the book!
Steve and Mary have been married for seventeen years and their marriage is in trouble and has been for a long time. They move to a new house and meet Cherisse who changes their lives. Cherisse is 90+ years old and "tells it like it is". She tells stories of her life along with parables to both Steve and Mary. As you learn things about Cherisse's life, maybe a little more than you want to know, she tries to help save Steve and Mary's marriage. Steve is the main character in SMAFU, and most of the book is from his perspective. Therefore, we get to see what marriage can be like from the male perspective, which we don't get much in novels. We see his thoughts and mistakes he makes.
This book has lots of humor (my favorite was when Steve tries to grocery shop!), sarcasm, and it makes you think. I love Cherisse's character! I wish there was someone like her in reality. She can really teach someone based on all her life experiences.
Will Steve and Mary save their marriage or is it destined to end as it was the beginning of the book? You will have to read to find out!
**Thank you again TBC for my copy of SMAFU
[Top]