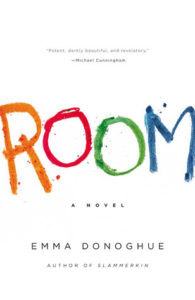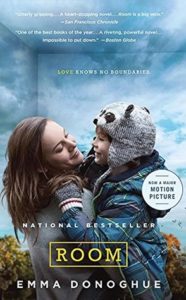 Author: Emma Donoghue
Audiobook
Published: September 13, 2010
Dates Read: November 10-24, 2016
My Rating: 5 stars
Book Summary from Amazon:
To five-year-old-Jack, Room is the world. . . . It's where he was born, it's where he and his Ma eat and sleep and play and learn. At night, his Ma shuts him safely in the wardrobe, where he is meant to be asleep when Old Nick visits.
Room is home to Jack, but to Ma it's the prison where she has been held for seven years. Through her fierce love for her son, she has created a life for him in this eleven-by-eleven-foot space. But with Jack's curiosity building alongside her own desperation, she knows that Room cannot contain either much longer.
Room is a tale at once shocking, riveting, exhilarating–a story of unconquerable love in harrowing circumstances, and of the diamond-hard bond between a mother and her child.
My Review:
I first listened to Room on audiobook just over three years ago. I decided that I want to watch the movie relatively soon, so I decided to listen to Room again so the book would be fresh in my memory.
Emma Donoghue takes a difficult subject matter (a kidnapping situation and rape multiple times) and gives us the book Room from the perspective of five year old Jack. This is a unique and original concept.
Jack has just celebrated his fifth birthday. All he has ever known in his life is Room, Ma, and Old Nick. Room is where Ma and Jack live. Ma has lived here for seven years after being kidnapped by Old Nick. Jack is the product of Ma being raped by Old Nick. Room is all that Jack knows. They do have a tv, and Jack believes that the rest of the world exists only on television. Ma does not tell him otherwise.
You can see how Jack experiences everything in Room and his curiosity about various things that all children become curious about. You can feel Ma's frustrations with their living situation and her hatred of Old Nick. Later on in the book, Old Nick informs Ma of a change in his living situation and Ma begins a plan to get her and Jack out of Room. They do escape from Room and their lives are just beginning at this point.  You can see the adjustment that Ma and Jack have to go through.
Throughout the book Jack talks about adult situations, but with the innocence of a child as he doesn't understand what is going on. But it is enough for the reader to know what is going on.
I really can not recommend this book enough! I think the book being from Jack's perspective makes it easier to read. It would have been a very different book if it had come from Ma's perspective. That would be an interesting book to read. Some authors have done that lately: rewrite their books from a different characters point of view. If Emma Donoghue ever chose to do that with Room, I would read it.
Audiobook Review:
I have listened to Room on audiobook twice now. It is superb! There are multiple narrators for Room and I find that makes it easier to listen to a book than a single narrator doing all the voices and changing their voice for the various characters. Changing their voice for multiple characters can be well done or not. I have heard both kinds of audiobooks. It really can affect your enjoyment of a book.
The narrator for Jack is Michal Friedman and she is brilliant! She voices Jack perfectly. She portrays the innocence, wonder, curiosity, and all the feelings that a five year old would express in this situation.
If I decide to read Room again in the future it will be the audiobook again. I can't imagine 'reading' it another way. The audiobook is perfect!
If you listen to audiobooks and have not read Room yet, get a copy from your local library or on Audible. If you don't really listen to audiobooks and are thinking about reading Room, give the audiobook a try!
Bonus PDF:
The audiobook I had of Room included a disc with a bonus PDF. The PDF is 'Jack's drawings' of Room. It gives you a perspective of how tiny the room that Jack and Ma lived in for his whole life and her for seven years. I am definitely looking forward to watching the movie now to see how it is interpreted onto the screen!
**If you do get the audiobook on cd, there are nine discs. I thought the ninth disc was just a bonus disc and I wondered why the book stopped suddenly at the end of the eighth disc. It was not over. The ninth disc does have more of the book on it. I'm guessing I didn't realize this three years ago when I listened to it the first time.
Room on audiobook is 100% recommended!
Heroes and Villains is a convention, similar to Walker Stalker. Actors from various shows such at Arrow, The Flash, Once Upon a Time, and more are there for you to meet! Yes, this IS book related as some of these shows started as graphic novels.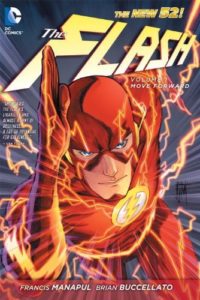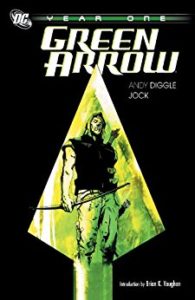 My husband and I wanted to attend Heroes and Villains.  We attended yesterday, November 19th.  It was in the same location as Walker Stalker (The Georgia World Congress Center).  Heroes and Villains was a much smaller scale than Walker Stalker: Not as many actors and vendors.  It was a much more relaxed atmosphere and not as many attendees!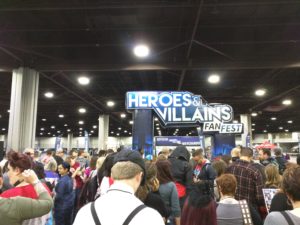 The crowd waiting to get in.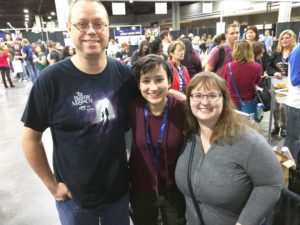 We got to meet Bex Taylor-Klaus. She was at Walker Stalker last year and Morgan missed meeting her since he had to work. So we made her our #1 to celebrity to meet.
She has played Bullet in The Killing, Sin in Arrow, and now Audrey in Scream the tv series.
I am so proud of Bex for coming out this past week (as a fan of hers I was not surprised of her sexual orientation). She is a brave young woman to do that. I support her and hope she can be a roll model for others. When I told her that, I could see it affected her as her eyes started to tear up a little.  She asked about Morgan's shirt too! The Birthday Massacre is his favorite band.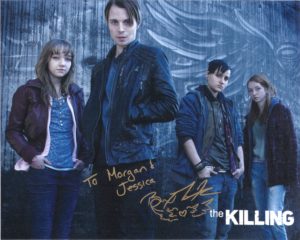 ---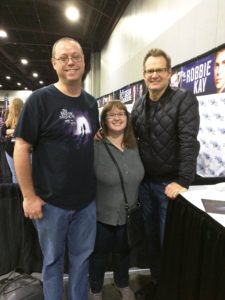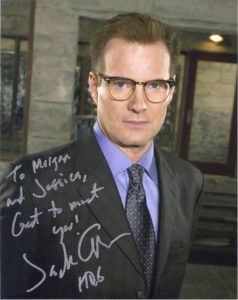 Morgan wanted to meet Jack Coleman. He was a nice guy to meet. It looked like we was just doing autographs, but we asked if we could get a photo and he said yes. He has played Noah in Heroes and Bill Forbes in the Vampire Diaries among other roles.  He is so tall, I had to be in the middle!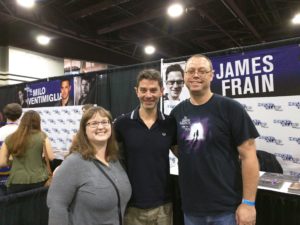 I had to meet James Frain! He has been in Grimm and True Blood. But I loved him as Forney in Where the Heart Is. I totally outed myself to him saying that was my favorite movie in college and I had a huge crush on him. lol:  Yep, I went a little fan girl on him… He was really nice. And I love the accent! He is TINY in person.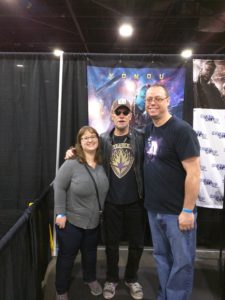 Merle!! He's alive!! lol… Morgan really wanted to meet Michael Rooker as he is impossible to meet at Walker Stalker. He is really interactive with the fans. Unfortunately, we ended up being rushed through with him as a VIP got out of line and came back in line right as we went up to him. That kind of sucked…. Oh well….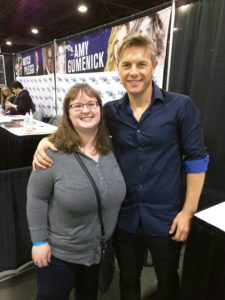 Rick Cosnett did not have a line, so I got to meet him! He played Eddie Thawne on The Flash and was also in Quantico. He is really nice and a cutie! Morgan chose to not be in the picture since we met him for me.
---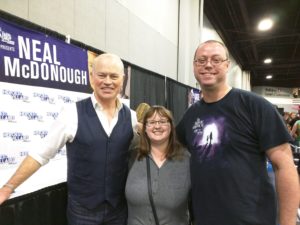 Neal McDonough! He has been in so many things.  Most recently Damien Dahrk in Arrow. He was great to meet! I also had to be in the middle of the pictures. Short problems!!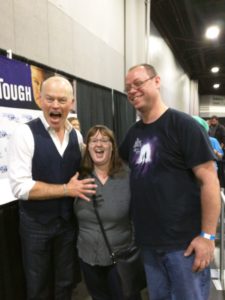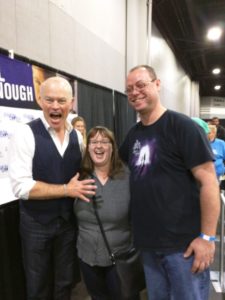 ---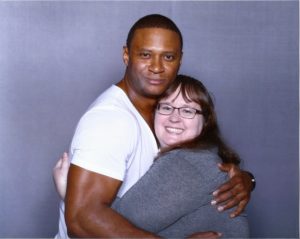 I got a photo op with David Ramsey. He plays John Diggle in Arrow. I love Diggle! Hopefully, if Heroes and Villains returns next year and he is there I can get him to sign this. It may have been a very quick encounter, but I enjoyed it. And I got a hug!!!
[Top]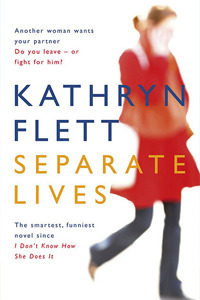 Author: Kathryn Flett
288 pages in Kindle
Published: July 5, 2016
Dates Read: November 8-19, 2016
My Rating: 2 stars
Book Summary from Amazon:
Your partner of ten years, and the father of your children (though not your husband, because the two of you agreed that marriage seems so…old-fashioned), receives a text message. A text message you happen to see when you're getting ready for work one day:
Start living a different kind of life… P 🙂 xxx
You don't even know anyone with the initial P, but even if you did, the smiley face and kisses would send a shiver of fear down your spine that everything you and your partner have built and which seemed so strong, might be in danger of collapse. How could you miss that?
Narrated by Susie, her partner Alex, and the mysterious P, this is an achingly funny, moving and honest portrayal of modern romance, parenthood, and adultery.
My Review:
The premise of the book made me want to read Separate Lives. Unfortunately, I got a different book than I was expecting.
I think I was expecting a 'fight to save your relationship' kind of book. Separate Lives was very different from that kind of book. I do like books with multiple narrators, as you get multiple points of view to get the whole story. The three narrators are Susie, Alex and P. Susie's narration was a 'standard' type of narration, Alex's narration was through emails, and the 'Mysterious P's narration is through letters to her mother (P turns out to be Pippa, this is not a secret as we quickly find out who 'P' is).
Issues I had with the book:
-All three of the protagonists were not likable. I did not really care what happened to them. Yes, Susie discovers the text, but there is something going on with her. I can't say what without spoilers.
– There were a few twists that were supposed to shock you but my reaction to them was just the opposite. This must have been because I was not attached to the characters.
-Susie and Pippa's narrations tended to drag on and mentioned things that were not relevant to the story. I found myself scanning through parts of both of their narrations. This happened more with Susie than Pippa, and some of the things Pippa would say in her letters to her mom I would not even say to my mom!
Towards the end of Separate Lives I did start to like Pippa a small amount. The last few chapters of the book did pick up for me. In the end of the book, that original text has so much more meaning that it did at the beginning of Separate Lives. I know some books are not for everyone and unfortunately Separate Lives was not for me.
I received a copy of Separate Lives from NetGalley.
[Top]