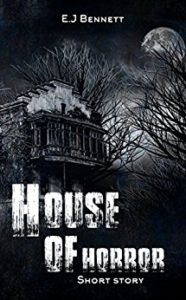 Author: E.J. Bennett
28 pages in Kindle
Published: 2/16/2017
Date Read: 2/19/2017
My Rating: 4 stars
Short Story Summary from Amazon:
When Mathew Hansen first heard the disembodied voice of a woman through the wall of his new London flat, he thought he imagined it. Mind playing tricks, in a flat that settled and creaked like an old woman. Or maybe too much booze fuelling his nightmares.
The voice couldn't be real; just the wind, moving around the old Victorian house.
Besides, his bangable neighbour Amanda couldn't hear the strange chanting sounds. She was just messing with him when she said she did. A little payback for sleeping with her and never calling her back.
It must be his imagination.
Right?
My Review:
Matthew is a player as he brings home a different woman nightly and throws them out as soon as he is done with them. He begins hearing things in his flat and it progressively gets worse. He goes to his next door neighbor Amanda for help who also happens to be a previous conquest of his. I won't say much more than this as it is a short story and don't want to give too much away.
I did not know what direction E.J. Bennett was going to go with House of Horror. I did enjoy it as with the horror in the story there is also a lesson to it.
I look forward to reading more by E.J. Bennett.
**I received an arc copy from the author.