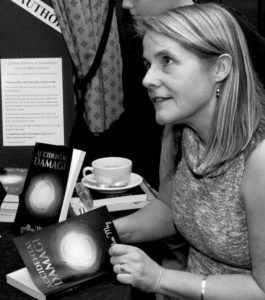 Today I am the final stop in a blog tour for Accidental Damage by Alice May. Today I will be interviewing her!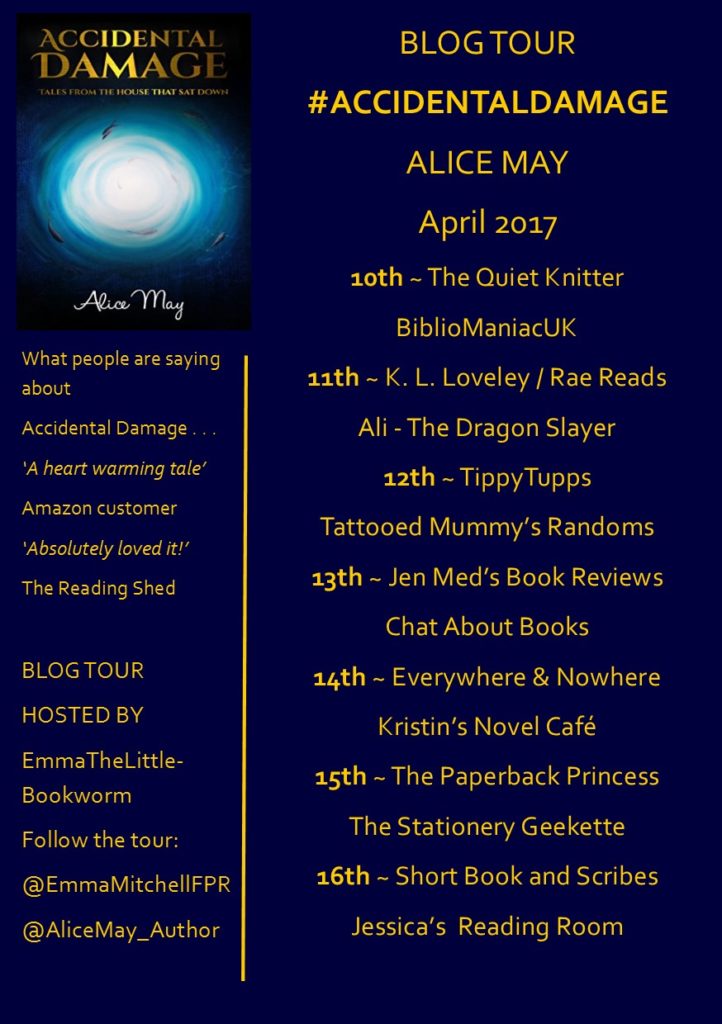 Jessica's Reading Room(JRR): What is the first book you remember reading or having read to you?
I remember my father reading 'Swallows and Amazons' by Arthur Ransome to me, at a very early age. My siblings and I would snuggle up together by the fire and Dad would read aloud. We always begged for 'just one more chapter please!'
JRR:  That sounds like great family time!  Who is your favorite literary character?
My favourite literary character is Lessa in Anne McCaffrey's 'Dragonflight' because she's cool and there are dragons. I can't say anything else without spoilers, but let's just say I really love dragons. I stumbled across this book at the age of 18. I had a lot of time to kill waiting for someone one day and had the choice between a bookcase full of medical text books and one novel. Not surprisingly I picked the novel and haven't looked back. I've since read every single book Anne McCaffrey has written and there isn't one that I wouldn't wholeheartedly recommend.
JRR:  Dragons! I will have to look into that book!  Which book have you always meant to get around to reading, but still not read?
War and Peace by Tolstoy. This is a novel that is regarded as a central work of world literature. I rather think I should have found time to read it. It's on my to-be-read pile honest!
JRR: Good luck with that one. It seems like not many have read it. If you could only take one book with you on a desert island, which would it be?
I would take 'The Lord of the Rings' trilogy – omnibus edition. Or is that cheating? It would certainly keep me going.
JRR:  That's not cheating, I promise!  😉 What are you currently reading?
I am currently reading Katie Fforde's new release 'A Secret Garden' and I am enjoying it very much. It's a warm hearted, enjoyable read with a bit of romance thrown in.
JRR:  Who would be at your dream dinner party (alive, dead or fictional)?
I would love to hold a dinner party for Katie Fforde, Trisha Ashley, Anne McCaffrey, J.K. Rowling, H. T. King and Kate Fenton. All are authors whose books have kept me going through the years and I would enjoy cooking up a feast for them to say thank you!
JRR:  Great answers!  What's the best advice you have ever received?
'Never ever give up!' My parents have been instrumental in encouraging me to pick myself up and dust myself off after every setback in life. They are right. Anything is possible, you just sometimes have to believe in yourself, grow a thick skin and get on with it.
JRR: That is great advice! Yay for mom and dad! What's the worst advice you have ever received?
"Do a French A-level. You'll be really good at it!" Hmmmm – I passed, but only just!!!
JRR: Who is your hero or heroine (real or fictional)?
Soppiness alert! My Beloved Husband is my hero. Just because!
JRR:  Awww!  Where are you happiest?
I am happiest walking along the beach, whatever the weather, listening to the waves and just 'being'.
JRR:  Peaceful as long as there are not many people there! Who would you like to star in the film of your life?
Victoria Wood. She was such a talented lady. I have thoroughly enjoyed all her work, especially her poignant portrayal of Ella Last in 'Housewife 49'.
JRR:  Describe your best ever holiday.
Surfing (I really mean body boarding but I like to pretend I can surf) in Cornwall with my husband and kids. A whole day on the beach followed by chips and a pint of cold lager (lemonade for the kids of course) in the evening is my idea of heaven. Maybe I will take a learn-to-surf course one of these days.
JRR:  That sounds like a good time!  If you could be invisible for a day, what would you do?
If I could be invisible for a day I would probably sleep if, I am being completely honest. As a busy working mother, I spend my life running from one spinning plate / disaster issue to another. If I was invisible no one would see me just relaxing. Could I be deaf to all the people grumbling that I am not doing what I am supposed to be doing too, please?
JRR: Sure!  If I joined you on your perfect day, what would we be doing?
My perfect day would involve sunshine and good coffee. Probably cake as well! I don't have terribly high maintenance needs.
JRR: Cake! Can I join you?
**Thank you for your time Alice! I had fun getting to know you! **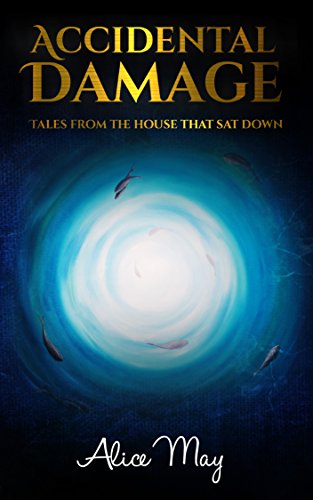 Buy Accidental Damage Now!
Book Description
If you think the normal school run on a Monday is entertaining you should try doing it from a tent in your back garden surrounded by the jumbled up contents of your entire home. It is vastly more diverting.
Our heroine has survived the sudden collapse of her home – or has she?
Certain events two and a half years ago led her to deliberately destroy an important piece of herself, hiding away all remaining evidence that it ever existed. What happens when she decides to go looking for it?
Does she really deserve to be whole again?
Inspired by a true story, this is an account of one woman's secret guilt and her journey in search of forgiveness!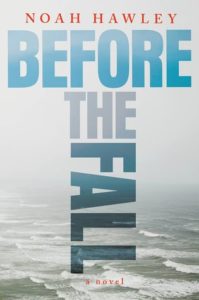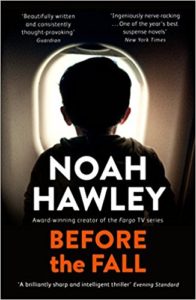 The left is the US cover and the right is the UK cover. Most of the time I prefer the UK cover to the US cover! That is the case with Before the Fall.  It seems like I live in the wrong country when it comes to books!

Author: Noah Hawley
401 pages in Kindle
Published: May 31, 2016 (US) April 6, 2017 (UK)
Dates Read: March 27- April 13, 2017
My Rating: 4 Stars
Book Summary from Amazon
On a foggy summer night, eleven people–ten privileged, one down-on-his-luck painter–depart Martha's Vineyard on a private jet headed for New York. Sixteen minutes later, the unthinkable happens: the plane plunges into the ocean. The only survivors are Scott Burroughs–the painter–and a four-year-old boy, who is now the last remaining member of an immensely wealthy and powerful media mogul's family.
With chapters weaving between the aftermath of the crash and the backstories of the passengers and crew members–including a Wall Street titan and his wife, a Texan-born party boy just in from London, a young woman questioning her path in life, and a career pilot–the mystery surrounding the tragedy heightens. As the passengers' intrigues unravel, odd coincidences point to a conspiracy. Was it merely by dumb chance that so many influential people perished? Or was something far more sinister at work? Events soon threaten to spiral out of control in an escalating storm of media outrage and accusations. And while Scott struggles to cope with fame that borders on notoriety, the authorities scramble to salvage the truth from the wreckage.
Amid pulse-quickening suspense, the fragile relationship between Scott and the young boy glows at the heart of this stunning novel, raising questions of fate, human nature, and the inextricable ties that bind us together.
My Review
Before the Fall focuses on a private plane crash. There were eleven individuals on what ended up being a very short flight of only 16 minutes. All but one person on the flight, Scott Burroughs, are wealthy or well known. Only Scott and JJ, a four year old boy, survive the crash.
Before the Fall has a very strong opening! I was pulled in immediately with the plane crash and Scott and JJ trying to survive in the ocean at night. It is very intense and I like Noah Hawley's writing style. I felt like I could see everything happening as I read Before the Fall.
There are two splices of time in the novel: Before and after the crash. There are multiple points of view (POV) in the story. If you follow my reviews then you know I love books with multiple POVs! Scott is the main focus in the POVs after the crash, and with good reason. He survived and many agencies including the NTSB want to know what happened. I never wanted to stop reading when the novel focused on Scott. We see all the emotions and feelings Scott goes through, and all of his experiences with the media that a plane crash survivor may go through, both positive and negative.
You also get a feel of what the investigations are like for plane crashes. It seems like Noah Hawley did his homework. I felt I learned something reading Before the Fall.
In the flashbacks before the plane crash we get to know each of the passengers, pilot, copilot, and flight attendant that did not survive. These were interesting as well and all are important as it all comes together for us to discover the cause of the crash. I found myself still interested in these stories, but not as intensely interested as I was in Scott and JJ's stories after the crash.
What kept me from giving Before the Fall five stars is the ending. Yes, we find out the cause of the crash, but after all the buildup the ending was anticlimactic and not satisfying for me. With everything suspected throughout the novel, I was expecting something more than what we got which was a simple yet unexpected cause. I wish I could say more, but that would involve spoiling the ending.
Despite my disappointment in the ending, Before the Fall is recommended.
**Before the Fall had been on my TBR pile for a while and I happened across it on NetGalley as a 'Read Now'. It said preferred for UK readers as it is a new release in the UK, but NetGalley still let me read it. Thank you for my copy NetGalley!
[Top]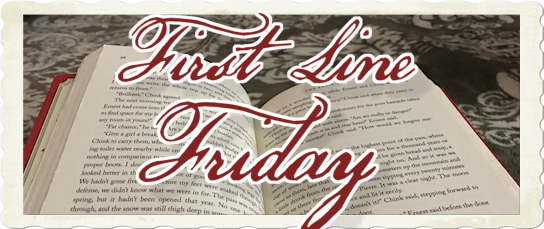 Today's First Line Friday deals with an issue every parent fears: something happening to their child in a violent way.  This books leads  is the aftermath that leads up to the Nineteen Minutes where the event occurs.
By the time you read this, I hope to be dead.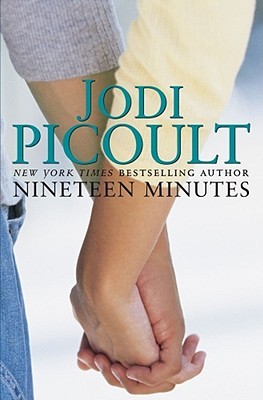 Jodi Picoult, bestselling author of My Sister's Keeper and The Tenth Circle, pens her most riveting book yet, with a startling and poignant story about the devastating aftermath of a small-town tragedy.
Sterling is an ordinary New Hampshire town where nothing ever happens–until the day its complacency is shattered by an act of violence. Josie Cormier, the daughter of the judge sitting on the case, should be the state's best witness, but she can't remember what happened before her very own eyes–or can she? As the trial progresses, fault lines between the high school and the adult community begin to show–destroying the closest of friendships and families.
Nineteen Minutes asks what it means to be different in our society, who has the right to judge someone else, and whether anyone is ever really who they seem to be.