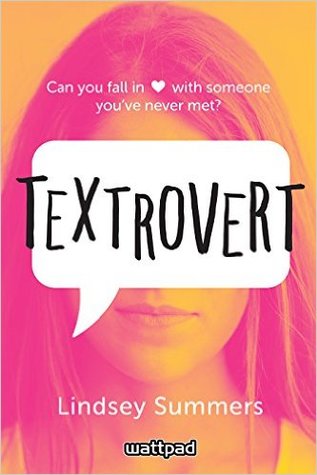 Author: Lindsey Summers
234 pages in Paperback
Published: May 2, 2017
Dates Read: May 2-8, 2017
My Rating: 4 Stars
Book Summary from Amazon:
It's bad enough when high-school senior Keeley grabs the wrong phone while leaving her small town's end-of-summer fair. It's even worse when she discovers that the phone she now has belongs to the obnoxious, self-centered Talon and that he's just left for football camp … with her phone. Reluctantly, the two agree to forward messages for a week. And as Keeley gets to know Talon, she starts to like him. Keeley learns there's more to Talon than the egocentric jock most people see. There's more to Keeley, too. Texting Talon, she can step out of the shadow of her popular twin brother. Texting Talon, she can be the person she's always wanted to be.
Sparks fly when the two finally meet to exchange their phones. But while Keeley has been playing a part online, Talon has been keeping a secret. He has a different connection to Keeley — one that has nothing to do with phones, and one that will make their new relationship all but impossible. Knowing what she now knows, can Keeley trust him? And can love in the present erase mistakes of the past?
My Review:
Keeley is the center of Textrovert. She is at the fair and unknowingly picks up the wrong phone. Once she discovers she has the wrong phone she begins conversing with Talon, who has her phone. They communicate via texts and some phone calls. Talon has left to attend football camp for a week so they decide to forward texts and phone calls during that week.
What begins as fun bantering and flirting for Keeley develops into feelings for Talon, despite the fact that they have not met. But things are not that easy. Once they meet to return each other's phones there are some identity issues, secrets, and more. Will all this end their budding relationship or will they be able to overcome the many issues that come to the forefront?
Textrovert is a cute and sweet YA novel that can be read very quickly. I liked Keeley who is the 'quiet one'. Her twin brother is Mr. Popularity; she has always lurked in the shadows. She will be starting her senior year of school and has no idea what she wants to do after graduation. I liked how we saw her grow and become comfortable with her true self over the course of the novel. For the most part I liked the relationship between Keeley and Talon, despite his secrets. At times you wonder if his feelings are real or is he putting on an act. It seemed sweet and not over the top. I liked how they took their time with the relationship; it seems on par with 'real life' teens versus some 'book teens' or teens in movies who go 'full speed ahead' without much thinking. There is some high school drama that presents itself over the course of Textrovert, which comes into play with who Talon really is.
I also enjoyed Keeley and her brother Zach's relationship. They are twins and despite issues they have, you can see how much they mean to each other and how much they support each other. Despite some issues and differences, they truly need and care for each other.
Textrovert is about more than two teens getting to know each other through texts. It's about how important truth is and learning who you really are.
This will make a great quick summer read for anyone who enjoys YA.
Textrovert is recommended.