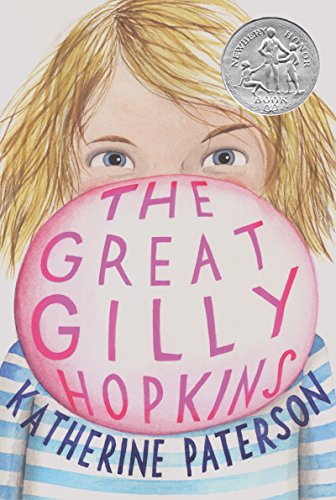 Author: Katherine Paterson
172 Pages
Published: March 3, 2009
Reviewed By: Kim
Kim's Rating: 4 Stars
Description from Amazon:
This Newbery Honor Book from bestselling author Katherine Paterson will simultaneously tug on the heartstrings and cause laugh-out-loud laughter. Eleven-year-old Gilly has been stuck in more foster families than she can remember, and she's disliked them all. She has a reputation for being brash, brilliant, and completely unmanageable, and that's the way she likes it. So when she's sent to live with the Trotters-by far the strangest family yet-she knows it's only a temporary problem. Gilly decides to put her sharp mind to work and get out of there fast. She's determined to no longer be a foster kid. Before long she's devised an elaborate scheme to get her real mother to come rescue her. Unfortunately, the plan doesn't work out quite as she hoped it would…
Kim's Review:
I started out this book, hating Gilly Hopkins. No wonder she changes foster homes so fast, she's a nasty little girl! And I know, she's had a hard life, the foster care system is hardest on the kids, and I should probably have more compassion . . . if it makes it any better, I did kinda, sorta like her by the end of the book. She thinks she's smarter than everyone else in the world. She behaves in horrible ways just to get a rise out of people. And she has to have her own way or she throws a fit. If I behaved like that, my mom would have tanned my hide and I wouldn't have been able to sit down for a week! Yes, I know, compassion. She was abandoned by her mother, shipped from one house to another.
Thankfully, she begins to learn important lessons throughout the story. And the person who I loved more than anyone in this book is Miss Harris, Gilly's teacher. Miss Harris found a way to relate to Gilly in a way that makes Gilly think she's still in control, but is willing to learn and make changes. I'd love to think that I had, at the very least, a good impact on my students when I taught. My kids were a little older and not as troubled as Gilly, but being the one that the girls came to when they needed advice about boys, being the one that the boys felt comfortable enough with to come eat lunch in my room everyday . . . I'd like to think that I was somewhat successful. And Trotter was a saint, with such patience, showing Gilly and W.E. love, no matter what the situation. And dear old Mr. Randolph. I'd love to have a blind little old man coming to my house every night for dinner, if he was like Mr. Randolph. Even though this is classified as a kids' book, I wouldn't recommend this to kids. I would absolutely recommend this to teachers, but also to anyone else who wants a good, heartwarming read.