Standalone Sunday was started by Megan over at Bookslayer Reads.

What is Standalone Sunday?
Each Sunday bloggers feature a standalone book (one that is not part of a series) that they loved or would recommend. The standalone can also be one you want to read. There is so much focus on books that are part of a series that standalone books seem to be forgotten. They can be just as great as book series!
Here is my selection for this week:
The Farm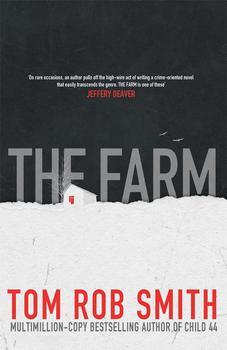 If you refuse to believe me, I will no longer consider you my son.
Daniel believed that his parents were enjoying a peaceful retirement on a remote farm in Sweden. But with a single phone call, everything changes.
Your mother…she's not well, his father tells him. She's been imagining things – terrible, terrible things. She's had a psychotic breakdown, and been committed to a mental hospital.
Before Daniel can board a plane to Sweden, his mother calls: Everything that man has told you is a lie. I'm not mad… I need the police… Meet me at Heathrow.
Caught between his parents, and unsure of who to believe or trust, Daniel becomes his mother's unwilling judge and jury as she tells him an urgent tale of secrets, of lies, of a crime and a conspiracy that implicates his own father.
---
I loved Tom Rob Smith's Child 44 series.  I was sad to say goodbye to Leo at the end of that series. Leo really grew on me, but why wouldn't he? The series was three books and decades of Leo's flawed life. I think that is why the character grew on me, he was flawed!  When I found out Tom Rob Smith wrote another book, I became excited. I can't wait to read this one as it sounds really good!