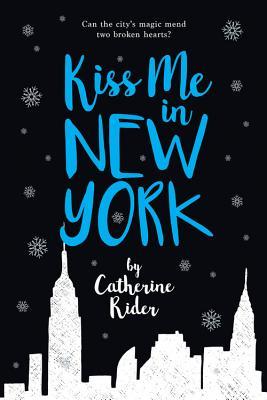 Author: Catherine Rider
To Be Published: October 3, 2017
200 pages
Reviewed By: Jessica
Dates Read: September 13-19, 2017
Jessica's Rating: 4 Stars
Book Description from Amazon:
It's Christmas Eve at JFK in NYC.
Charlotte is a British student, waiting for a flight home after the worst semester of her life. Anthony is a native New Yorker, surprising his girlfriend at the airport after three months apart. Charlotte has just been dumped, and Anthony is about to be dumped, right in the middle of the holiday crowd.
Charlotte's flight is canceled when a blizzard blows in, and Anthony can't bear to go home. So, they set out into the city together, clutching a book Charlotte picks up in the airport gift shop: Ten Easy Steps for Getting Over Your Ex. For this one night, they'll focus on healing their broken hearts … together.
Step-by-step, the two struggle to put the past behind them. But the snow is so enchanting, and the holiday lights are so beguiling, that soon their shared misery gives way to something else. Soon, they're not only over their exes — they're falling for each other.
Then a subway ride splits them up by mistake. Will they reunite before Charlotte's flight leaves New York forever?
Part Before Sunrise, part Sleepless in Seattle, this delightful story will appeal to anyone who sees the romance in a swirl of snowflakes at the top of the Empire State Building, or anyone who's wondered if true love was waiting at the other end of the airport ticket counter.
Jessica's Review:
I don't usually read Christmas stores, but the publisher KCP Loft sent me an arc copy.  Kiss Me in New York ( referenced as Kiss Me for the rest of this review)  is meant to be read at Christmastime.  It is one of those sweet and magical stories that you go all 'goo goo' for.
Kiss Me reminded me of a couple of movies: Before Sunrise and Serendipity. I need  to watch both again and finally watch the sequel that was made after Before Sunrise!  Kiss Me is more similar to Serendipity to me as it takes place in New York as well.
Kiss Me is an enjoyable journey as we meet both Charlotte and Anthony as they get to know each other over the span of a few hours. It is a quick read at 200 pages.  The chapters rotate between Charlotte and Anthony as narrators, so we get to see both sides of the story.  As they both work to get over their exes, the both begin to wonder what the other one is feeling.
It is recommended if you enjoy Christmas stories or are a fan of sweet YA novels.  This could be a novel one reads every Christmas.  I hope there will be a sequel as I want to know what happens next!
Thank you to KCP Loft for sending me an arc copy to review!