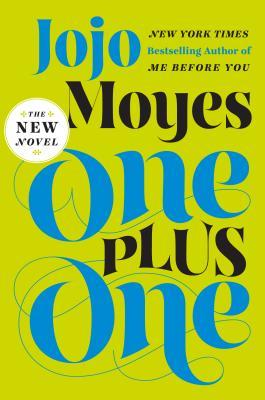 Author: Jojo Moyes
432 Pages
Published: March 31, 2015
Reviewed By: Kim
Kim's Rating: 4 Stars
Description from Amazon:
Suppose your life sucks. A lot. Your husband has done a vanishing act, your teenage stepson is being bullied, and your math whiz daughter has a once-in-a-lifetime opportunity that you can't afford to pay for. That's Jess's life in a nutshell—until an unexpected knight in shining armor offers to rescue them. Only Jess's knight turns out to be Geeky Ed, the obnoxious tech millionaire whose vacation home she happens to clean. But Ed has big problems of his own, and driving the dysfunctional family to the Math Olympiad feels like his first unselfish act in ages . . . maybe ever.
Kim's Review:
Another great book by Jojo Moyes! I got through this book very quickly. I enjoyed the story and had a hard time putting it down. It was an easy read with lots of emotions! I fell in love with little Tanzie and all of her quirks. She's definitely smarter than I was at that age, but I identified with her eagerness to learn and to do well with her schoolwork. I can also identify with being different. Although Nicky accentuates his differences with mascara and eye liner, there's still the underlying message of "why try to fit in when you were born to stand out."
Moyes managed to capture that without making her characters whiny and childish. And Jess is a downright inspiring character! Until the pile of wrong has completely engulfed her, she never lost her optimism, she never lost faith. Her theme seemed to be "everything's going to be fine, everything will work out." I really liked her! Ed is not my favorite leading man, but he and Jess had a nice chemistry. The sexual tension was subtle and that kept Jess from looking like the chick who jumps into bed with every man that comes along.
By the time the book was over, I was emotionally invested in the characters' lives. I cared whether or not Tanzie got to the Olympiad, whether she won or not. I cared whether or not Nicky's tormenters were caught and punished. I cared whether or not Jess and Ed managed to identify their feelings and decided to stay together. After reading Me Before You, I didn't know what to expect at the ending! Thankfully, I didn't completely break down in tears with this book, but I did get a little misty. The only reason I gave this 4 stars, is because of the timeline. A true love story in less than a week smacks of trashy romance novel to me. But I still loved this book, I enjoyed reading it, and I recommend it to anyone who wants a heartwarming, emotional story.