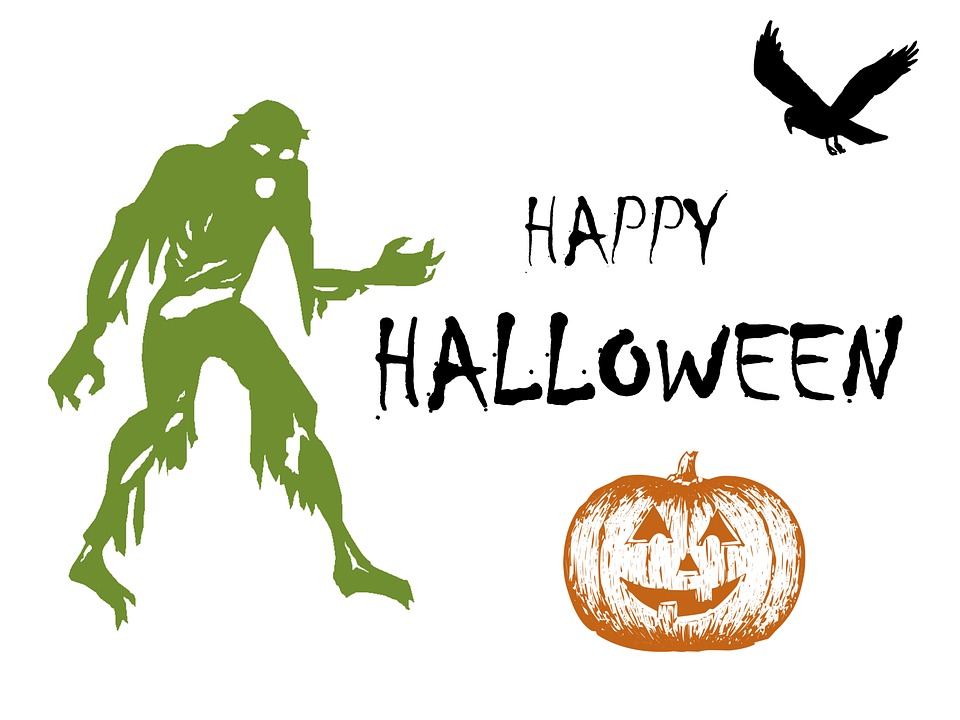 Happy Halloween!! It's a work day, so it won't be too fun or exciting. BUT… It's still Halloween!!!  Today Kim brings the perfect series for a Halloween review: The Asylum Series by Madeleine Roux!! She has the best "Bookstagram" picture: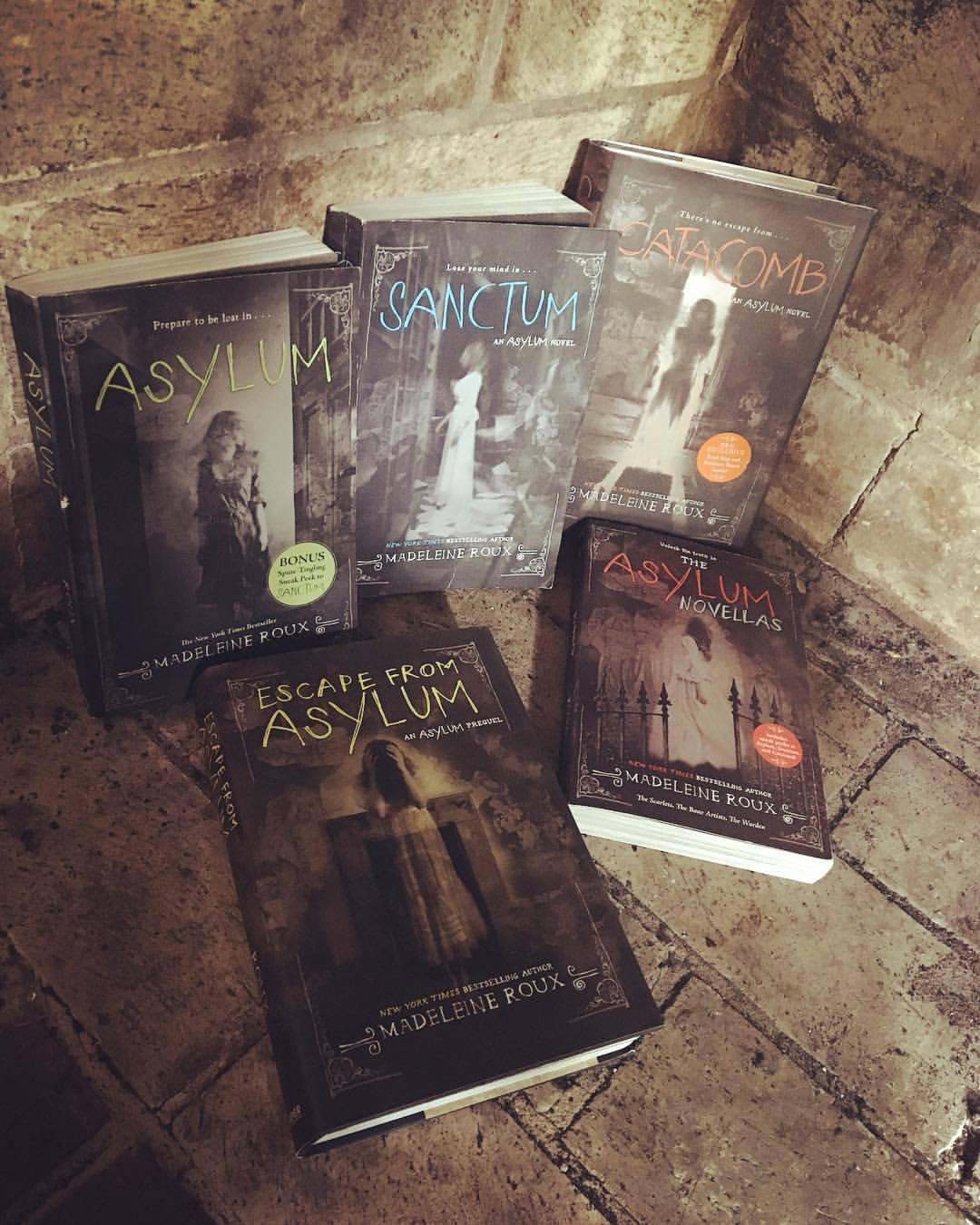 The Asylum Series
Author: Madeleine Roux
Books in the Series:
Asylum
Sanctum
Catacomb
The Asylum Novellas
Escape from Asylum (Prequel)
Reviewed By: Kim
Kim's rating of the series: 5 Stars
Description from Amazon:
Asylum: For sixteen-year-old Dan Crawford, the New Hampshire College Prep program is the chance of a lifetime. Except that when Dan arrives, he finds that the usual summer housing has been closed, forcing students to stay in the crumbling Brookline Dorm—formerly a psychiatric hospital. As Dan and his new friends Abby and Jordan start exploring Brookline's twisty halls and hidden basement, they uncover disturbing secrets about what really went on here . . . secrets that link Dan and his friends to the asylum's dark past. Because Brookline was no ordinary mental hospital, and there are some secrets that refuse to stay buried.
Sanctum: Dan, Abby, and Jordan remain traumatized by the summer they shared in the Brookline asylum. Much as they'd love to move on, many questions remain, and someone is determined to keep the terror alive, sending the teens photos of an old-timey carnival, with no note and no name. Forsaking their plan never to go back, the teens return to New Hampshire College under the guise of a weekend for prospective students, and there they realize that the carnival from the photos is not only real, it's here on campus, apparently for the first time in many years. Sneaking away from sample classes and college parties, Dan and his friends lead a tour of their own—one through the abandoned houses and hidden places of a surrounding town. Camford is hiding a terrible past, and the truth behind Dan's connection to the asylum's evil warden is more terrifying than Dan ever imagined.
Catacomb: Sometimes the past is better off buried. Senior year is finally over. After all they've been through, Dan, Abby, and Jordan are excited to take one last road trip together, and they're just not going to think about what will happen when the summer ends. But on their way to visit Jordan's uncle in New Orleans, the three friends notice that they're being followed . . . and photographed. Then Dan starts receiving messages from someone he didn't expect to hear from again—someone who died last Halloween. When the trio arrives in New Orleans and the strange occurrences only escalate, Dan is forced to accept that everything that has happened to him in the past year may not be a coincidence but fate—a fate that ties Dan to a group called the Bone Artists, who have a sinister fascination with notorious killers of the past. Now Dan's only hope is that he will make it out of his senior trip alive.
Asylum Novellas: In The Scarlets, Cal is drawn into New Hampshire College's twisted secret society—one with a deadly initiation. In The Bone Artists, Oliver tries to make a little extra money for college by working for a seedy organization that traffics in human bones. In The Warden, a young nurse starts a new job at the Brookline asylum but soon becomes suspicious of its unorthodox procedures. . . .
Escape from Asylum: The nightmare is just beginning. Ricky Desmond has been through this all before. If he could just get through to his mother, he could convince her that he doesn't belong at Brookline. From the man who thinks he can fly to the woman who killed her husband, the other patients are nothing like him; all he did was lose his temper just a little bit, just the once. But when Ricky is selected by the sinister Warden Crawford for a very special program—a program that the warden claims will not cure him but perfect him—Ricky realizes that he may not be able to wait for his mom a second longer. With the help of a sympathetic nurse and a fellow patient, Ricky needs to escape now. Set long before Dan, Abby, and Jordan ever walked the hallways of the Brookline asylum—back when it was still a functioning psych ward and not a dorm—Escape from Asylum is a mind-bending and scary installment in the Asylum series that can stand on its own for new readers or provide missing puzzle pieces for series fans.
Kim's Review:
I absolutely love this series! I first discovered it 2 years ago while on one of my many trips to Barnes and Noble. I had just finished Miss Peregrine's Home for Peculiar Children and I was looking for something new and still in with the dark and eerie atmosphere. If you've read any of my other reviews, then you know that I love asylums and mental hospitals. So, when I saw Asylum, with its creepy cover, I snatched it up and I've been hooked ever since. Asylum is exactly what you want in a scary read. It has everything: ghosts, an asylum, mystery, human experimentation, history, etc. I usually read it all in one sitting, it's an easy read but without being boring and oversimplified. I fell in love with Dan, Abby, and Jordan. I couldn't help but feel sorry for Dan. As someone whose family tree has been researched and listed out for the last 15 generations, I can understand how important knowing where you came from can be. Dan doesn't have that benefit. Abby, the passionate artist, is one of the most courageous characters I've read. She's scared, and has no problem admitting, but it doesn't stop her from doing what she believes is right. And Jordan . . . you love him, you hate him, you never forget him! He provides some much-needed comic relief. The story drew me in and I ended up finishing Asylum in one evening and went back to B&N the next day and picked up the next book.
Sanctum scared the living crap out of me! As with most sequels, this story isn't quite as strong as the first book, but the scary element wins out! I started reading it while Ivan was working a night shift, and I had to stop, get up, get dressed, and drive back to sit at the B&N Café just so I could keep reading. Yeah, it's that scary! And I'll admit that the first time I read it, I didn't get it. There were some details that were a bit murky to me. But reading it again this year, I finally got it. The story resolved itself in a way that makes sense. After reading the series several times, I'd say that this is the place to read the novellas.
I'm not a big novella person, but I really liked these. They did what novellas are supposed to do. They gave added info that made the stories clearer. The Scarlet and The Warden give much needed background info that clears up a lot of that murk that I described in Sanctum. And Escape from Asylum would have been confusing without reading The Warden first. The Bone Artists is actually a very good sedge way into Catacomb.
Catacomb, I feel, is the weakest book in the series. I understand that Roux felt that Dan and Abby and Jordan's story wasn't finished, but this book is where it stopped being about the asylum and started being about Dan. Part of me says that Catacomb should have been a stand-alone book, completely separate from the series. But the more I ponder it, the more I'm ok with it being in the series, just not the highlight of it. There's a very thin tie to Brookline Asylum and Warden Crawford, and that's what I didn't like. If she had connected this book to the other stories a little better, I think I would have liked this book better.
Though Escape from Asylum is considered a prequel, I would not suggest reading it as the first book in the series. There is a lot of info that will fly over your head if you don't have the foundation of Asylum, Sanctum, and the novellas. This one isn't quite as scary as the other books are. This one is the perfect asylum story. Crazy doctor who experiments on the patients, electroshock, hypnosis, rebellious nurses, patient conspiracy, some paranormal activity, etc. This one could also function as a stand-alone, even with those couple of details that are explained earlier in the series.
Overall, I love this series. It's the first one I bring up when someone asks me for a book suggestion. I absolutely recommend this to anyone wanting a scary, Halloween read, or for anyone looking for an interesting series.
Purchase Links:
Amazon US
Amazon UK
Author: Taryn Leigh
Published: March 29, 2017
289 pages in Paperback
Reviewed By: Jessica
Dates Read: October 14-29, 2017
Jessica's Rating: 5 stars
Book Description from Amazon:
Sarah Lewis desires nothing more than to begin again after a failed marriage and a tragedy so terrifying, it forces her to leave her life in London to stay with her best friend a world apart in South Africa.
Despite immediate success in her business, she struggles to understand who she really is and where she belongs in the world. So begins a journey of discovery as Sarah re-unites with Katy in the land where she was born, where the air is lavender scented, and weekends are spent cycling on the beach.
Until the day when she has to return to London to face the ghosts of her past and confront a situation that has grown more complicated in her absence.
Perfect Imperfections is an intriguing tale which hints at wrongdoings and deceit without giving too much away. The author cleverly weaves a tale around fragile yet strong Sarah as she tries to reconcile her past with her future, engaging the reader to the point where we simply want the best for her and for happiness finally to come her way.
Jessica's Review:
Perfect Imperfections is Taryn Leigh's debut novel and it is a mix of mystery and adventure with some romance.
Sarah Lewis has experienced something that many people never go through and she is a broken woman at the beginning of the novel.  Taryn Leigh pulls you in from the start as we go on this journey with Sarah. You grow to care for Sarah as the novel progresses and once we learn what she experienced your heart can only do one thing: break for her pain and loss.
Perfect Imperfections is a beautifully written yet heartbreaking novel.  It also deals with long term friendship, love, and hope. As the novel progresses we see how Sarah grows from being a very broken woman to who she becomes at the end.
Perfect Imperfections  is one you don't want to put down and the further you get into it, the more you don't want to stop.  I wanted more story with the last few chapters as I felt the story can continue and I hope Taryn beings us back into Sarah's life. I would love to see the next chapter in her life!
I found myself wondering about the cover and the title when I started the book.  As you read the novel you understand the meaning behind everything and I love it!!
This is one that everyone should read. Perfect Imperfections is recommended.
Many thanks to Taryn Leigh and her publisher Olympia Publishers for the copy I was sent. It was a pleasure to read. I just wish it had not taken me so long to read it, but the wait was worth it!
Purchase Links
Amazon US
Amazon UK
This picture and its meaning will mean more to those who have read Perfect Imperfections. This is more than just a picture of the novel and a toy giraffe.  The giraffe was my dog's favorite toy. She passed away nearly 2.5 years ago and this was one thing of the things I wanted to keep as a reminder of her. There is a lot more meaning for now after reading Perfect Imperfections.
RIP baby girl!  6/2005-6/2015
[Top]
This week Kim reviews the How to Hang a Witch series by Adriana Mather. With Halloween this month, this was the perfect time for these books to be read and reviewed. This looks to be a series that I would enjoy!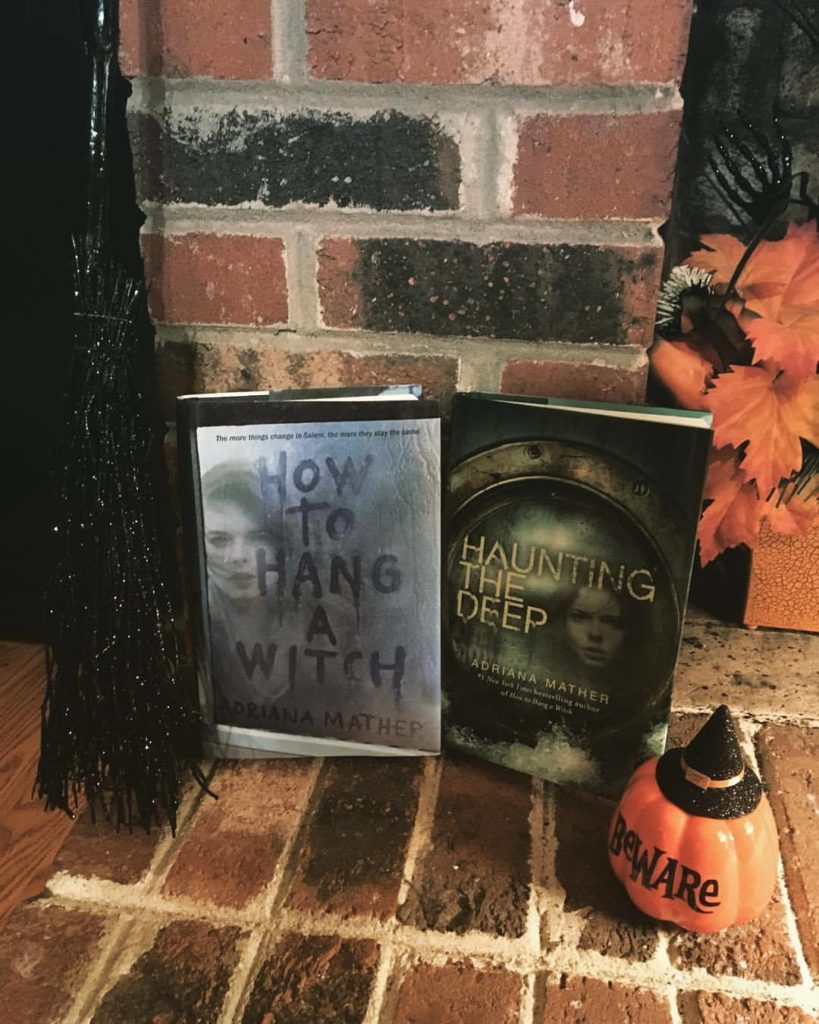 Author: Adriana Mather
Books in the Series:
How to Hang a Witch
Haunting the Deep
Reviewed By: Kim
Kim's rating of the series: 4 Stars
Description from Amazon:
How to Hang a Witch: Salem, Massachusetts, is the site of the infamous witch trials and the new home of Samantha Mather. Recently transplanted from New York City, Sam and her stepmother are not exactly welcomed with open arms. Sam is the descendant of Cotton Mather, one of the men responsible for those trials—and almost immediately, she becomes the enemy of a group of girls who call themselves the Descendants. And guess who their ancestors were? If dealing with that weren't enough, Sam also comes face to face with a real, live (well, technically dead) ghost. A handsome, angry ghost who wants Sam to stop touching his stuff. But soon Sam discovers she is at the center of a centuries-old curse affecting anyone with ties to the trials. Sam must come to terms with the ghost and find a way to work with the Descendants to stop a deadly cycle that has been going on since the first accused witch was hanged. If any town should have learned its lesson, it's Salem. But history may be about to repeat itself.
Haunting the Deep: Samantha Mather knew her family's connection to the infamous Salem Witch Trials might pose obstacles to an active social life. But having survived one curse, she never thought she'd find herself at the center of a new one. This time, Sam is having recurring dreams about the Titanic . . . where she's been walking the deck with first-class passengers, like her aunt and uncle. Meanwhile, in Sam's waking life, strange missives from the Titanic have been finding their way to her, along with haunting visions of people who went down with the ship. Ultimately, Sam and the Descendants, along with some help from heartthrob Elijah, must unravel who is behind the spell that is drawing her ever further into the dream ship . . . and closer to sharing the same grim fate as its ghostly passengers.
Kim's Review:
I really liked this series! I saw the book trailer for How to Hang a Witch and thought it was going to be a movie! Yeah stupid me still falls for book and fan made trailers! But, I still thought the story sounded really cool so I bought the book! I loved it! There's so much history weaved through all the fiction in such a fascinating way! And strangely enough, the high school drama didn't bother me. Mather managed to make everything bigger than just a retelling of Mean Girls. The stakes were life and death so the problems have intention behind them. The mystery and magic were compelling and even when I read it for the second time, it held me till the very end!
My main issue with this book is Elijah. And I love Elijah, that's what makes me so sad!! I've said it before that I dislike love triangles . . . very much hate them! And of course, in walks Samantha Mather and 2 guys automatically go after her!
*****Ok, SPOILER ALERT! He is dead!!! It can't work!! Why not go for the nice, happy, alive dude??? Thankfully, the relationship is explained a little more in Haunting the Deep, but c'mon!!!! End of Spoiler***** Alright, I'm done. Aside from the triangle, I actually really loved this book.
Haunting the Deep is a very unique book, in a really good way! I've never read anything like it. Sure, there are books about the Titanic, but nothing about the spirits of the people who died being stuck there forever! And to make myself feel better, I'll say that I did get a blurp of awareness about who's behind it all. It was a little blurp, but it was there! Mather kept the mystery going and had me hooked and questioning the whole time. The reason I gave this book 4 stars is because of the hint of politics she slipped in. I don't want to hear about "white privilege" when 1. I don't believe in it, and 2. the entire dang cast is white!! Why the self-sabotage???? However, I did like the characters better in this book. I like it a whole lot better when everyone is on the same side and being friends. And Mrs. Meriwether is my hero. Can someone open a Sugar Spells Bakery in my town? Seriously, my new goal is to try to make all the things that Mrs. Meriwether made in these two books. I recommend this series to anyone who loves historical fiction. I also believe these books are safe for readers of all ages, barely any language at all.
Purchase Links:
How to Hang a Witch
Amazon US
Amazon UK
Haunting the Deep
Amazon US
Amazon UK
[Top]