The movie Wonder starring Jacob Tremblay, Julia Roberts, and Owen Wilson will be released this Friday, the 17th.  Kim and I both read it earlier this year and saved our reviews until now to share with you.  It is one we both enjoyed, and we are both looking forward to the movie.
Author: R.J. Palacio
Published: Feburary 14, 2012
322 Pages
Book Description from Amazon:
Over 6 million people have read the #1 New York Times bestseller WONDER and have fallen in love with Auggie Pullman, an ordinary boy with an extraordinary face.
The book that inspired the Choose Kind movement.
I won't describe what I look like. Whatever you're thinking, it's probably worse.
August Pullman was born with a facial difference that, up until now, has prevented him from going to a mainstream school. Starting 5th grade at Beecher Prep, he wants nothing more than to be treated as an ordinary kid—but his new classmates can't get past Auggie's extraordinary face. WONDER, now a #1 New York Times bestseller and included on the Texas Bluebonnet Award master list, begins from Auggie's point of view, but soon switches to include his classmates, his sister, her boyfriend, and others. These perspectives converge in a portrait of one community's struggle with empathy, compassion, and acceptance.
Jessica's Review:
Audiobook
Dates Read: September 7-19, 2017
Jessica's Rating: 4 Stars
Wonder begins with this line: "I know I'm not an ordinary ten-year-old kid."  And you are not ordinary Auggie; you are so much more!  Wonder is ultimately an uplifting novel about August (Auggie) Pullman and his Fifth grade year of school.  He has never been to mainstream school before, so he is about to experience a lot of firsts.
"My name is August, by the way. I won't describe what I look like. Whatever you're thinking, it's probably worse".
Among other issues, Wonder deals with bullying and how cruel kids can be based on someone's looks.  As you read Wonder you will feel a wide range of emotions.  You will laugh and you will cry.
**Minor spoiler**:
For the extra sensitive folks, there is a small storyline that deals with the end of the life of the family pet.  If you are an animal lover, you can't help but get emotional while reading this.  I listened to the audiobook, so I was thankful I was concentrating on driving. If I had been reading the book, I would have been crying my eyes out.
**End of spoiler**
There are multiple narrators and points of view throughout Wonder, and we experience everything that everyone feels.  The chapters are also very short which makes it one to read very quickly.
I look forward to seeing the movie. I saw the trailer and I expected Auggie to look 'worse' than he does on film. August is played by Jacob Tremblay, who also played Jack in the movie Room. That boy has some talent, so I know he will play Auggie perfectly.
Wonder is recommended. It is a book everyone should read.
Kim's Review:
Kim's Rating: 5 Stars
I saw the trailer for the movie based on this book and decided that I had to read it! Holy. Cow. Prepare yourself for all the feels . . . ALL of them. This is another one of those books that my husband took one look at me and said, "are you ok?" The last time I cried so hard during a book was during A Monster Calls by Patrick Ness (maybe I should go back and do a review on that one too, huh.). Anyways, I knew this book was going to be emotional, considering I cried during the movie trailer. Wonder gives a great look into the minds of people affected by disabilities. And to say that people with disabilities are the only ones who hurt is incredibly unfair. August, Via, and their parents all must face life's problems in various ways. Mr. and Mrs. Pullman have to learn how to let their children grow up. Via has to figure out how to accept her brother while trying to be accepted herself. And Auggie, seriously one of my favorite book characters ever, has to do the growing up. He has to learn how to deal with real life.
There are many of us who went to the same school with all the same people in all the same buildings with all the same teachers all the way through our educational careers. Auggie doesn't have that kind of foundation. Homeschooled by his mom from kindergarten through 4th grade, he is suddenly faced with going to a "real school" with the normal kids, trying to overcome his abnormalities. This story takes place during Auggie's 5th grade year, and Via's high school freshman year. Transitions galore! Auggie tries to make friends, but how can he do that when everyone is too busy staring at him and trying to avoid touching him? Via has had the same friends since before Auggie was born, but she gets left behind when they redefine themselves for high school.
At first, Jack, Summer, Julian, Charlotte, and all the other kids at Beecher Prep just see a new kid with a weird face. But as the year progresses, they all learn those important lessons about how to treat people. As a teacher, I've seen the unpopular kids trying so hard to fit in. But I've also seen the other kids being forced to accept these misfits. I realize this is probably going to be an unpopular opinion, but I do not believe in forcing kids to spend time with each other. No, making fun of and bullying other kids is unacceptable no matter what. But insisting that kids do anything more than show a little kindness by saying a simple "hello" while walking down the hallway is unfair to both groups. I believe that forcing acceptance on kids does nothing more than shows those kids who don't fit in that they deserve pity, and cultivates annoyance and antagonism towards those misfits by the kids being forced. In Wonder, Auggie has to deal with that same pity from kids who were chosen specifically so they could "be friends" with him. Can he make any friends on his own? I'll be your friend, Auggie! I love you!!!!!
So I absolutely recommend this book to parents and teachers, most of all. I've already purchased a copy for my dad, who is a 6th grade teacher. But fair warning, lots and lots of waterworks. Seriously, I told my husband that I finished the book and his response was, "oh good! You cried so much!" Of course I did, you unfeeling Neanderthal!!!! ? I love him, he just doesn't know how to deal with a crying woman! So please read this book. I leave you with the same thing Mr. Tushman gave to the kids during his graduation speech: "But in another book by J.M. Barrie called The Little White Bird, he writes, 'Shall we make a new rule of life . . . always to try to be a little kinder than is necessary.'"
---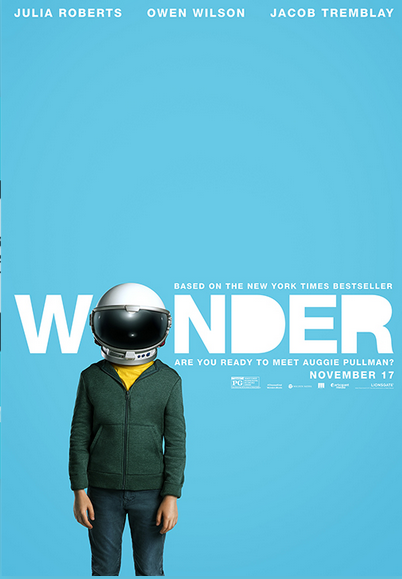 If you have not seen the trailer, watch it now, prepare for all the emotions, then watch the movie and read this book!: