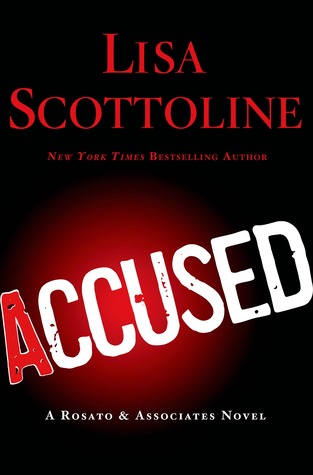 Author: Lisa Scottoline
Audiobook
Published: October 29, 2013
Dates Read: May 23- June 9, 2017
My Rating: 3 stars
Book Summary from Goodreads:
New York Times bestselling and Edgar Award-winning author Lisa Scottoline revolutionized crime fiction when she introduced her Philadelphia-based all-female law firm of Rosato & Associates, thrilling listeners with her twisty, fast-paced plots and capturing their hearts with her cast of strong and relatable female characters. Now Bennie Rosato, Mary DiNunzio, Judy Carrier, and Anne Murphy are back with all cylinders firing in Accused.
Mary DiNuzio has just been promoted to partner and is about to take on her most unusual case yet, brought to the firm by a thirteen-year-old genius with a penchant for beekeeping. Allegra Gardner's sister Fiona was murdered six years ago, and it seemed like an open-and-shut case: the accused, Lonnie Stall, was seen fleeing the scene; his blood was on Fiona and her blood was on him; most damningly, Lonnie Stall pleaded guilty. But Allegra believes Lonnie is innocent and has been wrongly imprisoned. The Gardner family is one of the most powerful in the country and Allegra's parents don't believe in reopening the case, so taking it on is risky. But the Rosato & Associates firm can never resist an underdog. Was justice really served all those years ago? It will take a team of unstoppable female lawyers, plus one thirteen-year-old genius, to find out.
My review:
Lisa Scottoline first introduced readers to Mary DiNunzio, Bennie Rosato, Judy Carrier, and Anne Murphy in her Rosato & Associates series and now she is back with a new series: Rosato & DiNunzio. The first in this series is Accused and Mary has just been promoted to partner.
I won a copy of Damaged( from Goodreads) which is the fourth in the series. Not realizing it was part of a series, I decided to go back and listen to the audiobooks of the first three in order.  I know a little about what will happen, so it gives me a different perspective going back and listening to the others on audiobook.  It seems to me that the series improves as I enjoyed Damaged more than Accused.  There seems to be growth with Mary as the series progresses, especially from the beginning of Accused to the conclusion.
I first want to say I have not read any of the Rosato & Associates series, so all of these characters are new to me.  I know I have missed their backstories (including the murder of Mary's husband).  Rosato & DiNunzio is an all-female law firm and Bennie Rosato is the boss, but Mary has just been promoted to partner in Accused.  In the beginning Mary seems unsure of this promotion; she even does not want the stationary changed.  **This is a minor spoiler, as this happens early on, but Mary's boyfriend proposes to her. She says yes, but is unsure on if she should have given that answer.
In Accused, Rosato & DiNunzio is hired by thirteen year old Allegra Gardner. Her sister Fiona was murdered six years ago, and despite the defendant Lonnie Stall pleading guilty, Allegra is convinced that he did not kill her sister. Rosato & DiNunzio take on the case with Mary in the lead.
For me Accused was decent.  I liked Allegra and wanted more of her in it. I also liked that she had a different type of hobby. Allegra is definitely a 'different' sort of girl.  I also liked that we had more of Mary's family and her neighbors 'The Tony's' in it.  They are definitely the comic relief in the novel.
I'm not sure what it is about Mary that I don't really feel a connection with. I felt that same way when I read Damaged.  I think it might be her personality and the immaturity she has.  For me, she becomes too attached to the children involved in these cases, and that attachment is almost instant and it seems to cross professional boundaries. Again, this could be because I have not read the Rosato & Associates series and am missing her backstory.  I'm not sure of her age, but she doesn't really seem like partner material and comes off as young, more like someone fresh out of law school.  She does experience personal and professional growth over the course of Accused, which I was happy about.
I was also not heavily drawn into this case. Yes, there is an answer to whether Lonnie Stall actually killed Fiona, but I was not intensely involved in the novel.  I would definitely say that this is more of a Mystery novel versus a Suspense/Thriller novel.
I did look to see that Betrayed, the second novel in the Rosato & DiNunzio  series focuses on Judy and the third, Corrupted focuses on the 'big boss' herself Bennie Rosato.  I will continue the series as I want to learn about these ladies, especially Bennie who is an enigma to me.
Despite the issues I had, Damaged is recommended.