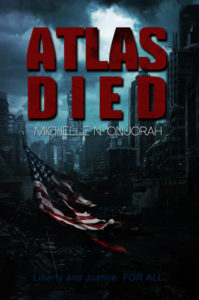 Author:  Michelle Onouorah
310 Pages in Kindle
Published: July 29, 2015
Dates Read: July 29th- August 29th, 2015
My Rating: 4 Stars
Book Summary from Amazon:
USA circa 2628. The only thing unchanged? Those three letters.
There are no states.
There is no freedom.
Lobbyists make all the laws.
And a government of the people, by the people, and for the people died many, many years ago.
The nation is now split in two: wealthy Atlas residents and impoverished Commons workers. The middle class, an endangered species, accounts for less than 1% of the already-shrunken population. Ravaged by stagnant wages, exorbitant taxation and limited education, Commoners, the majority of USA citizens, struggle to survive. The political and civil inequity has transformed "the land of the free" to "the home of the miserable" and destinies are no longer self-determined. The very values the nation once held dear have languished for centuries in history books no one has taken the time to read.
No one except Decker Channing.
A 32-year-old police officer, Decker has silently witnessed systematic oppression his entire life and knows it is the antithesis of what the founding fathers stood for. When a life or death situation forces him to make a split decision, Decker realizes he can no longer remain silent. Unwilling to watch his country descend into further tyranny, he rallies the men and women around him to rise up and take a stand. Drawing strength from the ideals of the abandoned Constitution, he and a mysterious dark eyed woman fight to restore the USA to what it once stood for: life, liberty and the pursuit of happiness. But in order to do this, one thing becomes clear.
Atlas must die.
***Please note this story is 70% action and 30% romance, told from the hero's POV. This story would primarily appeal to readers who like action, dystopia, politics, and a thriller element alongside romantic themes.***
**Please also note that there are instances of profanity, mild violence, and unapologetic themes of religion, politics and spirituality within this work of fiction. Reader discretion is advised.**
---
My review in 2015:
I am a huge fan of Michelle Onouorah! This is her newest novel. And this is another good one written by her. This dystopian novel really makes you think about where our country may be going, and not for the better……
This book really made me think and I teared up a little towards the end.
I can't wait to read more from this author!