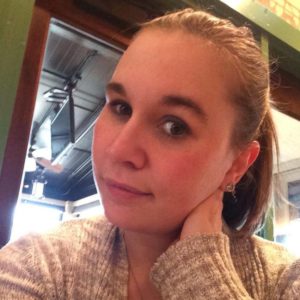 Courtesy of Shandy L Kurth
I have read all but one of Shandy Kurth's books. I have enjoyed them all. They all have a sense of "realness" and grittiness to them. Her books are Young Adult (The main characters are young adults, but the writing may not be suited for Young Adults. There are adult themes and language in her writings.) My favorite is her Built on Fear series: Devastation and Isolation.  I read those two books long before I was reviewing books in any way. I will need to read them again so I can review them on this site.
Shandy's Writings:
Devastation (Built on Fear #1)
Isolation (Built on Fear #2)
Slipping (a short story)
It Can Always Get Worse
On the Right Side of the Line
I am going showcase her short story Slipping and her novel On the Right Side of the Line in this Author Spotlight. Now, I wrote these reviews long before I ever planned on having a website, so they do not do Shandy or her work justice. Please give Shandy a change and check out what her work is about!:
---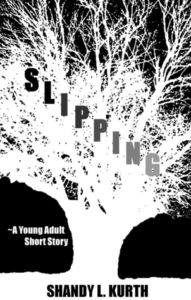 Slipping
59 Pages in Kindle
Published: November 27, 2012
Dates Read: October 23, 2015
My Rating: 4 Stars
Short Story Summary from Amazon:
A Young Adult Short Story
I think I'm losing my mind. The alternative would be that I'm seeing ghosts. If I'm going crazy, I should check myself into a nuthouse as soon as possible. But if I'm not… if she's really a ghost, listening to her could mean the difference between life and death.
My review in 2015:
I enjoyed this short story. We are thrown into Miles life and we don't know if he is going crazy or not. His mother and sister died in a car accident and he starts seeing his sister. I couldn't put it down. I would have liked the story to be longer.
**Slipping is FREE on Amazon for Kindle and also Barnes and Noble for Nook
---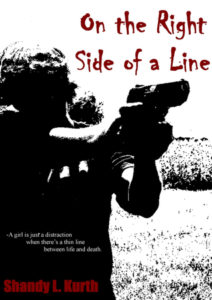 On the Right Side of the Line
176 Pages in Kindle
Published: July 30, 2013
Dates Read: July 15-19, 2015
My Rating: 4 Stars
Book Summary from Amazon:
**Contains adult language
I thought I knew where I was going. I had my life all planned out. It had been mapped for me since I was ten. When I turned fourteen, I became a Raven, just like my big brother. It was a lifer thing, not something you could walk away from. I moved up the ranks quickly, just like everyone thought I would. Now at eighteen, I was close to the top. I could break thumbs with the best of 'em and and bust heads with the best. I was a force to be reckoned with. Yeah. I had it all together before that one event tore my life apart, and that one girl got me all confused.
My review in 2015:
This is the third book I have read by Shandy L. Kurth and my first book I have read dealing with gangs. After the first few chapters it was hard to put down!
Valen is a great character! He is conflicted, but wanting to do what's right. Most of the books I read are read are from the female perspective, so this was a refreshing change for me.
The book felt realistic and was gritty. Towards the end I had no idea what was going to happen. I had a few thoughts, but they were wrong. It seemed like Shandy may have had experience with gangs or did her research on them.
I will be reading more books by Shandy L Kurth!
************Please give Shandy L Kurth a chance and look into her writings!