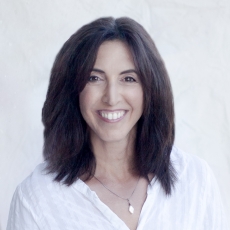 Courtesy of Suzanne Redfearn
Suzanne Redfearn has written two novels. I have read both and enjoyed them both. I look forward to future novels written by her. Both novels will be featured in this post today.
Suzanne's Writings:
Hush Little Baby
No Ordinary Life
---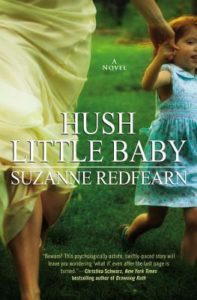 Hush Little Baby
368 Pages in Paperback
Published: October 8, 2013
Dates Read: Feb 22, 2014- March 6, 2014
My Rating: 5 Stars
Book Summary from Amazon:
If I stay, he will kill me. If I leave, he'll destroy Addie and Drew.
Jillian Kane appears to have it all – a successful career, a gorgeous home, a loving husband, and two wonderful children. The reality behind closed doors is something else entirely. For nine years, she has hid the bruises and the truth of her abusive marriage in order to protect Addie and Drew, knowing, if she left, Gordon would destroy her-destroy them.
When, in an act of desperation, she flees, her worst nightmare is realized, and she finds herself on the run with her two young children, no money, and no plan. With Gordon in hot pursuit, there is only one inescapable certainty: No matter where she goes, he will find her. Kill her. And take her children.
A riveting page-turner, HUSH LITTLE BABY exposes the shame and terror of domestic violence as well as the disturbing role manipulation and sabotage can play in the high-stakes game of child custody. Suspenseful and unforgettably moving, it's a novel about the unbreakable bonds of family and the astounding, terrifying devotion of a mother's love.
My review in 2014:
I received a free copy of this book in exchange for an honest review. I really enjoyed this book! Hush Little Baby had me pulled in from the beginning. It was intense the whole time! I did not know how it was going to end or what direction the story was going to go. Hush Little Baby shows what it can be like to be in a domestic abuse relationship, and makes me thankful I am not in one. Jillian's thoughts show what a woman dealing with domestic abuse thinks and how having children can complicate what she may or may not do. The ending did get a little less realistic to me compared to the rest of the book, but I still enjoyed it and would recommend others to read it.
I also highly enjoyed that the chapters were short- the longest chapters were 6-8 pages. When there are short chapters I feel I can read a book quicker. I am not the quickest reader, but finished it an a little over a week.
---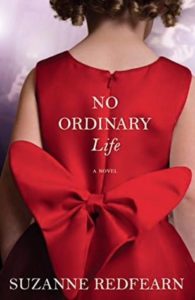 No Ordinary Life
400 Pages in Paperback
Published: February 2, 2016
Dates Read: May 20-June 11, 2016
My Rating: 3.5 Stars
Book Summary from Amazon:
Faye Martin never expected her husband to abandon her and her three children . . . or that she'd have to struggle every day to make ends meet. So when her four-year-old daughter is discovered through a YouTube video and offered a starring role on a television series, it seems like her prayers have been answered. But when the reality of their new life settles in, Faye realizes that fame and fortune don't come without a price. And in a world where everyone is an actor and every move is scrutinized by millions, it's impossible to know who to trust, and Faye finds herself utterly alone in her struggle to save her family.
Emotionally riveting and insightful, No Ordinary Life is an unforgettable novel about the preciousness of childhood and the difficult choices a mother needs to make in order to protect this fragile time in her children's lives.
My review:
With this novel, Suzanne Redfearn has become a Target Emerging Author Selection. That is awesome for a newer author! Congrats Suzanne!
This review will have some spoilers, so beware before you read this review.
I enjoyed Suzanne Redfearn's first book, Hush Little Baby, so I was excited and anxiously awaited her second book to be released.  Last year(2015) there was also a contest where her readers could give input into the cover and title of the book. I participated.
I enjoyed that the chapters were short. That makes me feel I am reading the book quicker. It also makes it harder to put the book down when you see the next chapter is 1-4 pages!
I loved the premise of the book.
I was pulled into the book from the beginning and found it hard to put down. However, I had to suspend my belief while reading the book. Faye, the mother, was not very likeable for me. She came into the whole experience with such naivete. I mean, not even have a lawyer look at the contract when you know nothing of Hollywood?
Parts of the book seemed to be extreme in the situations that happened. Yes, you have one child discovered, but then your middle child can also act? I found that hard to believe as well. And, your boyfriend who works behind the camera ends up being a former child star?!?!
Despite the issues I had with certain parts of the book I did enjoy it and would recommend it. It was hard to put down. Unlike some reviewers, I did not have an issue with Molly's lisp and the way it was put on paper. I LOVED Molly and could see how America fell in love with her in this book.
**I will continue to read Suzanne Redfearn's books and look forward to her next one being released!!