Tomorrow is October 1, and that means it is time for Authorber Fest!!! What is Authorber Fest? Every October the Bookies Facebook page has daily author takeovers for two hours! This will be the third year we have done this. The author can do giveaways, talk about their books, contests, whatever they want! This is to increase awareness for the author. We always have a lot of fun!!! Check out the Bookies page and maybe learn about a "new" author to you!! I'm personally excited for several of them and hope I can make it to their takeover! I hope to post on here a reminder for their takeover day!!
Here is a schedule of the takeovers each day: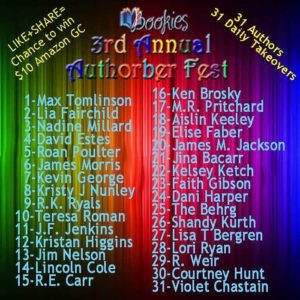 Here is the times for the takeovers. The times are Eastern Standard Time: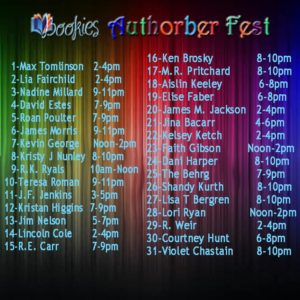 I hope you can make it to some of these author takeovers! If you can, send me a message through the Contact Me page or to jessica@jessicasreadingroom.com
**I am one of the admins for the Bookies page.  You can visit the Bookies page by clicking HERE.