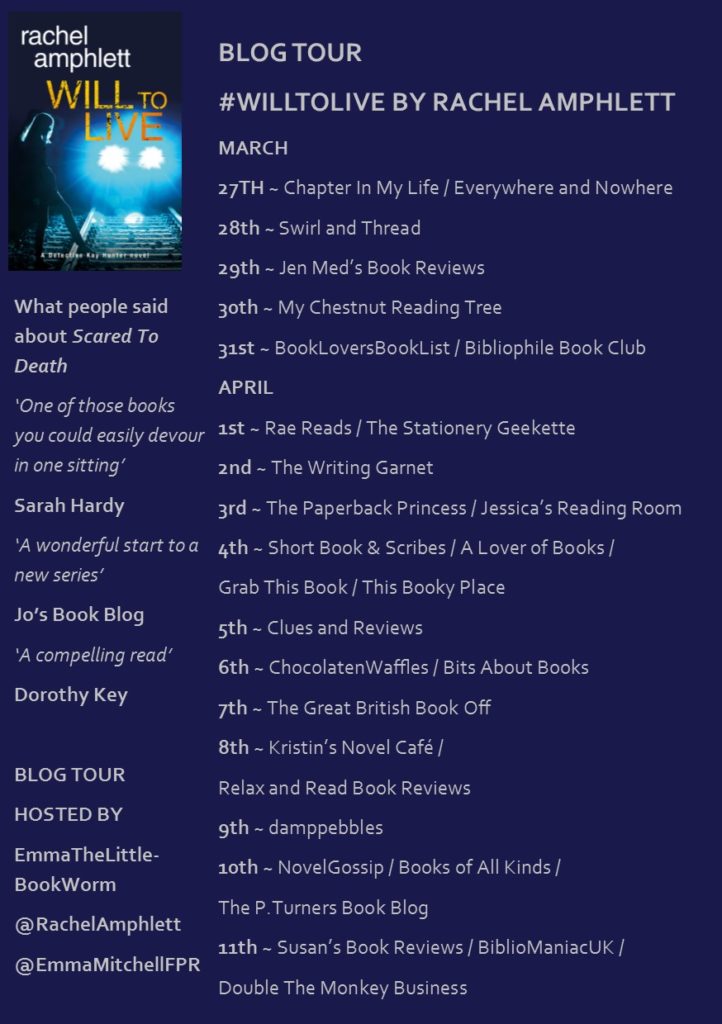 Today is my stop on the blog tour for Will to Live by Rachel Amphlett. Will to Live will be released tomorrow, April 5th, 2017! You can enter to win one of two e-book copies of Will to Live at the bottom of this post. Today I am asking Rachel some questions about herself so we can get to know her:
JRR(Jessica's Reading Room): Where are you happiest?
Surrounded by greenery – rivers, woodlands, ancient sites, that sort of thing.
JRR: That sounds peaceful! We don't have many ancient sites here in Georgia where I live. Who would you like to star in the film of your life?
Helen Mirren. Gotta love her attitude 🙂
JRR: Good choice! Describe your best ever holiday.
Sailing around the coast of Turkey and the Greek islands on a traditional gulet boat.
JRR: I would love to go to those countries one day! What do you think is the best thing about social media?
Networking and making new friends – I have so many new connections in the UK and around the world through my writing and I couldn't have done that without social media. In small doses, it's good.
JRR: Yes it can be a very good thing for networking! Now what about the worst…?!
Having to be careful what you say. It's like emails – people can't hear the inflections or humour in your voice and know whether you're joking or not – and I have a very dry sense of humour!
JRR: What is the most important item you require for a quiet night in?
Gah! This is a hard one – it'd have to be a tie between a glass of wine and a book, lol
JRR: Yes, I agree on the book! Is it best to always tell the truth or is it sometimes better to tell a little white lie?
Tell the truth. Always.
JRR: What's your signature dish?
Cheese on toast, ha ha – I leave the proper cooking to the other half!
JRR: Me too! My husband is the cook and I am the cleaner!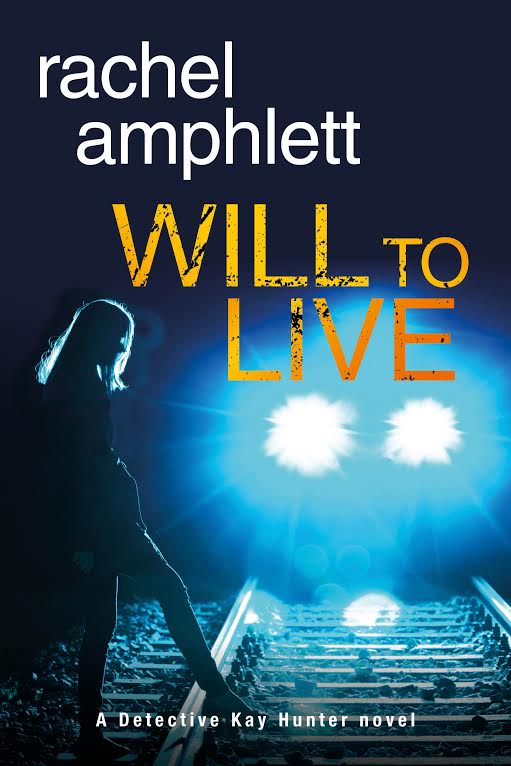 Buy Will to Live
Kobo
iBooks
*Will to Live will be available to buy on Amazon tomorrow*
Book Description:
Reputation is everything
When a packed commuter train runs over a body on a stretch of track known to locals as 'Suicide Mile', it soon transpires that the man was a victim of a calculated murder.
As the investigation evolves and a pattern of murders is uncovered, Detective Sergeant Kay Hunter realises the railway's recent reputation may be the work of a brutal serial killer.
With a backlog of cold cases to investigate and attempting to uncover who is behind a professional vendetta against her, Kay must keep one step ahead of both the killer and her own adversaries.
When a second murder takes place within a week of the first, she realises the killer's timetable has changed, and she's running out of time to stop him…
Will to Live is the second book in a new crime thriller series featuring Kay Hunter – a detective with a hidden past and an uncertain future…
If you like Angela Marsons, Peter James and Robert Bryndza, discover the latest addition to Rachel Amphlett's new series today.
About the Author: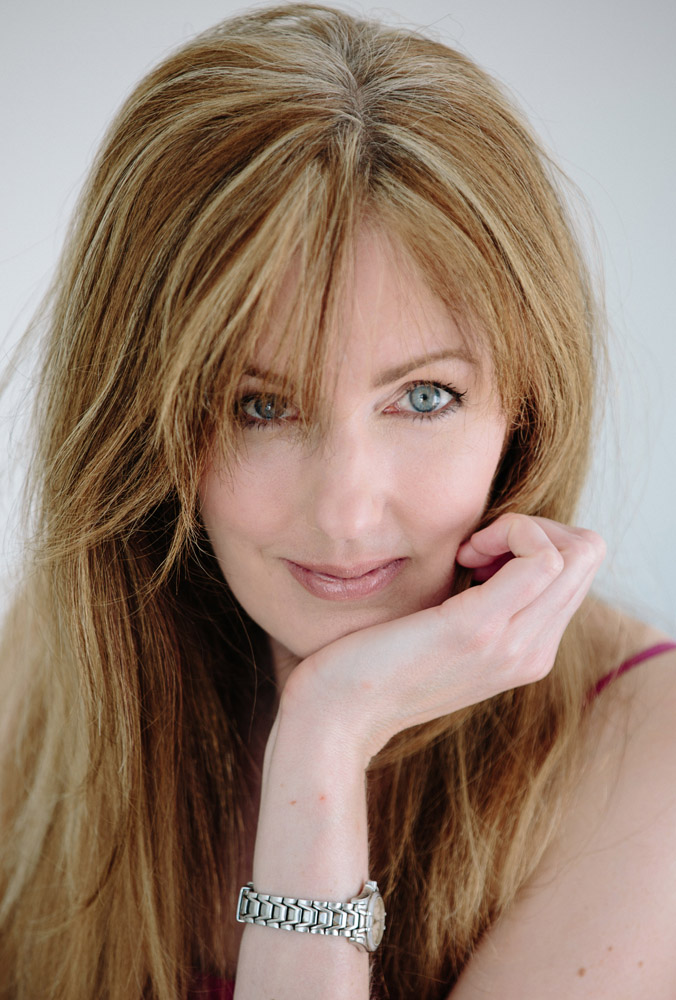 Rachel Amphlett is the bestselling author of the Dan Taylor espionage novels and the new Detective Kay Hunter crime thriller series, as well as a number of standalone crime thrillers.
Originally from the UK and currently based in Brisbane, Australia, Rachel's novels appeal to a worldwide audience, and have been compared to Robert Ludlum, Lee Child and Michael Crichton.
She is a member of International Thriller Writers and the Crime Writers Association, with the Italian foreign rights for her debut novel, White Gold, being sold to Fanucci Editore's TIMECrime imprint in 2014.
An advocate for knowledge within the publishing industry, Rachel is always happy to share her experiences to a wider audience through her blogging and speaking engagements.
Contact Rachel:
Website
Facebook
Twitter @RachelAmphlett
WIN Will to Live
a Rafflecopter giveaway