Cover Reveal: Sunshine After the Rain
Book: Sunshine After the Rain
Author: Daisy James
Release Date: July 5th, 2017
Today I get to help take part in the cover reveal for Daisy James' upcoming book Sunshine After the Rain! All of her covers are so pretty and this one is included!
Here is the cover: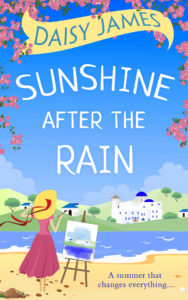 Pre-order Sunshine After the Rain
Amazon US
Amazon UK
Book Description from Amazon:
A summer that changes everything…
Frazzled workaholic Evie Johnson has finally had enough! When she's blamed for a publicity disaster at the art gallery she loves, she decides to flee the bright lights of London for the sun-drenched shores of Corfu and turn her life upside-down.
Under the shade of the olive trees, she picks up her dusty paintbrushes and begins to chase the dreams she had put aside for so long. But she never expected to bump into drop-dead-gorgeous Sam Bradbury – and certainly not whilst wrapped only in a towel!
A summer fling is the last thing Evie wanted but a few stolen kisses under the stars might just begin to change her mind…