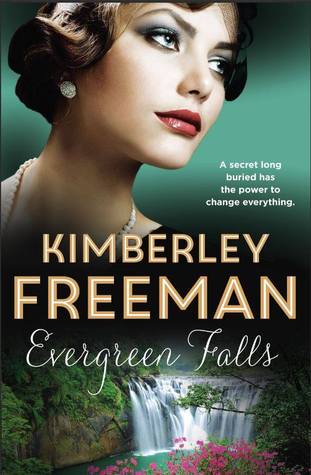 Author: Kimberley Freeman
448 Pages
Published: August 26, 2014
Reviewed By: Kim
Kim's Rating: 4 Stars
Description from Amazon:
It's 1926 and Violet Armstrong is a waitress at the grand Evergreen Spa Hotel, where Australia's glitterati are spending a winter vacation. Among the guests who remain are Sam and Flora Honeychurch-Blacks, a wealthy brother and sister ensconced in the hotel for an extended stay. Violet and Sam have an attraction that is as passionate as it is forbidden as the hotel closes down for the winter season. When a snowstorm moves in, trapping them all, no one could have imagined what would unfold. The group must let their secrets be buried by the snow, but all snow melts, exposing the truth beneath…
Eighty-eight years later, Lauren Beck takes a job at a café in the Blue Mountains, built as the first stage of the Evergreen Spa Hotel's return to grandeur. There she meets Tomas, the Danish architect overseeing the project. As their budding relationship grows, Lauren discovers a series of passionate love letters dating back to 1926 that allude to a whirlwind affair—and a tragic secret. Lauren begins to unravel this long-forgotten mystery, but will discovering the truth finally make her brave enough to take a risk that could change her entire life?
Kim's Review:
Back to the carpe diem theme of my year. Take every day and cherish it! Make sure that those people that you love, know just how much you do love them. I'll admit that as a sheltered person, I felt a connection with Lauren from the beginning. Thankfully, my mom is not the obnoxious helicopter parent that hers is, but I can still relate to moving out for the first time and real life hitting me in the face. And of course, we have the couple who try to break all the rules and ignore all of society's standards. I can sort of appreciate that kind of reckless courage. But in this book, there are consequences for those actions. Those consequences end up affecting everyone. And Sam's sister, poor Flora, left to pick up the pieces, all while trying to figure out who she is and what she wants out of life. I felt pretty bad for her through the whole book! Even 80 years later, those shockwaves are still being felt. I'm not going to give away the ending, because it's really good and a bit surprising! So the main things I got from this book: carpe diem and beware the consequences of your actions. I do recommend this book for anyone who enjoys historical fiction. There are some steamy scenes that would probably satisfy those romance readers as well. 4 stars well earned!