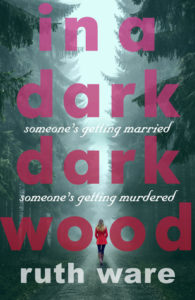 Author: Ruth Ware
AUDIOBOOK
Published: 8/04/2015
Dates Read: December 12-26, 2016
My Rating: 2 Stars
Book Summary from Amazon:
What should be a cozy and fun-filled weekend deep in the English countryside takes a sinister turn in Ruth Ware's suspenseful, compulsive, and darkly twisted psychological thriller.
Leonora, known to some as Lee and others as Nora, is a reclusive crime writer, unwilling to leave her "nest" of an apartment unless it is absolutely necessary. When a friend she hasn't seen or spoken to in years unexpectedly invites Nora (Lee?) to a weekend away in an eerie glass house deep in the English countryside, she reluctantly agrees to make the trip. Forty-eight hours later, she wakes up in a hospital bed injured but alive, with the knowledge that someone is dead. Wondering not "what happened?" but "what have I done?", Nora (Lee?) tries to piece together the events of the past weekend. Working to uncover secrets, reveal motives, and find answers, Nora (Lee?) must revisit parts of herself that she would much rather leave buried where they belong: in the past.
My Review:
Leonora (Lee/Nora- I will reference her as Nora in this review) is a 26 year old crime writer. One day she gets an email inviting her to a Hen (bachelorette) party for her old friend Clare. She hasn't seen Clare in ten years and wonders why she was even invited to the party since it has been so long since they have seen each other and when she wasn't even invited to the wedding. After debating with herself she decides to attend. ( I would wonder the same thing. Why would someone I haven't talked to in ten years invite me to her party? More than likely I would not go. ) Things go horribly wrong at the party and forty-eight hours later she awakens at the hospital. She has no memory of what happened but overhears a conversation and knows someone is dead. Nora becomes determined to find out what happened and who is dead?
The book goes back and forth from the hospital and the hen party. While at the party, Nora discovers who Clare is marrying and I will not say who he is, but whom the groom is goes back to issues they had in their teen years. The small group has several adventures leading up to the tragic evening.
This is yet another book with an unreliable narrator. At least the narrator is not an alcoholic, she just has amnesia. As she begins to remember that evening, you can't help but wonder are these memories accurate, or is Nora the murderer?
The beginning pulled me in, but in the end it just wasn't for me. Things that happened in her teen years are still affecting Nora and she kept focusing on it in the book. I can say I did not predict the ending of the book. I was a little shocked with the ending and the killer's motive. The killer's motive was a bit juvenile in itself.
I have read much better mysteries and worse mysteries. I would say skip In a Dark, Dark Wood and read Ruth Ware's second book, The Woman in Cabin 10 which I awarded four stars. The protagonist in Cabin 10 is also unreliable, but it is a much superior book than Dark, Dark Wood is. My review for Cabin 10 is here.
I do look forward to reading more from Ruth Ware.