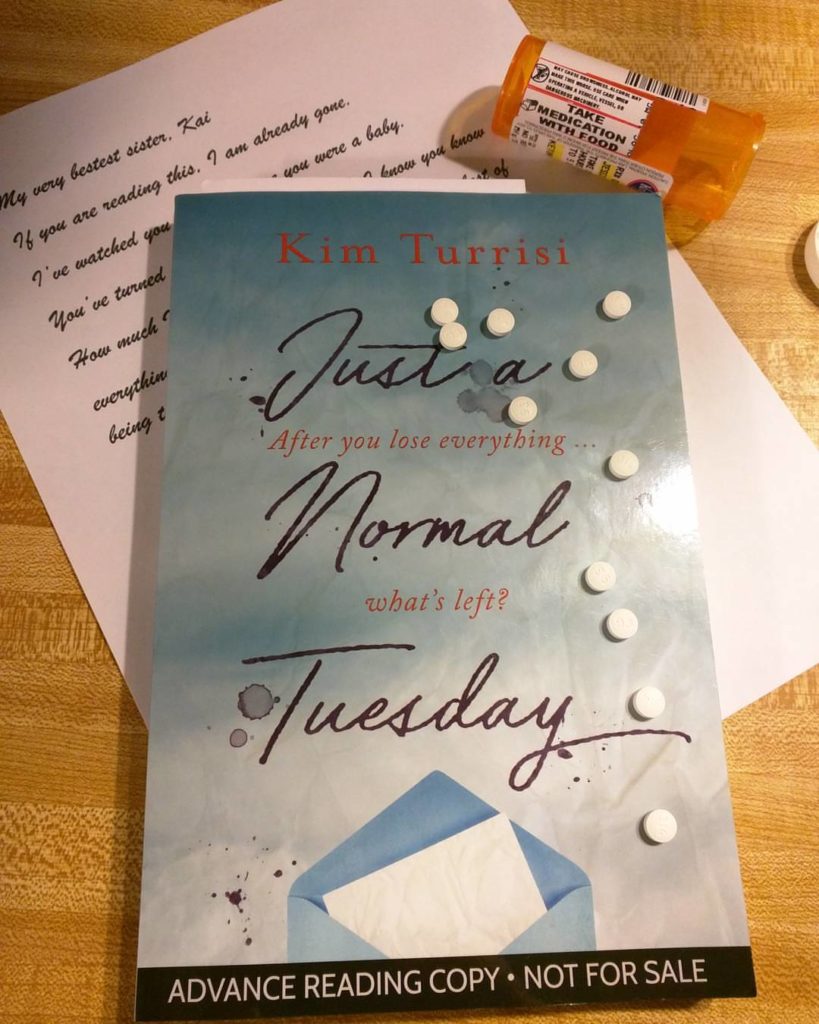 Author: Kim Turrisi
252 pages in Paperback
To Be Published: May 2, 2017
Dates Read: April 15-19, 2017
My Rating: 5 Stars
Book Summary from Goodreads:
It's just a normal Tuesday for sixteen-year-old Kai, until suddenly it's anything but. She's received a letter from her beloved older sister, Jen, a letter that begins, "My very bestest sister, Kai, if you are reading this, I am already gone." From that moment on, Kai's life will never be the same, as she is forced to deal with the shock and horror of losing Jen to suicide.
Consumed with grief, Kai looks for answers, lashes out at people who love her and eventually turns to excessive drinking and drugs, all with disastrous results and no relief from her suffering. Struggling with their own sorrow, Kai's parents realize she needs more help than they can give, and they enroll her in the Tree House, a "grief camp" for children. Though reluctant to go, once she's there, Kai finally finds others who truly understand her loss. No longer alone, she's able to begin dealing with her pain. And to see light at the end of the dark tunnel.
My Review:
This will be a difficult review to write as Just a Normal Tuesday is difficult to read. It deals with the issues of death, suicide, and teens. Kai is sixteen and comes home from school and finds a letter in the mail from her sister Jenn. She finds this strange as no one write letters any more when they can call or text, especially when Jenn lives close by. Then Kai opens the letter and her life changes forever as it is a suicide note from Jenn. Kai rushes to her sister's apartment but it's too late. This is just the beginning of Kai's story.
This is Kim Turrisi's first novel and what a debut it is! Just a Normal Tuesday is raw, gritty, and real! After her sister's death Kai spirals out of control. She drinks heavily and begins taking drugs, including the prescription drugs her sister took. The feelings Kai has feel so real! Once her family and friends realize she needs serious help she is sent to a grief camp against her will.
The second half of the book focuses on the grief camp and we see the transformation Kai experiences as she gets comfortable with her group she is assigned to. We see all the teens change for the better as they go through camp. We come to care about them all and want them to all overcome their grief from their various losses. Just a Normal Tuesday ends with a positive note towards the future.
In the Author's Note Kim Turrisi shares that when she was fifteen her sister committed suicide. She shares how writing Just a Normal Tuesday helped her with forgiveness and the loss of her sister. Everything feels so authentic that it seems like she took the feelings Kai had when she was out of control from her own experiences. The words she wrote could only come from someone who had experienced that kind of grief. With that you feel a connection to the author. At times it felt like these were Kim's feelings and experiences. Just a Normal Tuesday is that real.
I want to share that I lost my dad just a few days after my nineteenth birthday. It was not in the way that Kai lost her sister, but it was still a heavy loss that I still feel at times. Reading Just a Normal Tuesday brought back that time for me and the memories and feelings from then and because of this at times it was difficult to read. I knew it was going to be difficult when I began it, but it is a book you do not want to put down.
Just a Normal Tuesday is very highly recommended for anyone who has lost someone, especially at a younger age. The target demographic is 14-18 but anyone could read this book and take something away from it.
I want to end with this: My dad passed away on May 4, 1999 which was a Tuesday.
"It was just a normal Tuesday. And then it wasn't."- Kai
**Special thanks to Kids can Press and KCP Loft for sending me an arc. Just a Normal Tuesday deeply touched me and it was a pleasure to review it.