Little Lies and Little Mercies
Little Lies is a prequel novella to Heather Gudenkauf's next novel Little Mercies. Both will be featured today.
Please note: I read these before I even thought about reviewing and having a blog. The reviews for both are short. I wish I had reviewed them better on Goodreads earlier this year.  My short reviews here do not do the books justice.  They had to be posted since this is, "The Week of Heather Gudenkauf"!
---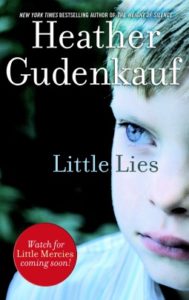 Little Lies (Novella)
Author: Heather Gudenkauf
44 pages in Kindle
Published: May 4, 2014
Dates Read: March 31- April 2, 2016
My Rating: 4 Stars
Book Summary from Amazon:
In this riveting prequel novella to her novel Little Mercies, New York Times bestselling author Heather Gudenkauf explores how even the smallest lies can have far-reaching consequences.
When the body of a woman is discovered in a local park—with her bewildered four-year-old son sitting beside her—veteran social worker Ellen Moore is called in to assist in the police investigation. Positioned beneath a statue of Leto, the goddess of motherhood, the crime is weighted with meaning and, Ellen discovers, remarkably similar to one from a decade past.
Ellen's professional duty is to protect the child, but she's not equipped to contend with a killer. As she races to connect the dots, she knows her time is running out. And the stakes are high: if she fails, another mother is sure to make the ultimate sacrifice.
My Review:
A short novella to introduce you to the characters in Little Mercies. I liked having this introduction Ellen and Joe.  I enjoyed it, but wasn't really satisfied with who the killer ended up being.
---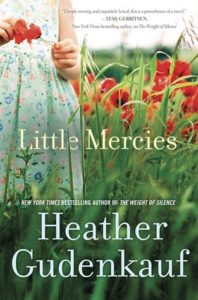 Little Mercies
Author: Heather Gudenkauf
320 Pages in Paperback
Published: June 24, 2014
Dates Read: April 3-April 14, 2016
My Rating: 3 Stars
Book Summary from Amazon:
In her latest ripped-from-the-headlines tour de force, New York Times bestselling author Heather Gudenkauf shows how one small mistake can have life-altering consequences…
Veteran social worker Ellen Moore has seen the worst side of humanity—the vilest acts one person can commit against another. She is a fiercely dedicated children's advocate and a devoted mother and wife. But one blistering summer day, a simple moment of distraction will have repercussions that Ellen could never have imagined, threatening to shatter everything she holds dear, and trapping her between the gears of the system she works for.
Meanwhile, ten-year-old Jenny Briard has been living with her well-meaning but irresponsible father since her mother left them, sleeping on friends' couches and moving in and out of cheap motels. When Jenny suddenly finds herself on her own, she is forced to survive with nothing but a few dollars and her street smarts. The last thing she wants is a social worker, but when Ellen's and Jenny's lives collide, little do they know just how much they can help one another.
A powerful and emotionally charged tale about motherhood and justice, Little Mercies is a searing portrait of the tenuous grasp we have on the things we love the most, and of the ties that unexpectedly bring us together.
My Review:
I love Heather Gudenkauf and her writing style with the multiple points of view.
This was a gripping book but not as intense as her others. Yes, I wanted to know what was going to happen next, but this one was different from the others. It may have been the subject matter. A very difficult subject to write about, though it was done very well, and I could see how the accident in this case could happen. It made me wonder if I could do that. Really, it could happen to anyone in that one moment.
The book was hard at times for me to read because of the fact a child was left in the car. And going on right now in Georgia is a case where a father left his small child in the car while he was at work. The child died. The father's case was moved out of Metro-Atlanta, and jury selection is supposed to begin soon. I won't go into details about that case or my opinion of the father's guilt or innocence, but as I was reading Little Mercies I kept thinking about that case.
Children being left in cars is happening too often and we need to find a way to keep it from happening. One child dying because of being left in a car is too many. Because of the subject matter I could see some not being able to read it.
I loved the meaning of the title in relation to the novel. We all need Little Mercies in our life.
I enjoyed Little Mercies and would recommend it.