Love and Laughter in the Time of Chemotherapy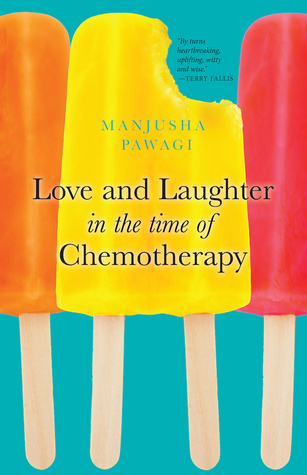 Author: Manjusha Pawagi
To Be Published: October 10, 2017
288 pages
Reviewed By: Jessica
Dates Read: September 20-29, 2017
Jessica's Rating: 4 stars
Book Description from Goodreads:
Manjusha Pawagi, a successful family court judge, has written a not-so-typical memoir about her experience with cancer. Wryly funny and stubbornly hopeful, this is her quirky take on what it's like to face your own mortality when, to be honest, you thought you'd live forever. She describes how even the darkest moments of life can be made worse with roommates; details how much determination it takes to ignore the statistics; and answers the age-old question: what does it take to get a banana popsicle around here?
Jessica's Review:
The title and cover of Love and Laughter in the Time of Chemotherapy caught my attention. The title is catchy and I wondered why does the cover have a popsicle?  This is a candid memoir of Manjusha Pawagi. A Canadian judge who was born in India, she tells it like it is as she gives you her experience with leukemia.  She leaves no tale untold, all the way down to the description of the ileostomy bags.
She is very detailed in her journey as she faces her many fears. My husband battled cancer as a teenager and this gives me an idea of what he went through.  He fought a different cancer than Pawagi had, but it gives the reader an idea of the struggle all cancer patients go through.  A cancer ward has to be a very difficult place to work and visit.
Pawagi is a minority of South Asian descent and you learn how hard it is to find a match for stem cells as according to the memoir ¾ of donors are Caucasian.  She says that only 4% of donors are South Asian and most likely her donor would have to come from the Indian state of Maharashtra where she is from.  Finding a donor is difficult in the first place and many people wait and unfortunately never find their match. Being a minority makes it more difficult. More people should sign up to be donors!
Pawagi also gives humor in this memoir.  She talks about wanting a banana popsicle (so that's where the cover comes in!) and still eating bacon.  She feels that if she stops eating bacon, then cancer wins.  We can't let that happen, keep eating and enjoying bacon!
Please note that Pawagi's journey is not a faith based journey.  She is an atheist and this does not change.  She is convinced that she will go to Heaven: 'I'm an atheist too, but I'm  firmly convinced that if I turn out to be wrong and there is a God, and all the accompanying heaven/hell thing, I am definitely going to heaven. I have no theological basis for this, but I know it would be ridiculously unfair if I were barred because of what I consider to be a mere technicality, which I equate to the minor procedural irregularities I see in court all the time, and which I either ignore or patch up after the fact in some way. Because, while I do not believe in God, I do believe in justice' (Chapter Seven). As a believer myself, I can't agree with her thoughts on this issue.  But this is her memoir to tell as she sees fit and she is free to believe or not believe as she wishes.
Earlier in her book she talks about her son's journal in school and that he took it seriously and wrote down everything he did.  He wrote so much that the teacher set a three page a week limit on the journals and would stop reading at three pages no matter how much was written.  She says:  'I will try not to inflict so much on my own readers, but just like Jack's teacher, you are free to stop reading at any point (Chapter Five).  I like her and her attitude, though it is hard to say I 'enjoyed' her memoir as it is a about a battle with cancer.
Love and Laughter in the Time of Chemotherapy is recommended.
Thank you to NetGalley and Second Story Press for granting me an e-arc copy!