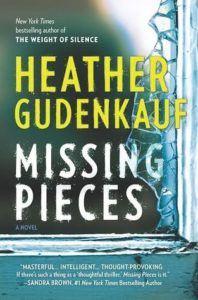 Author: Heather Gudenkauf
288 Pages in Hardback
Published: February 2, 2016
Dates Read: May 2-May 14, 2016
My Rating: 5 Stars
Book Summary from Amazon:

A woman uncovers earth-shattering secrets about her husband's family in this chilling page-turner from New York Times bestselling author Heather Gudenkauf
Sarah Quinlan's husband, Jack, has been haunted for decades by the untimely death of his mother when he was just a teenager, her body found in the cellar of their family farm, the circumstances a mystery. The case rocked the small farm town of Penny Gate, Iowa, where Jack was raised, and for years Jack avoided returning home. But when his beloved aunt Julia is in an accident, hospitalized in a coma, Jack and Sarah are forced to confront the past that they have long evaded.
Upon arriving in Penny Gate, Sarah and Jack are welcomed by the family Jack left behind all those years ago—barely a trace of the wounds that had once devastated them all. But as facts about Julia's accident begin to surface, Sarah realizes that nothing about the Quinlans is what it seems. Caught in a flurry of unanswered questions, Sarah dives deep into the puzzling rabbit hole of Jack's past. But the farther in she climbs, the harder it is for her to get out. And soon she is faced with a deadly truth she may not be prepared for.
---
My Review:
Missing Pieces is Heather Gudenkauf's newest book. It is different from her others- it does not have the multiple points of view that I have grown accustomed to in her writings. It took me a little while to get used to that. Once I did, I was fine with reading it.
I enjoy the thriller/murder mystery type book. And I enjoyed Missing Pieces. I had it narrowed down to two possible characters were for the killer. I wasn't sure why I thought they were the were the killer… And I was wrong!!!  I enjoy these types of books, and enjoy them even more if I am wrong as to who is the killer/responsible party. I would like to read the book again soon since I know who the killer is now to see if I will see things differently as I read it.
I look forward to more books in the future written by Heather Gudenkauf!
---
**Remember:  Tomorrow's post will feature my interview with Heather! I am very excited about this!  Be sure to visit the site tomorrow for that!
**Never miss a post!  Click Follow on the bottom right corner of the screen and enter your email address.  You will receive an email asking you to confirm that you want to receive emails. Once you confirm, you will then get an email whenever there is a post!