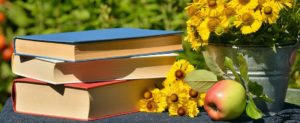 I thought I would share a list of the books I am going to be reading very soon. I am currently not accepting books for review unless they are audiobooks on cd. I am a member of NetGalley where you get arcs to read months in advance. I want to catch up on these books as soon as possible to begin accepting books again. Some of the books listed came from NetGalley (NG) and others came from other sources which are mentioned.
This is my planned TBR (to be read) list of books I will be reading in the immediate future in order of being read:
Operating on Faith– Matt Weber (NG)
Stop the World – Sherry Mayes (sent a copy from the author)
Duplicity– Sibel Hodge 12/27/2016 publish date (NG)
Everything You Want Me to Be-Mindy Mejia Publish date 1/03/2017 (NG and Goodreads)
Tattletale– Sarah J. Naughton – no publish date for USA (NG)
Grey Magic– JT Lawence- (sent a copy from the author)
Behind Her Eyes– Sarah Pinborough- Publish date 1/26/2017 (NG)
In Farleigh Field – Rhys Bowen- Publish date 3/01/2017 (NG and publisher)
*I will be taking part in a blog hop for this book in March 2017! I am very excited about this!
Broken English– Marita A. Hansen (NG)
Last Call-Jerry Herships (NG)
Behind Closed Doors– B.A. Paris- I won a copy through a Facebook giveaway from St Martin's Press where they were giving away 10,000 copies
Good in Bed– Jennifer Weiner- (NG) It was a 15th anniversary copy
Fear Dreams (Detective Kerri Blasco Book 1)– JA Schneider
Her Last Breath (Detective Kerri Blasco Book 2) – JA Schneider (NG)
All Fall Down- Tom Bale
As you can see, I will be busy catching up for a while. I have more books to read, but I just wanted to share these. I average reading a book 7-10 days now, so I will be busy for several months!
**Very soon I will be posting my Top 10 list of 2016. I will also post all the books I read in 2016 on December 31st.
Thanks for reading my blog, and if you haven't subscribed, please do! That way you will never miss a post. I love my readers! Please pass my blog information on to any friends you have as well!
Have any of you read any of these books? If so I would love to hear what you thought of them!
Jessica