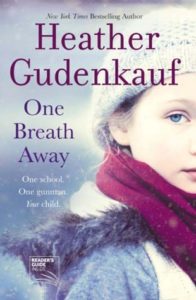 Author: Heather Gudenkauf
384 Pages in Paperback
Published: June 26, 2012
Dates Read: March 9- March 30, 2016
My Rating: 4 Stars
Book Summary from Amazon:
In her most emotionally charged novel to date, New York Times bestselling author Heather Gudenkauf explores the unspoken events that shape a community, the ties between parents and their children and how the fragile normalcy of our everyday life is so easily shattered.
In the midst of a sudden spring snowstorm, an unknown man armed with a gun walks into an elementary school classroom. Outside the school, the town of Broken Branch watches and waits.
Officer Meg Barrett holds the responsibility for the town's children in her hands. Will Thwaite, reluctantly entrusted with the care of his two grandchildren by the daughter who left home years earlier, stands by helplessly and wonders if he has failed his child again. Trapped in her classroom, Evelyn Oliver watches for an opportunity to rescue the children in her care. And thirteen-year-old Augie Baker, already struggling with the aftermath of a terrible accident that has brought her to Broken Branch, will risk her own safety to protect her little brother.
As tension mounts with each passing minute, the hidden fears and grudges of the small town are revealed as the people of Broken Branch race to uncover the identity of the stranger who holds their children hostage.
---
My Review:
Heather Gudenkauf is my favorite author. I love that she writes with multiple points of views in her novels. One Breath Away was a very intense read. I never wanted to put it down (Specifically the last 50 or so pages)! I hated when my lunch break was over at work because I wanted to keep reading it.
I did have a few issues with some things the characters did (SPOILERS): A teacher leaving his classroom during lock down because he hears a noise above a classroom. Really!?!? A student walking around the school during lock down, a grandfather trying to go into the school and almost getting shot by a police officer in the process. What were the characters thinking? (END SPOILERS).
I can see this book becoming a Lifetime movie down the road. You wonder if everyone will be ok in the end. This book could be hard to read for some as it deal with a tough issue: Our children and shootings, specifically school shootings. We never want to see something terrible happen to our children, or for them to experience something like this.
Despite the issues I had with the book, I still really enjoyed One Breath Away and would recommend it.