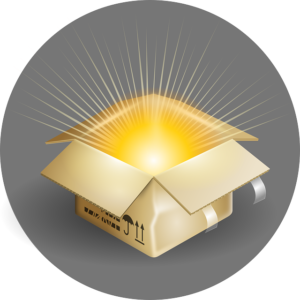 Last week I did a live 'unboxing' of a PageHabit box over on the Bookies Facebook page.  Many thanks to the folks at PageHabit for sending me this box!  PageHabit is a book subscription service that offers both monthly and quarterly boxes and both will be discussed.  Their website is here.
There are two types of boxes you can subscribe to at PageHabit:
Monthly at $29.99 a month
Quarterly $49.99
Shipping costs:
Monthly:
US $4.99
Canada $14.99
International $19.99
Quarterly
US $7.99
Canada $19.99
International $29.99
**There is sales tax charged for residents of California and Idaho because PageHabit's headquarters is in Los Angeles and a distribution center is in Idaho.
What is the difference in the boxes?
Monthly:
There are six different genre choices for the monthly box:
Literary Fiction
Mystery
Young Adult Fiction
Romance
Fantasy
Historical Fiction
Quarterly:
Literary Fiction
Young Adult Fiction
What comes in the box????

– A brand new release, annotated by the author
– A written letter from the author
– A  bookmark
– Bookish goodies
– A donation to support children's literacy around the world
Quarterly boxes are curated by the featured author and include all of the above, and then more:
– Two additional books handpicked by the featured author
– Bookish goodies selected by the author
**Even better is that the featured book has handwritten annotations written by the author! They are throughout the novel which can enhance the reading experience!!!
When you subscribe, you also get a membership with access to an online community which has members from around the world.  There is also access to exclusive author content, including live chats with authors.
***The pictures below and my live video were of the monthly mystery box for June.***
If you would like to watch the unboxing from Bookies, here is a link to the video: https://www.facebook.com/Bookiesfan/videos/1584499511562548/
---
Here is the box! The cats were as anxious to get into it as  I was!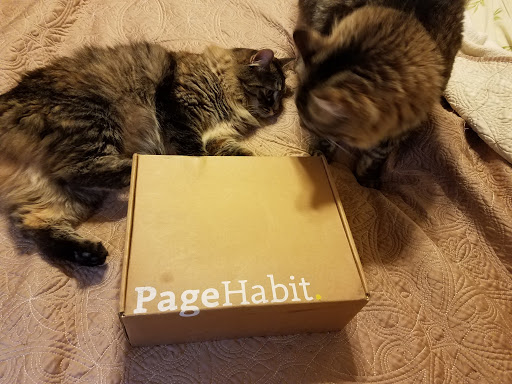 For June, Page Habit is partnering with Books for Africa, the Lumwana International School, and Holy Cross Convent School.  They hope to bring 20,000 books to Zambia.  This card talks about Zambia and more including the other chosen books for the other genres.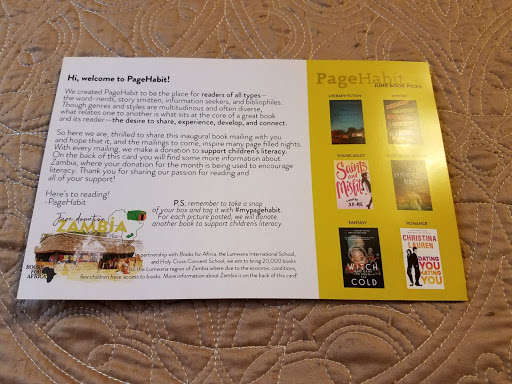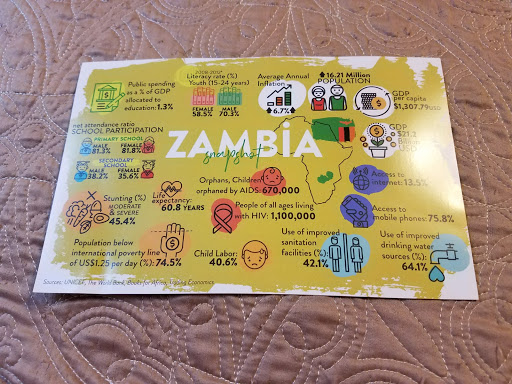 First up were some sticky notes and a bookmark!  The bookmark says " Never put off till tomorrow the book you can read today" Holbrook Jackson.  The back side of the book mark says PageHabit.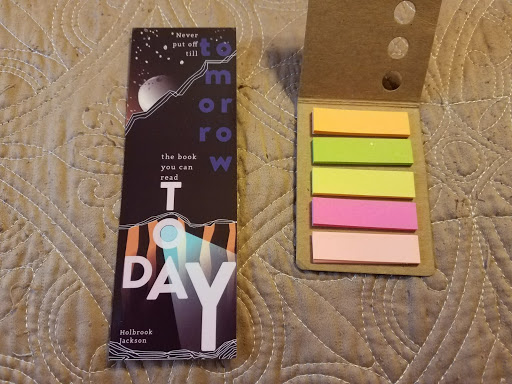 There was also a very cute pouch that says "So many books, so little time" Frank Zappa. I agree with this completely and loved this pouch!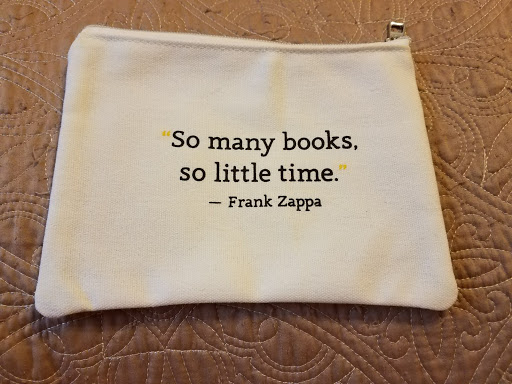 There was also this adorable little pin shaped like a book that says Read More. I didn't realize that it was book shaped while I was doing the unboxing.  It is adorable!!!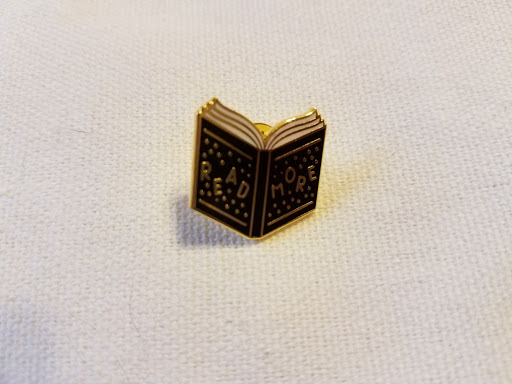 There was also a three page letter from the author!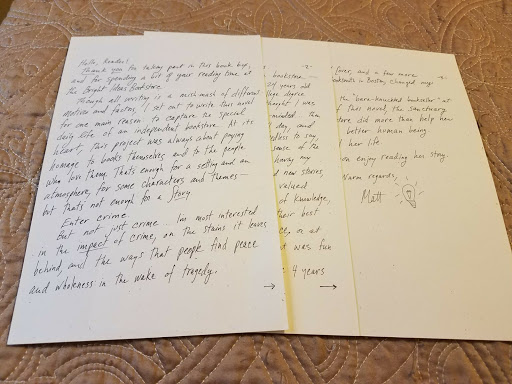 It's time for the main event- the book!!!!
On the cover of the book was the first note from the author: Midnight at the Bright Ideas Bookstore by Matthew Sullivan.  I had never heard of this book and this will be a new to me author.  Reading the description I am glad this was the book they chose. This is the debut novel for this author.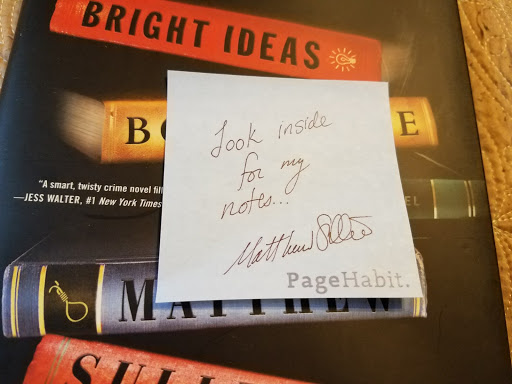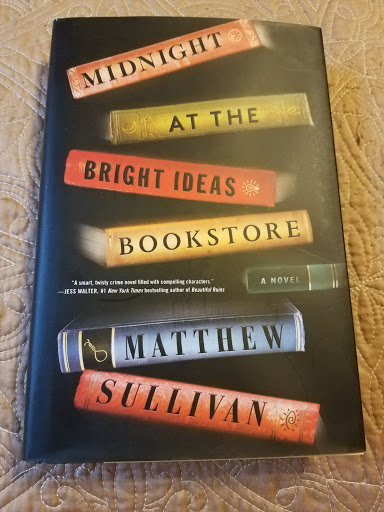 When a bookshop patron commits suicide, his favorite store clerk must unravel the puzzle he left behind in this fiendishly clever debut novel from an award-winning short story writer.
Lydia Smith lives her life hiding in plain sight. A clerk at the Bright Ideas bookstore, she keeps a meticulously crafted existence among her beloved books, eccentric colleagues, and the BookFrogs—the lost and lonely regulars who spend every day marauding the store's overwhelmed shelves.
But when Joey Molina, a young, beguiling BookFrog, kills himself in the bookstore's upper room, Lydia's life comes unglued. Always Joey's favorite bookseller, Lydia has been bequeathed his meager worldly possessions. Trinkets and books; the detritus of a lonely, uncared for man. But when Lydia flips through his books she finds them defaced in ways both disturbing and inexplicable. They reveal the psyche of a young man on the verge of an emotional reckoning. And they seem to contain a hidden message. What did Joey know? And what does it have to do with Lydia?
As Lydia untangles the mystery of Joey's suicide, she unearths a long buried memory from her own violent childhood. Details from that one bloody night begin to circle back. Her distant father returns to the fold, along with an obsessive local cop, and the Hammerman, a murderer who came into Lydia's life long ago and, as she soon discovers, never completely left. Bedazzling, addictive, and wildly clever, Midnight at the Bright Ideas Bookstore is a heart-pounding mystery that perfectly captures the intellect and eccentricity of the bookstore milieu and will keep you guessing until the very last page.​
Here are annotations throughout the book! I cannot wait to read this and get the enhanced experience with these post-it notes from the author!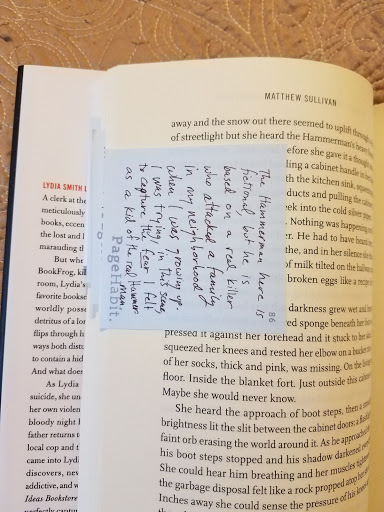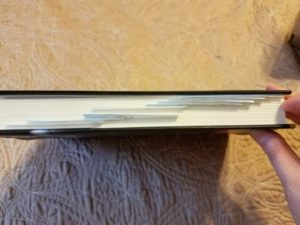 I really enjoyed this unboxing.  There was cute stuff that I enjoyed.  PageHabit has a really unique twist with the subscription boxes with the letter and annotations throughout the book written by the author himself! It will be like the author is going on the reading journey with you!  I do hope to get a quarterly box at some point to see what that is like.
Again, thank you so much PageHabit for sending me this monthly mystery box!