Release Day Review: Never Let You Go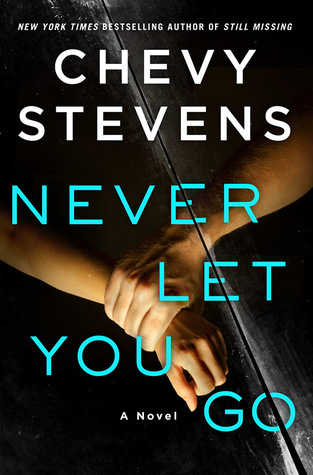 Author: Chevy Stevens
406 pages in hard back
Published: March 14, 2017
Dates Read: February 26 – March 11, 2017
My Rating: 5 Stars
Book Summary from Amazon:
Eleven years ago, Lindsey Nash escaped into the night with her young daughter and left an abusive relationship. Her ex-husband, Andrew, was sent to jail and Lindsey started over with a new life.
Now, Lindsey is older and wiser, with her own business and a teenage daughter who needs her more than ever. When Andrew is finally released from prison, Lindsey believes she has cut all ties and left the past behind her. But she gets the sense that someone is watching her, tracking her every move. Her new boyfriend is threatened. Her home is invaded, and her daughter is shadowed. Lindsey is convinced it's her ex-husband, even though he claims he's a different person. But has he really changed? Is the one who wants her dead closer to home than she thought?
With Never Let You Go, Chevy Stevens delivers a chilling, twisting thriller that crackles with suspense as it explores the darkest heart of love and obsession.
My Review:
Still Missing is Chevy Stevens' first novel and is my favorite of hers. You feel every emotion Annie has and Chevy's writing is compelling! With Never Let You Go, Chevy really does showcase that she is a master at what she does.
Never Let You Go is about Lindsey and her daughter Sophie. Lindsey is in an abusive marriage and wants to get out but isn't sure how. Eventually she leaves with Sophie and her husband Andrew goes to jail. Eleven years later, Andrew is released from prison and Lindsey begins to feel that she is being constantly watched. She believes it is Andrew even though he says he has changed.
Never Let You Go is narrated by Lindsey and her daughter Sophie. In addition to both narrators the novel also takes place in the past when Lindsey was in her marriage and present day. Both transitions of the points of view between Lindsey and Sophie and past and present are seamless. They merge together well and there is no confusion when each chapter occurs or who the narrator is.
As with all thriller/suspense novels there are twists that you may or may not see coming. My suspicions were narrowed down to two characters as to whom I thought was stalking Lindsey. I just was not sure why they might have been doing it. I was excited to see that one of my suspicions was right! I normally do not like it when I guess who the guilty party is, but I think because I was not sure of the motive, that was why I still had my mind blown. When I read who was stalking Lindsey and why I had two reactions: "I knew it! and OMG!" The OMG thought was the motive that I did not see coming.
Chevy Stevens does a great job with you having empathy for Lindsey. At the beginning you really want her to get away from Andrew. Chevy pulls you in and takes you for quite a ride with Lindsey and Sophie. You want Lindsey and Sophie to come out fine at the end.
This is a very intense book that I never wanted to put down!
I must give a couple of warnings to readers:
If you have issues with domestic violence you may want to stay away from this book. Some scenes are very intense.
If you are an animal lover there are a couple of scenes that may bother you. I had a hard time reading those scenes, but a lot of the feeling was fear as to what was going to happen next.
With Never Let You Go Chevy Stevens shows how superior she is with her writing in the suspense/thriller genres. With this book, she is becoming a favorite of mine!
Never Let You Go is very highly recommended! If you have not read her novels and interested in reading them, then start with Still Missing and then move onto Never Let You Go!
**Thank you to St. Martin's Press for my e-arc via NetGalley and my print arc copy!