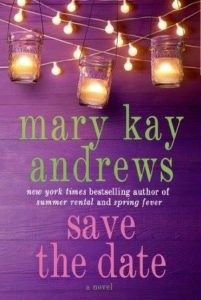 Author: Mary Kay Andrews
448 pages (read as an audiobook)
Published: June 3, 2014
Dates Read: June 2-25, 2015
My Rating: 4 Stars
Book Summary from Amazon:
Can this wedding be saved?
Up-and-coming floral designer Cara Kryzik is about to score the wedding of a lifetime―one that will solidify her career as the go-to-girl for Savannah society nuptials. The only problem is, life seems to be conspiring against her. Cara's implacable father, "The Colonel", doesn't believe in Cara's business savvy and is about to call in his twenty-thousand-dollar loan. Then, on the morning that someone steals her dog, Cara's refrigerator goes on the blink, turning twelve thousand dollars' worth of gorgeous blooms into road kill. And if that's not enough, the dog-napper, Jack Finnerty, turns up at her latest wedding and then mysteriously leaves her stranded on the dance floor.
All this turmoil will be solved if Cara can pull off the lavish Trappnell-Strayhorn wedding. The payday will solve all her problems―even the looming problem of a celebrated florist named Cullen Keane who is moving into her turf from Charleston. But the wedding is in six weeks, the bride is acting strangely (even for a bride) and the stepmother of the bride is becoming Cara's biggest headache. What Cara needs is to focus, but that's not easy when Jack is turning up at every wedding in Savannah (the man seems to know everybody), with Cara in his sights and seduction on his mind.
When Brooke Trappnell spirals into a shocking crisis and the wedding is in jeopardy, Cara must come to the rescue and figure out what she really believes in. Is it love? Is it her own strength? In the end, for everyone, "Save the Date" has more meanings than one. Told with Mary Kay Andrews's trademark wit and keen eye for detail, Save the Date is one you won't want to miss.
---
My review in 2015:
Mary Kay Andrews (MKA) does a great job writing quick, easy summer reads. If you ever need a "beach read" then choose a MKA book!!
Save the Date was the first Mary Kay Andrews (MKA) book I have read. I was looking for an audiobook at the library last year and found Save the Date. From the description it looked like a cute chick lit book. I was right and enjoyed it. I enjoyed it so much so that I borrowed every one of MKA's books that was available at my local library. Like chick-lit, they are quick reads, and you don't have to "think" much while you read. MKA has become an author I enjoy. Some of her books are better than others.
I am from Georgia and the book takes place in Savannah, so that was another reason I enjoyed the book. I don't live near Savannah, but have visited a few times. It is a great city to visit if you haven't ever been! MKA also lives in Georgia, I believe somewhere in the Metro Atlanta area, and that is another reason I like her. I like to support local authors.
If you enjoy quick/ fun and easy to read/chick-lit/books of the "southern genre"/ wedding type books then you should read this!! And in general check out MKA's books!!