Short Story Review: Asteroid Riders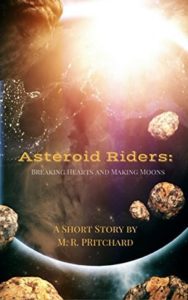 Asteroid Riders: Breaking Hearts and Making Moons
Author: M.R. Pritchard
5,600 words; 20 pages
Published: December 15, 2016
Date Read: January 31, 2017
My Rating: 4 stars
Short Story Summary from Amazon:
The asteroid riders are in the middle of building the second-moon of Phaeton. Heartbreak and betrayal run rampant, and the only woman on the asteroid rider's team faces some tough realizations about humanity.
My Review:
Science Fiction is not my typical genre, so I wasn't sure what to expect from Asteroid Riders. Asteroid Riders is a short story and I got it for free on Amazon when it was first released. I'm always willing to give short stories a try, even if they are outside the genres I tend to read.
M.R. Pritchard did a great job of making me feel like I was in space riding the asteroids with the characters. Natalie is our narrator and the only woman among men working as an asteroid rider. Drama comes into the picture when failed romance occurs. She is dealing with a very recent broken heart and having to work at the same time.
This is a good short story that could be expanded if M.R. Pritchard decided to. Asteroid Riders is recommended.