Short Story Review: Invisible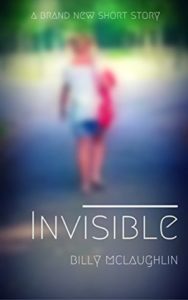 Author: Billy McLaughlin
7,000 words; 31 pages
Published: March 24, 2016
Date Read: February 1, 2017
My Rating: 5 stars
Short Story Summary from Amazon:
Louise Bradshaw harbours a secret. One that she refuses to share. Her distant and unfriendly behaviour has made her a social outcast. Suddenly she is pulled out of her slump when she is befriended by Joe, a maverick colleague who attempts to help her engage. However, things take a dangerous turn in this debut novelette when Joe gets too close….
My Review:
Louise is an outcast and even her coworkers ignore her. Joe notices this and befriends her. They become close and talk constantly. Bruises start showing up on Louise and she begins missing work and Joe becomes concerned for her. Then the direction of the short story goes somewhere you don't expect. Despite its short length of 31 pages, I could not put this story down. Billy McLaughlin does a great job pulling you in and making you want to know what is going to happen next! There are even short 'chapters' in this short story which seemed to help me read it even quicker!
I look forward to reading more by Billy McLaughlin in the near future! Use your lunch break to read Invisible!