Standalone Sunday was started by Megan over at Bookslayer Reads.

What is Standalone Sunday?
Each Sunday bloggers feature a standalone book (one that is not part of a series) that they loved or would recommend. The standalone can also be one you want to read. There is so much focus on books that are part of a series that standalone books seem to be forgotten. They can be just as great as book series!
Here is my selection for this week:
Congo by Michael Crichton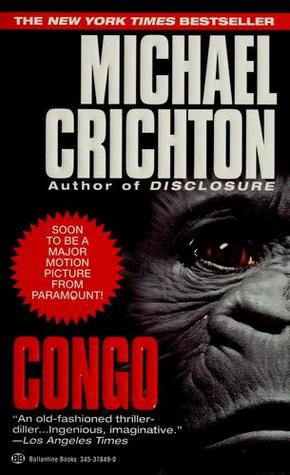 Description from Goodreads:
Deep in the African rain forest, near the legendary ruins of the Lost City of Zinj, an expedition of eight American geologists is mysteriously and brutally killed in a matter of minutes.
Ten thousand miles away, Karen Ross, the Congo Project Supervisor, watches a gruesome video transmission of the aftermath: a camp destroyed, tents crushed and torn, equipment scattered in the mud alongside dead bodies — all motionless except for one moving image — a grainy, dark, man-shaped blur.
In San Francisco, primatologist Peter Elliot works with Amy, a gorilla with an extraordinary vocabulary of 620 "signs," the most ever learned by a primate, and she likes to fingerpaint. But recently, her behavior has been erratic and her drawings match, with stunning accuracy, the brittle pages of a Portuguese print dating back to 1642 . . . a drawing of an ancient lost city. A new expedition — along with Amy — is sent into the Congo where they enter a secret world, and the only way out may be through a horrifying death . . .
---
I have never read the novel Congo, but have seen the movie countless times.  The movie came out in 1995, and I was 15 then, the perfect age for the movie. I loved everything about Amy. I would love to know the differences between the movie and the novel.
Congo was published in 1980, so it is as old as me!  (LOL)
The idea of Amy is based off Koko the gorilla. The Gorilla Foundation  was founded in 1976 by Dr. Francine Penny Patterson and is based on the results of a unique interspecies communication study with gorillas began in 1972. This includes 'Project Koko'. You can find out more about The Gorilla Foundation and Project Koko here.