Standalone Sunday: Intensity

Standalone Sunday was started by Megan over at Bookslayer Reads.

What is Standalone Sunday?
Each Sunday bloggers feature a standalone book (one that is not part of a series) that they loved or would recommend. The standalone can also be one you want to read. There is so much focus on books that are part of a series that standalone books seem to be forgotten. They can be just as great as book series!
Here is my selection for this week:
Intensity by Dean Koontz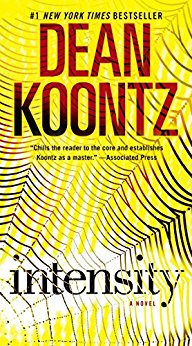 Book Description:
Past midnight, Chyna Shepard, twenty-six, gazes out a moonlit window, unable to sleep on her first night in the Napa Valley home of her best friend's family. Instinct proves reliable. A murderous sociopath, Edgler Foreman Vess, has entered the house, intent on killing everyone inside. A self-proclaimed "homicidal adventurer," Vess lives only to satisfy all appetites as they arise, to immerse himself in sensation, to live without fear, remorse, or limits, to live with intensity. Chyna is trapped in his deadly orbit.
Chyna is a survivor, toughened by a lifelong struggle for safety and self-respect. Now she will be tested as never before. At first her sole aim is to get out alive—until, by chance, she learns the identity of Vess's next intended victim, a faraway innocent only she can save. Driven by a newly discovered thirst for meaning beyond mere self-preservation, Chyna musters every inner resource she has to save an endangered girl . . . as moment by moment, the terrifying threat of Edgler Foreman Vess intensifies.
---
Right after I first got married four years ago, one of my friends from college invited me to  join the book club she was in.  This was the book they had just read and were discussing. I had never read it,but they all seemed to enjoy it.  It was written in 1996, so some parts of the book are dated, as cell phones were not readily available then as they are commonplace now.
I do own a copy and hope to read it at some point.