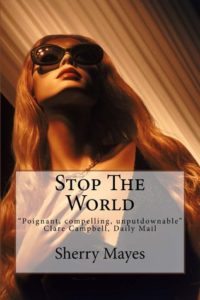 Author: Sherry Mayes
216 pages in Kindle
Published: December 13, 2015
Dates Read: December 28, 2016- January 7, 2017
My Rating: 5 Stars
Book Summary from Amazon:
Inspired by a true story
SHE THOUGHT HER LIFE WAS OVER … BUT IT WAS JUST BEGINNING
Jody Angel Taylor believes her life is all mapped out: Glamorous, clever and popular, and due to marry her handsome boyfriend, she has it all. Until one night she has a devastating car crash, ending up paralyzed — and her perfect world collapses.
Committing media suicide and publicly blamed for her own accident, everything around her falls apart. She becomes a lonely recluse, feeling she's lost everything including her legs — her boyfriend to her best friend, her father to an affair, her mother to depression — but above all she fears losing her mind. What she doesn't know is that someone across the globe is about to throw her a lifeline. Can she find the courage to take it? Determined to love again and clear her name, she embarks on a new adventure that will transform her life beyond all expectations.
My Review:
Jody Angel Taylor has it all: She is a beauty queen, popular, has a new car, and just got engaged. She is also vain, shallow, and the typical self absorbed teenager. Then one night she is involved in a serious car accident and her life changes forever.
Jody is the narrator in Stop the World. She feels her life is over since she is now paralyzed from the waist down. She has a devastating interview, then people begin to blame her for the accident. Besides losing her freedom as she can't walk anymore, Jody begins to lose everything else in her life in various ways: her best friend, her fiance, and her father. She tailspins into a depression and becomes a recluse of sorts and then she meets someone online. Things start to change for Jody. She begins to feel better about herself, but her journey is far from over. Can she come to terms with everything that has happened to her and what her life could become with being paralyzed?
Sherry Mayes does an incredible job of putting us in Jody's head. We experience everything as Jody does. You don't expect to like Jody as she is not likeable in the beginning, but as Jody changes, we grow to like her and begin to root for her. We see her challenges as she becomes determined to be able to walk again despite her doctor telling her that she never will. There are many times you can't help but root for Jody. There are times you feel the things that Jody goes through. You want there to be a happy ending for her. As I was reading Stop the World, you can tell that Sherry Mayes did her research with showing the physical therapy that Jody goes through and setbacks that she also experiences. This is not a novel about loss, but a novel about the journey of a young woman and ultimately who she becomes.
Stop the World is based on a true story. I can't help but want to know the actual story and learn about the young woman that this book is based on. If it is anything similar to Stop the World, it is a powerful story.
Stop the World is recommended.