Mary Kay Andrews, better known as MKA to her fans, is a favorite author of Jessica's Reading Room! Her novels are fun, easy to read beach reads.  Her newest novel, The High Tide Club, was released in May and I (Jessica) attended the book launch in Decatur!!! It was my first MKA signing!  Kim was also able to attend a signing. There will be pictures below!
Author: Mary Kay Andrews
Published: May 8, 2018
Reviewed By: Kim
Kim's Rating: 4 stars
Book Description:
When ninety-nine-year-old heiress Josephine Bettendorf Warrick summons Brooke Trappnell to Talisa Island, her 20,000 acre remote barrier island home, Brooke is puzzled. Everybody in the South has heard about the eccentric millionaire mistress of Talisa, but Brooke has never met her. Josephine's cryptic note says she wants to discuss an important legal matter with Brooke, who is an attorney, but Brooke knows that Mrs. Warrick has long been a client of a prestigious Atlanta law firm.
Over a few meetings, the ailing Josephine spins a tale of old friendships, secrets, betrayal and a long-unsolved murder. She tells Brooke she is hiring her for two reasons: to protect her island and legacy from those who would despoil her land, and secondly, to help her make amends with the heirs of the long dead women who were her closest friends, the girls of The High Tide Club—so named because of their youthful skinny dipping escapades—Millie, Ruth and Varina. When Josephine dies with her secrets intact, Brooke is charged with contacting Josephine's friends' descendants and bringing them together on Talisa for a reunion of women who've actually never met.
The High Tide Club is Mary Kay Andrews at her Queen of the Beach Reads best, a compelling and witty tale of romance thwarted, friendships renewed, justice delivered, and true love found.
Kim's Review:
Mary Kay Andrews is easily one of my favorite authors ever! She is the queen of funny, Southern fiction and her books are perfect for summer! The High Tide Club is no different. Andrews manages to pull fabulous, fascinating places out of her imagination and then makes them sound like real places that if you tried hard enough, could visit for yourself. Talisa Island is a barrier island off the coast of Georgia, where the Bettendorf family vacation seat of Shellhaven is located. My first inclination was to go straight to Orbitz to book a hotel in St. Ann's so I can charter a boat to take me to Talisa.
The story of how the High Tide Club came into being and the mysteries surrounding the women, both in the past and present, kept me turning page after page and before I knew it, I was done! It was easy and engaging and I found myself empathizing and rooting for Brooke. I will admit that as much as I loved Brooke and her mother, Marie, and old Josephine, and the residents of Talisa Island, I found myself brisling against Felicia. Yeah, yeah, I know, I'm a racist, but I really disliked her bitterness and the way she kept falling into the victim mentality. I've said this many times before, I hate politics in fiction and the last thing I want while reading a story, is to be lectured.
But, to hopefully balance out that opinion, I think the true hero of this book is old Varina! I fell in love with Auntie Vee from the very first time she stepped into the story and her grace and poise throughout the entire book is downright enviable! She refuses bitterness, to think badly of her friend, to accept her niece's bad attitude. She offers forgiveness quickly and accepts what and who God sends to her life willingly and easily. She is the perfect example of the classy, Southern lady that I aspire to be! I like to pride myself on being able to figure things out relatively quickly when reading mysteries and thrillers, but I gotta hand it to MKA, she got me with this one! By the time the mystery was unraveled and the villains revealed, I was shocked and surprised with my mouth hanging open! High five, MKA, high five! Honestly, if it weren't for the PC undertones that kept cropping up, I'd have given this book 5 stars! This is the almost perfect summer and beach read!! 
Purchase Links:
Amazon US
Amazon UK
---
The High Tide Club Book Launch:
I was so excited to attend my first book launch by MKA. There were A LOT of people there! We even got to meet "Mr. MKA" and others from her family.  It was a great launch.  Some of the ladies that attended go to every MKA signing that they can!  They are all friends and know each other well.  I got my book signed, got a swag bag of goodies, some audio arcs and audio books, and had some good food! Everyone had a good time! Here are some pictures from the launch:
Jessica with MKA! I was the second one to meet her and get my book signed!
The decor on the tables was so nice!! I wanted to take it with me!!

You know it's time to party when there is a disco ball! 😉

MKA with "Mr. MKA"!
MKA's daughter and grand daughter- it was a whole family affair!

Here is a picture that was taken of the crown from MKA's perspective! There really were a lot of people! And do you see Jessica? It's like "Find Waldo"!


Courtesy of MKA Facebook page
---
Kim went to Nag's Head, NC for her book signing. She is a repeat MKA offender:
Her past signings:
Wednesday evening my husband was kind enough to drive me to The Hunter Collective in Atlanta for the book launch for Kimberly Belle's newest book, The Marriage Lie! We arrived there early and I was thankful for that. I got to meet Kimberly, talk with her, and get all three of her books signed!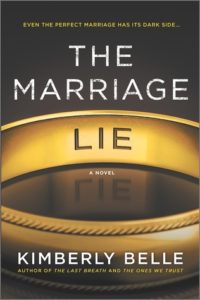 Iris and Will have been married for seven years, and life is as close to perfect as it can be. But on the morning Will flies out for a business trip to Florida, Iris's happy world comes to an abrupt halt: another plane headed for Seattle has crashed into a field, killing everyone on board and, according to the airline, Will was one of the passengers.
Grief stricken and confused, Iris is convinced it all must be a huge misunderstanding. Why did Will lie about where he was going? And what else has he lied about? As Iris sets off on a desperate quest to uncover what her husband was keeping from her, the answers she finds shock her to her very core.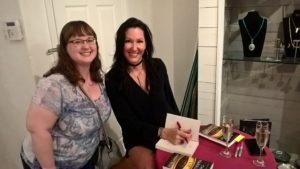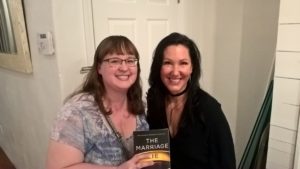 Kimberly is a super nice lady!
My husband counted around 50 people that showed up for the book launch. Kimberly was a very popular lady! She had so many people coming out to congratulate and support her! We were able to meet her husband, whom she refers to as 'The Dutchman' and also her father.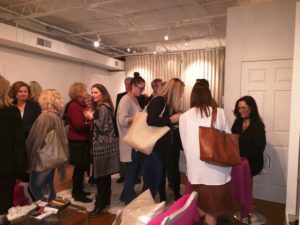 There were various goodies to eat and lots of bubbly to drink!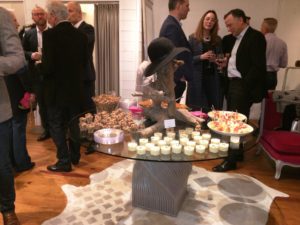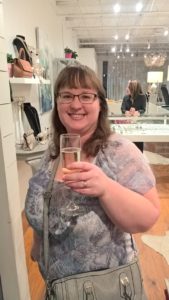 There were souvenir soaps given out that were provided by Sweet Peach Wax & Sugaring Studio.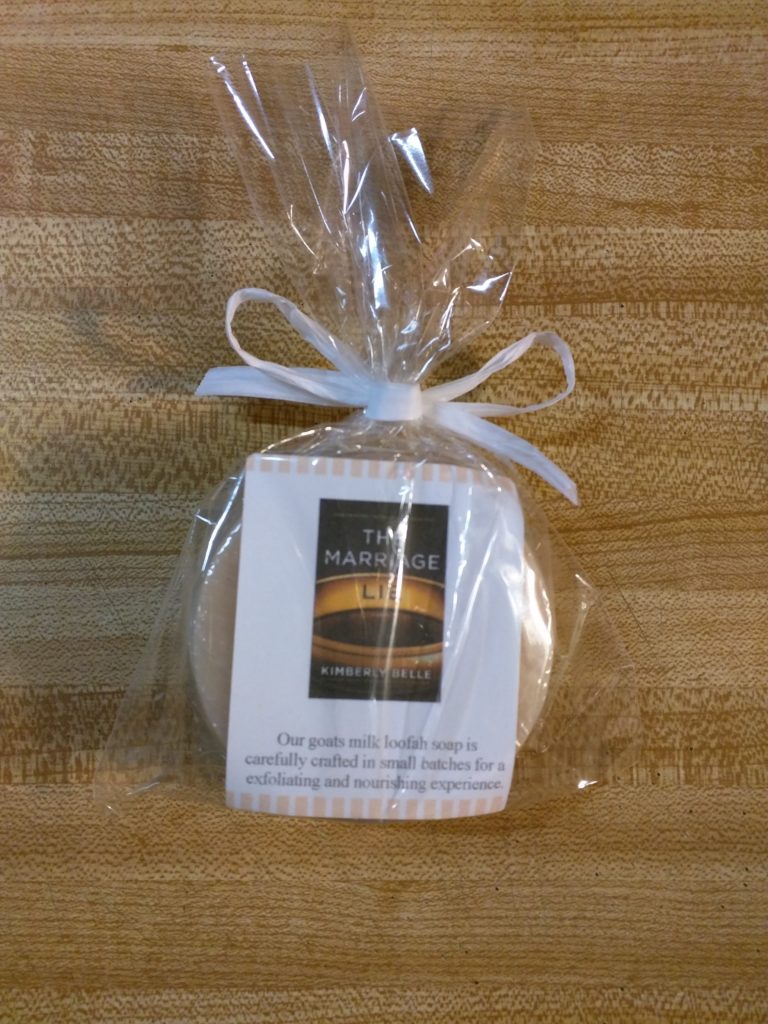 Kimberly also did a reading from The Marriage Lie. I really wish I was caught up on books to read for reviews, because if I was I would definitely be picking up this book now!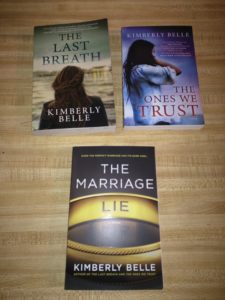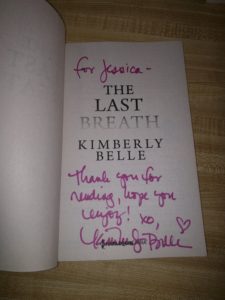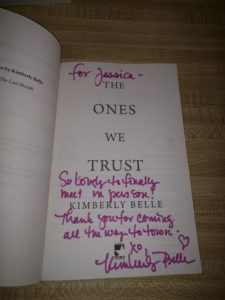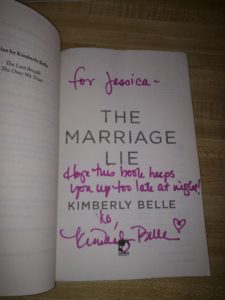 Links:
Kimberly Belle
The Hunter Collective
Sweet Pea Wax and Sugaring Studio
[Top]