This week's First Line Friday is on Saturday. I don't like to blog more than once a day and yesterday I was part of a blog tour, so First Line Friday moved to today.  This is week #46 of First Line Friday! This is another selection where I have opted to share more then the first line. This is a short novel and one I NEED to read.  This looks to be a novel that you will go on a roller coaster of emotions as you experience this journey.
The monster showed up just after midnight. As they do.   
The monster in Conor's backyard is not the one he's been expecting — the one from the nightmare he's had every night since his mother started her treatments. This monster is ancient. And wild. And it wants something from Conor. Something terrible and dangerous. It wants the truth. From the final idea of award-winning author Siobhan Dowd — whose premature death from cancer prevented her from writing it herself — Patrick Ness has spun a haunting and darkly funny novel of mischief, loss, and monsters both real and imagined.
Please see Patrick Ness' Author's Note from the novel:
There is also a movie that I hope to see. Please watch the trailer:
Purchase Links:
Amazon US

Amazon UK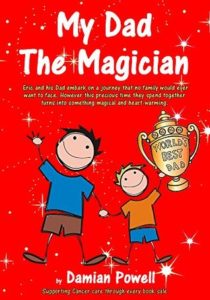 Author: Damian Powell
68 pages in Paperback
Published: 09/05/2016
Date Read: December 27, 2016
My Rating: 5 stars
Book Summary from Amazon:
Have you ever lost someone you really loved? Did you wish the news could have been delivered in a softer way? Now imagine you were 7 years old like the star of this short story, Eric Jones. His Dad is his best friend, and the journey they take together from July to Xmas day is an adventure no family should ever have to face. The bond between father and son is immeasurable, and this is put to the test when Eric's dad starts to share his incredible interest in magic with his son, leading to him revealing that he has developed the ultimate disappearing trick. Eric, throughout the next few months, learns some facts about his father's health through a magical and cleverly told tale, instead of the harsh truth that would be too much for any child to take on board, or even to understand. This precious time they spend together in those 6 months turns into something magical and heart-warming. It is a story that will touch many hearts and without doubt strike a chord with most people. The story has it's climaxes and although explores life's realities, does finish with a positive note reminding all who read it that life is short and has to be lived now and with love. A must read for any family member.
My Review:
I don't usually read children's books as I don't have children and feel I can't give a proper review because of that reason. I made an exception for My Dad the Magician when I found out what the book was about. Eric is seven years old and his dad has cancer. Instead of Eric's parents telling him this, Eric's dad introduces him to magic and tells Eric that he will be able to what the best magicians can't do: Disappear forever.
What follows is a heartbreaking cancer journey that dad experiences while trying to spend as much time as possible with Eric. Eric picks up that something is wrong with dad by seeing and hearing things that are going on around him. I couldn't help but wonder why mom and dad did not tell Eric what was going on even when Eric directly asked what's wrong with dad.
The ending is uplifting. It is meant to be read at Christmas time, and fittingly I received it as a Christmas gift. I wasn't able to read it on Christmas Day, but was able to read two days after Christmas.
Get your tissues ready because you won't have a dry eye by the end of this short children's book.
My Dad the Magician is recommended.
[Top]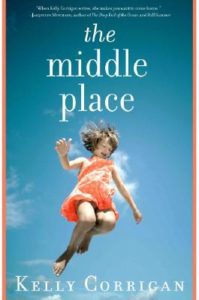 Author: Kelly Corrigan
269 pages in Paperback
Published: December 23, 2008
Dates Read: August 30- September 7, 2016
My Rating: 2.5 Stars
Book Summary from Amazon:
For Kelly Corrigan, family is everything. At thirty-six, she had a marriage that worked, two funny, active kids, and a weekly newspaper column. But even as a thriving adult, Kelly still saw herself as the daughter of garrulous Irish-American charmer George Corrigan. She was living deep within what she calls the Middle Place–"that sliver of time when parenthood and childhood overlap"–comfortably wedged between her adult duties and her parents' care. But Kelly is abruptly shoved into coming-of-age when she finds a lump in her breast–and gets the diagnosis no one wants to hear. When George, too, learns that he has late-stage cancer, it is Kelly's turn to take care of the man who had always taken care of her–and to show us a woman who finally takes the leap and grows up.
Kelly Corrigan is a natural-born storyteller, a gift you quickly recognize as her father's legacy, and her stories are rich with everyday details. She captures the beat of an ordinary life and the tender, sometimes fractious moments that bind families together. Rueful and honest, Kelly is the prized friend who will tell you her darkest, lowest, screwiest thoughts, and then later dance on the coffee table at your party.
Funny yet heart-wrenching, The Middle Place is about being a parent and a child at the same time. It is about the special double-vision you get when you are standing with one foot in each place. It is about the family you make and the family you came from–and locating, navigating, and finally celebrating the place where they meet. It is about reaching for life with both hands–and finding it.
My Review:
Kelly Corrigan's title of her memoir is The Middle Place; which is where she feels she is in life when this journey began. She is in that time between being someone's child and being someone's parent. I am the age Kelly is when she discovers the lump in her breast that ends up being cancer.
From the description of the novel, I expected to read more on her journey of going through the cancer treatments. Yes we do get some of that, but then her father gets his third occurrence of cancer and the book becomes more about her being concerned about losing her father. That may have been her coping mechanism to get through her cancer. But being her age, I wanted more of her story. Yes, this is her story to tell in her way, but it seems I wanted a different book than what I got.
In some ways she also became unlikeable. Again, this was most likely her coping mechanism. In one point of the novel she is angry with her husband for "talking to his parents too much" according to her:
"I'm glad you're bringing your cell. If you get bored, you can call your parents again." (Page 236)
"It bugs me that you're always calling your parents," (Page 237)
Then a couple of pages later, she is calling her parents to check on her dad and her girls. At one point her dad says:
"Lovey! I better let you go! You can't spend your vacation on the phone with us!" (Page 240)
Isn't this what you just got upset with your husband about?
Some reviewers have issues with the language she uses. Again, this is her story to tell in the way she will tell it. There was also no big revelation at the end. She didn't discover faith as some would have liked. This is a memoir and sometimes we don't get what we want as we do with with fiction books.
Overall, I can't recommend this book. It just wasn't for me.
[Top]