Tell Me What Really Happened
Author: Chelsea Sedoti
Narrator: Full Cast Narration
Published: April 4, 2023
Audiobook: 8 hours 00 minutes
Reviewed By: Jessica
Dates Listened To:  July 20-25, 2023
Jessica's Rating: 4 stars
Audiobook Description:
The Breakfast Club meets The Usual Suspects in this riveting YA mystery told entirely through the first-person police interviews of four teens over the course of several hours that asks: How far will you go to be remembered?
An influencer, an overachiever, a heartthrob, an outcast, and a conspiracy theorist all go into the woods.
Sometime around midnight, one of them vanishes.
Now, the four who came back sit at the police station, and they each have a very different story to tell about the events of the night.
What truths will their lies reveal? And with the clock ticking, will the real story come out before one of them is gone for good?
Jessica's Review:
We all know how stories like this go: Five teens go camping in the forest and only four come out. The fifth is missing!  We have five different personalities: A wanna-be influencer, the overachiever, the heartthrob, the outcast, and one who believes in conspiracy theories. The four remaining are all being interviewed and each have their own version of what happened.  And what really happened is somewhere in between.
When I first read the description of the book, I knew I had to listen to the audio format since it is all first-person narration of each of the four remaining teens telling their version of what happened to the police.  And I was right in that decision!
The five teens go camping for the weekend at Salvation Creek, which is notorious for its folktales and missing person stories, specifically young women.  Things happen and over the course of the evening one goes missing.  What happened to the missing teen? Afterwards, the teens are interviewed by the police and over the course of the novel we find out what actually happened.
At first, I wasn't sure about the story, but I kept listening and really enjoyed the direction it went in, specifically from Nolan the conspiracy theorist.  I won't say what he thinks but I actually loved that direction and hearing his side of what he believes happened.  This seems to be opposite of what most others thought who have shared their reviews.  It worked for me though!
This novel ended up being a fun and quick read. I really like how the cover is a lie detector! If you are a YA thriller fan then pick this one up to read.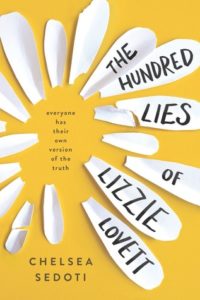 Author: Chelsea Sedoti
400 pages in Kindle
Publish Date: 01/03/2017
Dates Read: December 12-21, 2016
My Rating: 2 Stars
Book Summary from Amazon:
Hawthorn wasn't trying to insert herself into a missing person's investigation. Or maybe she was. But that's only because Lizzie Lovett's disappearance is the one fascinating mystery their sleepy town has ever had. Bad things don't happen to popular girls like Lizzie Lovett, and Hawthorn is convinced she'll turn up at any moment-which means the time for speculation is now.
So Hawthorn comes up with her own theory for Lizzie's disappearance. A theory way too absurd to take seriously…at first. The more Hawthorn talks, the more she believes. And what better way to collect evidence than to immerse herself in Lizzie's life? Like getting a job at the diner where Lizzie worked and hanging out with Lizzie's boyfriend. After all, it's not as if he killed her-or did he?
Told with a unique voice that is both hilarious and heart-wrenching, Hawthorn's quest for proof may uncover the greatest truth is within herself.
My Review:
Hawthorn is a high school senior loner and I personally pictured her dressed like a goth. Hawthorn is misunderstood like goths can be in that kind of life. She pretends things do not bother her, or that she doesn't care about things when she actually does. One day Lizzie Lovett disappears. She is three years older than Hawthorn, was the popular teenager when she was in high school, and her older brother had dated Lizzie briefly.
Everyone at school comes up with their own theories as to what happened to Lizzie, including Hawthorn. She also beings to immerse herself in Lizzie's life which includes getting a job where Lizzie works and beginning to hang out with Lizzie's boyfriend. Hawthorn does this so much it becomes an obsession. I found it odd, especially since Hawthorn barely knew Lizzie. I couldn't help but wonder why she was doing this. At some times, it seemed like she wanted to become Lizzie.
As you read in the book description above, Hawthorn's theory about Lizzie is described as 'absurd'. It truly is absurd, much to the detriment of the book, especially for a book in the YA (Young Adult) contemporary genre. Hawthorn seemingly believes her theory and word about her theory gets around town.
The only reason I kept reading The Hundred Lies of Lizzie Lovett was that I really wanted to know what happened to Lizzie. I did not have any kind of attachment to Lizzie. We do find out the answer to what happened to her. Once we find out what happened, the book and Hawthorn take a different turn. The last 13% of the book deals with an important issue for teenagers. If only the rest of the book was like the last 13%. That last 13% held my attention more than the other 87%.
I can not recommend The Hundred Lies of Lizzie Lovett.
I received an arc copy from NetGalley.
[Top]