This Telling
Series: Out of Line Collection
Author: Cheryl Strayed
Narrator: Kristen Bell
Published: September 1, 2020
Audiobook
Reviewed By: Jessica
Date Read: March 29, 2022
Jessica's Rating: 4 stars
Short Story Description:
A genealogy test sparks a woman's reflection on the two accounts of her life—the real one and the one she's always told the world—in this poignant short story by Cheryl Strayed, the bestselling author of Wild.
In 1964 teenage Geraldine Waters was sent away by her parents to an unwed mothers' home, where she gave up her newborn for adoption. Ever since, she's lived an alternative narrative. Decades later, it's time for Geraldine to reconcile the telling of her life, to finally grieve, and to discover what happened to that part of her past that slipped away.
Cheryl Strayed's This Telling is part of Out of Line, an incisive collection of funny, enraging, and hopeful stories of women's empowerment and escape. Each piece can be read or listened to in a single thought-provoking sitting.
Jessica's Review:
This short story was all that I thought it would be.  Taking place in 1964 when women were heavily shamed for pregnancy outside of marriage, we have Geraldine's story. The father is going off to Vietnam and thinking of the different options available and even possibly going through with them, Geraldine ends up gives her baby away for adoption. Now, in present day with genealogy tests coming up everywhere, she must come to face her past.
This very well written short story covers all the angles that it should. The reader sees what an unwanted pregnancy at the time meant.  I only wish it was longer!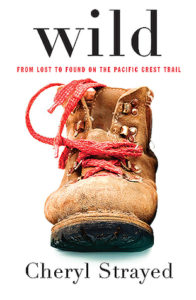 Wild: From Lost to Found on the Pacific Crest Trail
Author: Cheryl Strayed
AUDIOBOOK
Published: March 20, 2012
Dates Read: April 18- May 18, 2015
My Rating: 4 Stars
Book Summary from Amazon:
At twenty-two, Cheryl Strayed thought she had lost everything. In the wake of her mother's death, her family scattered and her own marriage was soon destroyed. Four years later, with nothing more to lose, she made the most impulsive decision of her life. With no experience or training, driven only by blind will, she would hike more than a thousand miles of the Pacific Crest Trail from the Mojave Desert through California and Oregon to Washington State—and she would do it alone. Told with suspense and style, sparkling with warmth and humor, Wild powerfully captures the terrors and pleasures of one young woman forging ahead against all odds on a journey that maddened, strengthened, and ultimately healed her.
My Review:
I listened to Wild on audiobook last year. I did enjoy it and later watched the movie which starred Reese Witherspoon. Cheryl Strayed made a cameo in the movie.
Wild is a book where Strayed is seeking to "find herself" after going through many things( her mother's death, the ending of her marriage, and more. Strayed is very descriptive with the things she does (drugs, alcohol, and sex). She covers her background and history in depth. She does ultimately take responsibility of her actions. She is also very descriptive with the physical effects on her body of hiking the Pacific Crest Trail with no training at all. She was very unprepared for her journey.
Warning: There is a very tough scene dealing with a horse. If I had been reading the book versus listening to the audiobook I would have been bawling. I was driving and was listening to the scene but concentrating on driving. I did cry when I got home because of it.
I consider myself independent, but there is no way I would hike the Pacific Crest Trail alone! Being in the woods alone is something I just could not ever see myself doing. I give Strayed props for that.  Wild is a powerful journey of self discovery and overcoming grief.
It is recommended.
[Top]