Author: Becky Albertalli
Published:  April 7, 2015
Audiobook
Reviewed By: Jessica
Dates Read: December 26- December 30, 2018
Jessica's Rating:  5 stars
Book Description:
Sixteen-year-old and not-so-openly gay Simon Spier prefers to save his drama for the school musical. But when an email falls into the wrong hands, his secret is at risk of being thrust into the spotlight. Now Simon is actually being blackmailed: if he doesn't play wingman for class clown Martin, his sexual identity will become everyone's business. Worse, the privacy of Blue, the pen name of the boy he's been emailing, will be compromised.
With some messy dynamics emerging in his once tight-knit group of friends, and his email correspondence with Blue growing more flirtatious every day, Simon's junior year has suddenly gotten all kinds of complicated. Now, change-averse Simon has to find a way to step out of his comfort zone before he's pushed out—without alienating his friends, compromising himself, or fumbling a shot at happiness with the most confusing, adorable guy he's never met.
Jessica's Review:
I absolutely adored this novel! I think it helps that I live in Georgia, the author lives in Georgia, and the novel also takes place in Georgia.
I adored Simon from the beginning. Somehow Albertalli captured the voice of a teenage boy in his situation brilliantly! I always say there are not YA books out there from the male perspective, added to that from the gay perspective. You can really see how Simon feels about everything and are rooting for him. I also liked Simon's close knit group of friends, though I least connected with Leah. I was surprised to find out the second book in the series focuses on her. Despite the lack of connection to Leah in Simon I will give the second book a shot as I would like to see what happens next in all of their lives. 
Being this novel is YA, surprisingly for me the teen drama is not 'full in your face' like I expected it to be. Yes there is teen drama, but it is all part of the story with the sequence of events. Various social media and the constant need for their phone is all over this novel as it is a normal part of teens lives now. 
I would say this would be for older teens as there is foul language used in the novel, which includes the F word.  There are also mentions to masturbation and there is underage drinking. But it all feels like a real situation.
There is also a bit of a mystery as to who Blue is.  And once we finally find out the answer the story keeps going. 
Simon vs The Homo Sapiens Agenda is highly recommended.  This was my final audiobook I listened to in 2018 and was glad I ended the year with it.
---
Movie Perspective of Love, Simon:
I watched the movie Love, Simon before listening to the audiobook and  also really enjoyed it!  I adored Simon and his friends and also liked Jennifer Garner and Josh Duhamel as Simon's parents. There are some changes in various parts of the film, which I actually enjoyed. There was one part of the novel I enjoyed that was not in the movie and wish it was. I surprised myself and started to feel sorry for Martin after the football game…until he did what he did. 
Nick Robinson played Simon brilliantly, especially when it came down to a certain very emotional scene.  This particular scene felt 100% real and I wanted to knock some sense into Martin myself! I would be very tempted to ground my kid for life if they ever did what Martin did to Simon.
I would say watch the movie first as the movie ends while the novel keeps going. It was a fine ending for the film but we get more in the novel. 
---
Purchase Links:
Simon vs The Homo Sapiens Agenda
Amazon US
Amazon UK
Today I share my review on the blog tour for Till it Stops Beating by Hannah R. Goodman.  This one was published on July 5th!
Book Description:
Seventeen-year-old Maddie Hickman's senior year begins with the good (the reemergence of The One That Got Away), the bad (a cancer diagnosis, not hers, but it might as well be) and the WTF (an anxiety attack that renders her writhing on the floor like an upside down crab).
Adding to her spiraling anxiety is Senior Project, in the form of I've Decided To Write A Book about The Other One That Got Away (And Crushed My Heart). Compounding it all is applying to college and keeping up with her friends. The ever mounting stress eventually rips her tight grip on all that she holds dear.
Her break down leads to an unexpected road trip where she is forced to listen to her wildly beating heart. It is only in the back of a convertible with pop music blasting, that she discovers she must risk everything in order to really live.
Author: Hannah R. Goodman
Published: July 5th, 2018
216 pages
Reviewed By: Jessica
Dates Read: September 28-October 6, 2018
Jessica's Rating: 3.5 stars
Jessica's Review:
I did not realize this was book four in The Maddie Chronicles when I started it. The first three in the series are:
My Sister's Wedding
My Summer Vacation
Fear of Falling
When I found out it was the fourth then things made sense: I felt I was 'missing' pieces of information during the first part of the novel. I would advise you to read the others in the series before reading Till it Stops Beating.
OK, now that that is over…..
Till it Stops Beating  is a coming of age novel for Maddie.  She is transitioning from childhood to adulthood and along the way faces some difficult issues, among them anxiety and cancer. Hannah also deals with heartbreak in relationships, family issues and of course: jelly doughnuts. The first few chapters had me craving doughnuts!
Goodman did a good job capturing a teen dealing with anxiety and an unknown future that makes up one's senior year of high school, which really is a year of change and big decisions. Then in addition to all of that, she has to deal with a relative's cancer diagnosis and that unknown can be heartbreaking
I enjoyed the second part immensely; I felt I really got to know Maddie through the road trip she took with friends. 
You will laugh and might tear up reading this one. The ending is a pleasant one with hope for the future. And the title just gives you all the feelings once you have finished the novel!
Purchase Links:
Amazon US
Amazon UK
About the Author:
Often referred to as "the teenage whisperer", Hannah R. Goodman's twenty-year career working with teenagers includes the titles teacher, tutor, coach, and, more recently, mental health counselor. Hannah has written essays about mental health for various online publications. Her work has appeared on MindBodyGreen, OC87 Recovery Diaries,  Zencare.co, and The Mighty. Though she has previously earned the title author with her first three books, the last was released in 2009 and all were self-published. This time around, indie publisher Black Rose Writing released her novel Till It Stops Beating this summer.
Hannah's  first YA novel, My Sister's Wedding, won the first place award for The Writer's Digest International Self-Publishing Contest, 2004, children's book division. She published the follow-up, My Summer Vacation, in May 2006, which went on to win a bronze IPPY in 2007. The third Maddie book, Fear of Falling, was released in the fall of 2009 and was praised by teachers and readers for tackling subjects like homophobia and coming out. She's published young adult short stories on Amazon's Shorts, in an anthology entitled Bound Is The Bewitching Lilith, and in the journal Balancing The Tides. She also has written columns for The Jewish Voice & Herald. Recent, previous projects include Sucker Literary, which features emerging YA authors and All The Way YA, a group blog of writers telling the real deal about writing and publishing YA fiction. 
Hannah is a member of  ARIA  (Association of Rhode Island Authors) as well as a graduate of Pine Manor College's Solstice Program in Creative Writing where she earned an MFA in Writing For Young People. She resides in Bristol, RI with her husband, two daughters, and black and white cat named Zoe.
Contact Hannah:
Website
Twitter @hannahrgoodman
Goodreads
Instagram
Amazon Author Central
Linkedin
[Top]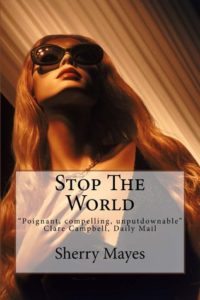 Author: Sherry Mayes
216 pages in Kindle
Published: December 13, 2015
Dates Read: December 28, 2016- January 7, 2017
My Rating: 5 Stars
Book Summary from Amazon:
Inspired by a true story
SHE THOUGHT HER LIFE WAS OVER … BUT IT WAS JUST BEGINNING
Jody Angel Taylor believes her life is all mapped out: Glamorous, clever and popular, and due to marry her handsome boyfriend, she has it all. Until one night she has a devastating car crash, ending up paralyzed — and her perfect world collapses.
Committing media suicide and publicly blamed for her own accident, everything around her falls apart. She becomes a lonely recluse, feeling she's lost everything including her legs — her boyfriend to her best friend, her father to an affair, her mother to depression — but above all she fears losing her mind. What she doesn't know is that someone across the globe is about to throw her a lifeline. Can she find the courage to take it? Determined to love again and clear her name, she embarks on a new adventure that will transform her life beyond all expectations.
My Review:
Jody Angel Taylor has it all: She is a beauty queen, popular, has a new car, and just got engaged. She is also vain, shallow, and the typical self absorbed teenager. Then one night she is involved in a serious car accident and her life changes forever.
Jody is the narrator in Stop the World. She feels her life is over since she is now paralyzed from the waist down. She has a devastating interview, then people begin to blame her for the accident. Besides losing her freedom as she can't walk anymore, Jody begins to lose everything else in her life in various ways: her best friend, her fiance, and her father. She tailspins into a depression and becomes a recluse of sorts and then she meets someone online. Things start to change for Jody. She begins to feel better about herself, but her journey is far from over. Can she come to terms with everything that has happened to her and what her life could become with being paralyzed?
Sherry Mayes does an incredible job of putting us in Jody's head. We experience everything as Jody does. You don't expect to like Jody as she is not likeable in the beginning, but as Jody changes, we grow to like her and begin to root for her. We see her challenges as she becomes determined to be able to walk again despite her doctor telling her that she never will. There are many times you can't help but root for Jody. There are times you feel the things that Jody goes through. You want there to be a happy ending for her. As I was reading Stop the World, you can tell that Sherry Mayes did her research with showing the physical therapy that Jody goes through and setbacks that she also experiences. This is not a novel about loss, but a novel about the journey of a young woman and ultimately who she becomes.
Stop the World is based on a true story. I can't help but want to know the actual story and learn about the young woman that this book is based on. If it is anything similar to Stop the World, it is a powerful story.
Stop the World is recommended.
[Top]