Today Kim is bringing you a video review of The Children of Red Peak by Craig DiLouie.
The Children of Red Peak
Author: Craig DiLouie
Published:  November 17, 2020
384 Pages
Reviewed By: Kim
Kim's Rating: 4 stars
Book Description:
David Young, Deacon Price, and Beth Harris live with a dark secret. As children, they survived a religious group's horrific last days at the isolated mountain Red Peak. Years later, the trauma of what they experienced never feels far behind.
When a fellow survivor commits suicide, they finally reunite and share their stories. Long-repressed memories surface, defying understanding and belief. Why did their families go down such a dark road? What really happened on that final night?
The answers lie buried at Red Peak. But truth has a price, and escaping a second time may demand the ultimate sacrifice.
Kim's Video Review:
Purchase Links:
Amazon US
Amazon UK
The Cult on Fog Island
Series: Fog Island Trilogy Book 1
Author: Mariette Lindstein
Published: January 24, 2019
560 Pages
Reviewed By: Kim
Kim's Rating: 4 stars
Book Description:
The deadliest trap is the one you don't see…
When Sofia meets Franz Oswald, the handsome, charming leader of a mysterious New Age movement, she's dazzled and intrigued. Visiting his headquarters on Fog Island, Sofia's struck by the beautiful mansion overlooking the sea, the gardens, the sense of peace and the purposefulness of the people who live there. And she can't ignore the attraction she feels for Franz.
So she agrees to stay, just for a while. But as summer gives way to winter, and the dense fog from which the island draws its name sets in, it becomes clear that Franz rules the island with an iron fist. No phones or computers are allowed. Contact with the mainland is severed. Electric fences surround the grounds. And Sofia begins to realize how very alone she is and that no one ever leaves Fog Island…
Kim's Review:
One of my friends on Instagram recommended this book to me, so when I found it at Gene's Books, I grabbed it! And y'all know I love a cult. It wasn't what I was expecting. I was hoping for a religious cult with supernatural elements that turned it into a horror story. It wasn't and that's why the missing star. This was much more of a psychological thriller, turned cautionary tale.
Lindstein wanted to give an in depth look at cults from beginning to end. Here's how people get hooked, here's how people are content, here's how things start to go wrong, here are the red flags, etc. I definitely enjoyed it! It was a fascinating look at the psychology of the leaders and followers. And for once, I didn't think about my own background on every page! Absolutely a good book!!
Purchase Links:
Amazon US
Amazon UK
[Top]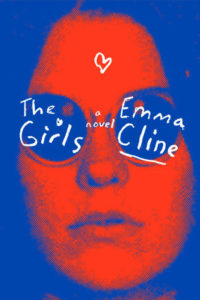 Author: Emma Cline
Audiobook
Published: June 14, 2016
Dates Read: September 26- October 8, 2016
My Rating: 3 Stars
Book Summary from Amazon:
Northern California, during the violent end of the 1960s. At the start of summer, a lonely and thoughtful teenager, Evie Boyd, sees a group of girls in the park, and is immediately caught by their freedom, their careless dress, their dangerous aura of abandon. Soon, Evie is in thrall to Suzanne, a mesmerizing older girl, and is drawn into the circle of a soon-to-be infamous cult and the man who is its charismatic leader. Hidden in the hills, their sprawling ranch is eerie and run down, but to Evie, it is exotic, thrilling, charged—a place where she feels desperate to be accepted. As she spends more time away from her mother and the rhythms of her daily life, and as her obsession with Suzanne intensifies, Evie does not realize she is coming closer and closer to unthinkable violence.
My Review:
The premise of The Girls is intriguing: The end of the 1960s and a girl gets sucked into a Manson type cult. And terrible murders occur towards the end of the story.
The book begins with Evie grown up and runs into these teens who recognize her as "that girl" from the cult. And the story is her looking back on the 1960s. Emma Cline's writing is very well done. It is told in a "wordy" style, so it is not for everyone. I had difficulties listening to it, and it may be her writing style. At times the story seemed to run at a snail's pace for me.
There is quite a bit of detailed sexual content as Evie experiments and discovers herself with both males and females. This could disturb some readers who may not want to read that kind of content in depth.
SPOILER: From the description of the novel, you know what is coming. I was expecting more details with the murders, but Evie was not present, and since this is her story and her memories, we don't get those specific details. If she had been present for the murders or she was one of the murderers, I expect it would have been very detailed as the rest of the book was very detailed.
The Girls is very well written with an intriguing premise, but the execution of the novel was not for me. I would have given the book two stars, but Emma Cline did write the book very well, so for that she gets an extra star. It is an impressive debut for an author. I will look into future books she writes.
[Top]