Author: E.J. Bennett
Published: December 1, 2017
5155 words
Reviewed By: Jessica
Date Read: November 19, 2017
Jessica's Rating: 5 stars
Short Story Description:
Bella, an old grumpy woman, finds herself in the past. To a time she was happy and loved. Bella must race against time and her mind to change a devastating event if she wishes to save her future.
A white Christmas wedding and the love of her life. Will Bella be distracted?
Can Bella keep her mind set on the task at hand? Or will she fall back into her old life and old ways?
Jessica's Review:
I am quickly becoming a fan of E.J. Bennett's short stories.  I like that I am able to read these short stories read during my lunch break!  Bennett is a talented writer: She is so descriptive in her writing that I feel I am there and can see everything happening as I read the story.
Bella is a grumpy old woman, but rightfully so.  She lost the one thing that was important to her. Mysteriously she goes back in time and has an opportunity to change things.  Will she accomplish this or not?  We see the transformation Bella makes over the course of this short story as she went from the grumpy old woman to a young lady I was rooting for that I was wanting to succeed!  This is a short story of 5155 words, so I can't really say more.  Just go get this short story!
Special thanks to E.J. Bennett for sending an arc copy to read and review. I really enjoyed it!
Back to December is available worldwide on all platforms.  (Barnes and Noble, Amazon, Kobo, Apple Store, etc). The Amazon links are below:
Today I am sharing my review of the short story Dear Aylissa by E.J. Bennett.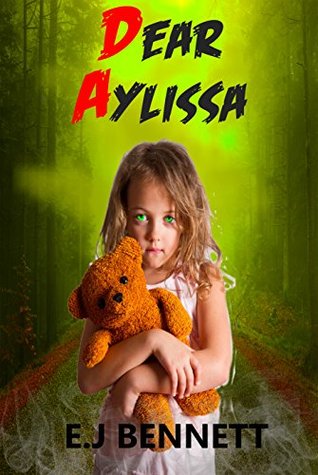 Author: E.J. Bennett
Published: October 14, 2017
5000 words on Kindle
Reviewed By: Jessica
Date Read: October 19, 2017
Jessica's Rating: 4 stars
Short Story Description from Amazon:
Hazel dedicates her life to helping children. A social worker who see's difficult children everyday. When she unexpectedly ends up with a young girl in her care, Hazel deep down thinks something is wrong.
It isn't long before she learns the truth. Hazel sets out on a mission. But can she complete her goal or will unforeseen circumstances stand in her way?
Jessica's Review:
E.J. Bennett is back with another short story for us this Halloween!  Last year it was Find Me and this year it is Dear Aylissa.  She also released another short story House of Horror in February this year.  Dear Aylissa is a short story at just over 5000 words and it delivers!  You have to have talent to be able to write a short story that keeps the reader on their toes and has a beginning, middle, and conclusion.  E.J. Bennett accomplished that!  I was pulled in from the beginning and read it during my lunch break.  Her descriptions are spot on and I could picture everything as I was reading Dear Aylissa!
Dear Aylissa is a well written short story and I didn't know what direction it was going. It is a good scary Halloween story.  Even with the story being as short as it was, I liked and identified with Hazel: She has a difficult job, is 30 and still single; I did not meet my husband until I was 30.
Since it is such a short story, I won't say much as I don't want to give anything away. If you like scary short stories then give this one a try!
Dear Aylissa is recommended.
I received a copy from the author for a review.  Thank you E.J.!
Purchase Links:
Amazon US: https://www.amazon.com/Dear-Aylissa-J-Bennett-ebook/dp/B076GSLZ69/ref=sr_1_1?ie=UTF8&qid=1508495251&sr=8-1&keywords=Dear+Aylissa
Amazon UK: https://www.amazon.co.uk/Dear-Aylissa-J-Bennett-ebook/dp/B076GSLZ69/ref=sr_1_1?ie=UTF8&qid=1508495993&sr=8-1&keywords=Dear+Aylissa
[Top]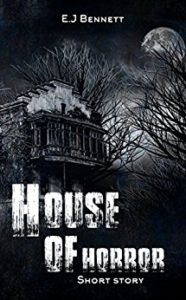 Author: E.J. Bennett
28 pages in Kindle
Published: 2/16/2017
Date Read: 2/19/2017
My Rating: 4 stars
Short Story Summary from Amazon:
When Mathew Hansen first heard the disembodied voice of a woman through the wall of his new London flat, he thought he imagined it. Mind playing tricks, in a flat that settled and creaked like an old woman. Or maybe too much booze fuelling his nightmares.
The voice couldn't be real; just the wind, moving around the old Victorian house.
Besides, his bangable neighbour Amanda couldn't hear the strange chanting sounds. She was just messing with him when she said she did. A little payback for sleeping with her and never calling her back.
It must be his imagination.
Right?
My Review:
Matthew is a player as he brings home a different woman nightly and throws them out as soon as he is done with them. He begins hearing things in his flat and it progressively gets worse. He goes to his next door neighbor Amanda for help who also happens to be a previous conquest of his. I won't say much more than this as it is a short story and don't want to give too much away.
I did not know what direction E.J. Bennett was going to go with House of Horror. I did enjoy it as with the horror in the story there is also a lesson to it.
I look forward to reading more by E.J. Bennett.
**I received an arc copy from the author.