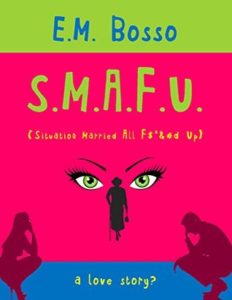 SMAFU: : Situation Married All F$" Up
Author: E.M. Bosso
281Pages in Kindle
Published: April 3, 2016
Dates Read: September 30- October 9, 2016
My Rating: 5 Stars
Book Summary from Amazon:
A sexy and humorous walk through life, as an elderly neighbor notices the impending end of a failing marriage and decides to step in and share her wisdom and life experience. If she can't help save the marriage, perhaps she can at least soften the pain.
Whether you are looking for a feel-good novel to inspire you to explore your dreams; a novel to help you affirm that you are not alone; or something to help you sit down and open up a new line of communication with your significant other, SMAFU will change your life.
My Review:
I was lucky enough to receive a copy of SMAFU to read for review from THE Book Club (TBC) on Facebook. I am thankful for the opportunity as I enjoyed the book!
Steve and Mary have been married for seventeen years and their marriage is in trouble and has been for a long time. They move to a new house and meet Cherisse who changes their lives. Cherisse is 90+ years old and "tells it like it is". She tells stories of her life along with parables to both Steve and Mary. As you learn things about Cherisse's life, maybe a little more than you want to know, she tries to help save Steve and Mary's marriage. Steve is the main character in SMAFU, and most of the book is from his perspective. Therefore, we get to see what marriage can be like from the male perspective, which we don't get much in novels. We see his thoughts and mistakes he makes.
This book has lots of humor (my favorite was when Steve tries to grocery shop!), sarcasm, and it makes you think. I love Cherisse's character! I wish there was someone like her in reality. She can really teach someone based on all her life experiences.
Will Steve and Mary save their marriage or is it destined to end as it was the beginning of the book? You will have to read to find out!
**Thank you again TBC for my copy of SMAFU