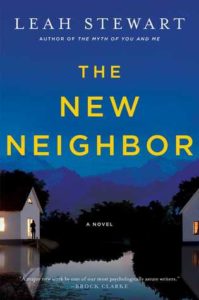 Author:  Leah Stewart
304 Pages in Hardback
Published: July 7, 2015
Dates Read: December 6-20, 2015
My Rating: 3 Stars
Book Summary from Amazon:
Ninety-year-old Margaret Riley is content hiding from the world. Stoic and independent, she rarely leaves the Tennessee mountaintop where she lives, finding comfort in the mystery novels that keep her company—until she spots a woman who's moved into the long-empty house across the pond.
Her neighbor, Jennifer Young, is also looking to hide. On the run from her old life, she and her four-year-old son, Milo, have moved to a quiet town where no one from her past can find her.
In Jennifer, Margaret sees both a potential companion for her loneliness and a mystery to be solved. She thinks if she says the right thing, tells the right story, Jennifer will open up, but Jennifer refuses to talk about herself, her son, his missing father, or her past. Frustrated, Margaret crosses more and more boundaries in pursuit of the truth, threatening to unravel the new life Jennifer has so painstakingly created—and reveal some secrets of her own…
From the critically acclaimed author of The History of Us and The Myth of You and Me, The New Neighbor explores the secrets that bind people together and drive them apart.
---
My review in 2015:
***I won this book in a Goodreads giveaway.
The book was ok. Margaret was not likable at all to me. I did find parts of her war stories interesting. But it was the things she did that made me not like her. She was a nosey old lady who resorts to breaking and entering to satisfy her own curiosity. She causes far too much trouble.
I would not really recommend this book. The only reason I gave it three stars was the previously mentioned war stories. Those war stories were the reason I kept reading the book.