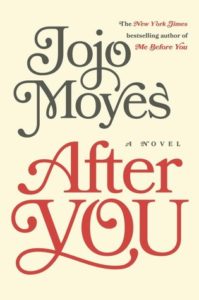 Author: Jojo Moyes
352 Pages in Paperback
Published: September 29, 2015
Dates Read: July 20- August 8, 2016
My Rating: 3.5 Stars
Book Summary from Amazon:
"You're going to feel uncomfortable in your new world for a bit. But I hope you feel a bit exhilarated too. Live boldly. Push yourself. Don't settle. Just live well. Just live. Love, Will."
How do you move on after losing the person you loved? How do you build a life worth living?
Louisa Clark is no longer just an ordinary girl living an ordinary life. After the transformative six months spent with Will Traynor, she is struggling without him. When an extraordinary accident forces Lou to return home to her family, she can't help but feel she's right back where she started.
Her body heals, but Lou herself knows that she needs to be kick-started back to life. Which is how she ends up in a church basement with the members of the Moving On support group, who share insights, laughter, frustrations, and terrible cookies. They will also lead her to the strong, capable Sam Fielding—the paramedic, whose business is life and death, and the one man who might be able to understand her. Then a figure from Will's past appears and hijacks all her plans, propelling her into a very different future. . . .
For Lou Clark, life after Will Traynor means learning to fall in love again, with all the risks that brings. But here Jojo Moyes gives us two families, as real as our own, whose joys and sorrows will touch you deeply, and where both changes and surprises await.
---
My Review
**This review will have some spoilers, so beware.
Nearly two years have passed since the ending of Me Before You. Lou is still mourning the loss of Will. You can feel her pain and anguish in the first chapter. She is now working at a bar in an airport, and not happy there. She's not living the way Will wanted her too.
She has an accident and returns home to recover. Her folks decide to let her return to her flat as long as she goes to a grief counseling group. She meets a man named Sam through a teenager in the group named Jake.
After some time, Lou seems to start to get her life together when (as the back cover of the book teases)a figure from Will's past appears. This person appearing changes everything for Lou. The person ends up being Will's daughter Lily. The daughter that he did not know he had. I could not help but wonder, as Lou did, if Will had known about her would he still have gone to Dignitas to end his life or would he still be around today. Would Lily have been what he needed to stay around despite being a quadriplegic?
Lou basically takes Lily in as Lily's mother Tanya couldn't handle her anymore. She was a very difficult teenager who just found out who her father was. Lily staying with Lou helped them both: Lily got to find out who her father was and Lou had a piece of Will. There is more to Lily than we first are led to believe. There is more to her than being the "troubled teenager". I did have some issues with Tanya basically letting Lou take "custody" of Lily as Tanya did not know Lou. It just seemed like Tanya was just ready to "get rid" of Lily since she couldn't really handle her.
Jojo Moyes brings back the Traynor family as well with the introduction of Lily and there have been some changes. Nathan has moved to NYC. I liked him in Me Before You and missed him in After You. There were a few scenes with himon the phone, but that wasn't enough for me.
There is back and forth with the relationship of Lou and Sam. Will they get together or not? Is Lou even ready for that step after losing Will??? She is over her grief?
May people consider Me Before You and After You romance novels. I do not. To me, Me Before You was a life story to. It deals with two people's lives and the decision one man made and they happen to fall in love. To me, After You is a book about dealing with grief and moving on. When the end of the book was coming, I had in my head the decision I was hoping Lou would make for her future. And I was happy with the decision she made.
There is one paragraph that really tugged at my heart. It is very powerful. This is towards the end of the book(page 325 of 352 in the paperback), so this will giveaway some things: Our eyes locked. And in that moment everything shifted. I saw what I had really done. I saw that I could be somebody's center, his reason for staying. I saw that I could be enough.
In the paperback there is a "conversation with the author". A question was asked if there will be anymore books with Lou. Jojo Moyes said she could see a third final book as a possibility if the readers want it. Well, Jojo, as a reader I can say that as a reader, I would love one final book with Lou!
I gave Me Before You 5 stars, so it was going to hard to live up to the original. In fact, I don't think there is a way for After You to live up to Me Before You. It still did well. I would recommend it, but don't have super high expectations if you loved Me Before You.