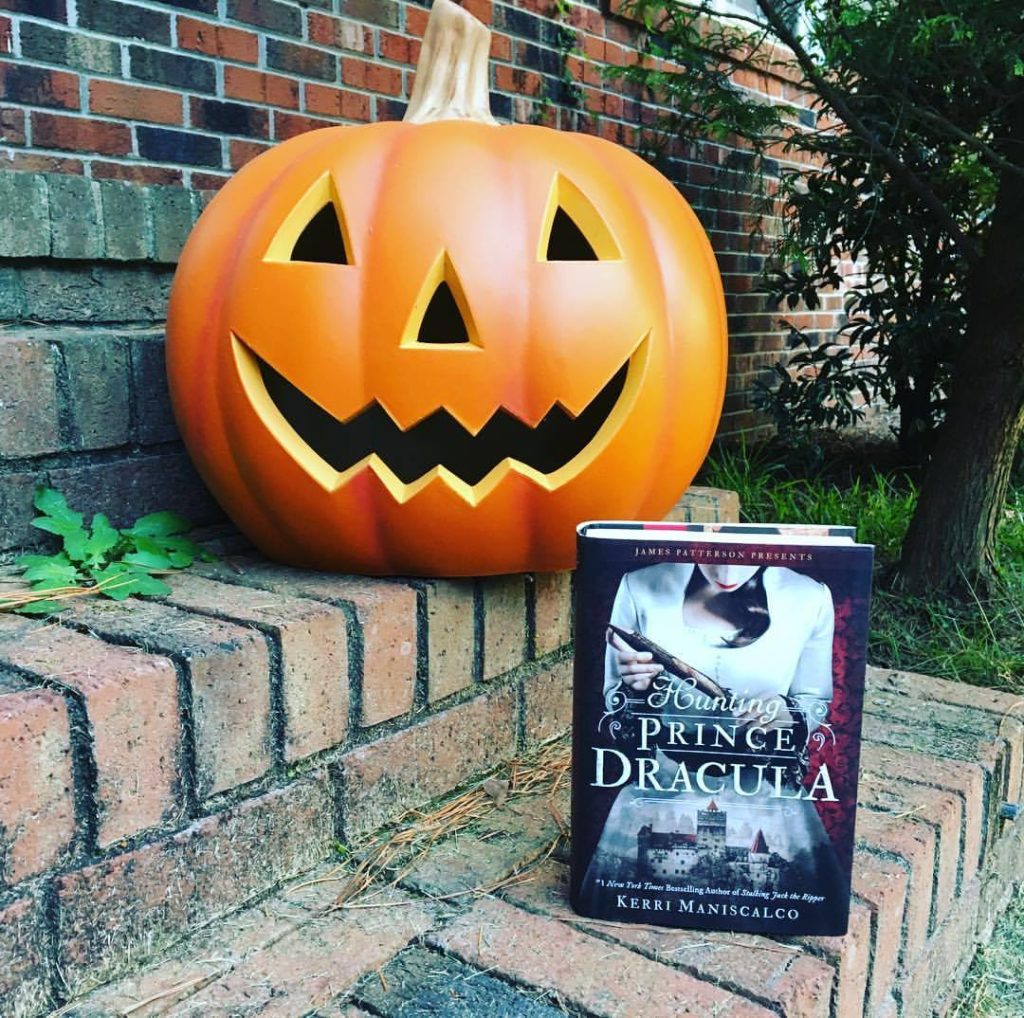 Hunting Prince Dracula
Author: Kerri Maniscalco
418 Pages
Published: September 19, 2017
Reviewed By: Kim
Kim's Rating: 4 Stars
Description from Amazon:
Following the grief and horror of her discovery of Jack the Ripper's true identity, Audrey Rose Wadsworth has no choice but to flee London and its memories. Together with the arrogant yet charming Thomas Cresswell, she journeys to the dark heart of Romania, home to one of Europe's best schools of forensic medicine…and to another notorious killer, Vlad the Impaler, whose thirst for blood became legend. But her life's dream is soon tainted by blood-soaked discoveries in the halls of the school's forbidding castle, and Audrey Rose is compelled to investigate the strangely familiar murders. What she finds brings all her terrifying fears to life once again.
Kim's Review:
I have been waiting for this book to be released for months! And I have to wait another year for the 3rd book . . . grrrrrrrrrr!!! Booknerd problems!!!
Ok! I love the characters in this series!! Audrey Rose is one of those badass chicks that fought the true feminism fight in a time when women were supposed to keep their mouths shut and their brains turned off. She's smart, she's beautiful, and she embraces her differences. I fell in love with her in Stalking Jack the Ripper and I was slightly disappointed with her emotional state in Hunting Prince Dracula, but considering the ending of the first book, I can also understand her fragility. But she pulls herself together and she solves the mystery . . . which caught me by surprise, let me tell you!
Then there's Thomas Cresswell, deduction expert and dreamy scientist. I absolutely love the cute sexual tension and witty banter between the two. There really isn't anything inappropriate other than typical teenage fantasies, so I would definitely count this safe for teens. Seeing those little things about Thomas that distract Audrey Rose was like watching my husband walk through a room! I loved it! All the flirting between Audrey Rose and Thomas was what I enjoyed most about this book. Not to say that the mystery wasn't interesting, it was just a little slower than I had anticipated. I couldn't put Stalking Jack the Ripper down, but Hunting Prince Dracula took me a little longer to get through. But, by the time I finished, the story had all come together, the details fell into place and I was happy.
This is an awesome book, part of an awesome series and I seriously can't wait for the next book! I would recommend this book to anyone looking for historical fiction, a fun mystery, or a strong heroine. I think teens, even as young as middle school, would enjoy this book!