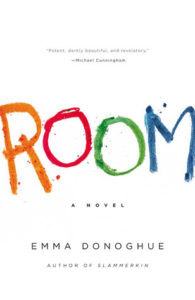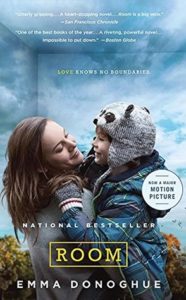 Author: Emma Donoghue
Audiobook
Published: September 13, 2010
Dates Read: November 10-24, 2016
My Rating: 5 stars
Book Summary from Amazon:
To five-year-old-Jack, Room is the world. . . . It's where he was born, it's where he and his Ma eat and sleep and play and learn. At night, his Ma shuts him safely in the wardrobe, where he is meant to be asleep when Old Nick visits.
Room is home to Jack, but to Ma it's the prison where she has been held for seven years. Through her fierce love for her son, she has created a life for him in this eleven-by-eleven-foot space. But with Jack's curiosity building alongside her own desperation, she knows that Room cannot contain either much longer.
Room is a tale at once shocking, riveting, exhilarating–a story of unconquerable love in harrowing circumstances, and of the diamond-hard bond between a mother and her child.
My Review:
I first listened to Room on audiobook just over three years ago. I decided that I want to watch the movie relatively soon, so I decided to listen to Room again so the book would be fresh in my memory.
Emma Donoghue takes a difficult subject matter (a kidnapping situation and rape multiple times) and gives us the book Room from the perspective of five year old Jack. This is a unique and original concept.
Jack has just celebrated his fifth birthday. All he has ever known in his life is Room, Ma, and Old Nick. Room is where Ma and Jack live. Ma has lived here for seven years after being kidnapped by Old Nick. Jack is the product of Ma being raped by Old Nick. Room is all that Jack knows. They do have a tv, and Jack believes that the rest of the world exists only on television. Ma does not tell him otherwise.
You can see how Jack experiences everything in Room and his curiosity about various things that all children become curious about. You can feel Ma's frustrations with their living situation and her hatred of Old Nick. Later on in the book, Old Nick informs Ma of a change in his living situation and Ma begins a plan to get her and Jack out of Room. They do escape from Room and their lives are just beginning at this point.  You can see the adjustment that Ma and Jack have to go through.
Throughout the book Jack talks about adult situations, but with the innocence of a child as he doesn't understand what is going on. But it is enough for the reader to know what is going on.
I really can not recommend this book enough! I think the book being from Jack's perspective makes it easier to read. It would have been a very different book if it had come from Ma's perspective. That would be an interesting book to read. Some authors have done that lately: rewrite their books from a different characters point of view. If Emma Donoghue ever chose to do that with Room, I would read it.
Audiobook Review:
I have listened to Room on audiobook twice now. It is superb! There are multiple narrators for Room and I find that makes it easier to listen to a book than a single narrator doing all the voices and changing their voice for the various characters. Changing their voice for multiple characters can be well done or not. I have heard both kinds of audiobooks. It really can affect your enjoyment of a book.
The narrator for Jack is Michal Friedman and she is brilliant! She voices Jack perfectly. She portrays the innocence, wonder, curiosity, and all the feelings that a five year old would express in this situation.
If I decide to read Room again in the future it will be the audiobook again. I can't imagine 'reading' it another way. The audiobook is perfect!
If you listen to audiobooks and have not read Room yet, get a copy from your local library or on Audible. If you don't really listen to audiobooks and are thinking about reading Room, give the audiobook a try!
Bonus PDF:
The audiobook I had of Room included a disc with a bonus PDF. The PDF is 'Jack's drawings' of Room. It gives you a perspective of how tiny the room that Jack and Ma lived in for his whole life and her for seven years. I am definitely looking forward to watching the movie now to see how it is interpreted onto the screen!
**If you do get the audiobook on cd, there are nine discs. I thought the ninth disc was just a bonus disc and I wondered why the book stopped suddenly at the end of the eighth disc. It was not over. The ninth disc does have more of the book on it. I'm guessing I didn't realize this three years ago when I listened to it the first time.
Room on audiobook is 100% recommended!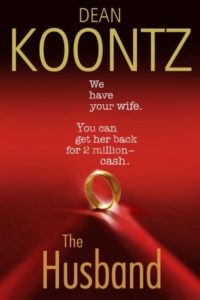 Author: Dean Koontz
Audiobook
Published: May 30, 2006
Dates Read: September 12-22, 2016
My Rating: 2.5 Stars
Book Summary from Amazon:
What would you do for love? Would you die? Would you kill?
We have your wife. You can get her back for two million cash. Landscaper Mitchell Rafferty thinks it must be some kind of joke. He was in the middle of planting impatiens in the yard of one of his clients when his cell phone rang. Now he's standing in a normal suburban neighborhood on a bright summer day, having a phone conversation out of his darkest nightmare.
Whoever is on the other end of the line is dead serious. He has Mitch's wife and he's named the price for her safe return. The caller doesn't care that Mitch runs a small two-man landscaping operation and has no way of raising such a vast sum. He's confident that Mitch will find a way.
If he loves his wife enough. . . Mitch does love her enough. He loves her more than life itself. He's got seventy-two hours to prove it. He has to find the two million by then. But he'll pay a lot more. He'll pay anything.
From its tense opening to its shattering climax, The Husband is a thriller that will hold you in its relentless grip for every twist, every shock, every revelation…until it lets you go, unmistakably changed. This is a Dean Koontz novel, after all. And there's no other experience quite like it.
---
My Review:
The premise of the book catches your attention and pulls you in. The actual novel not so much.
The Husband is divided into three parts. The first part is very good. Mitchell (Mitch) Rafferty is a landscaper and working a job when he receives a call that his wife has been kidnapped. And the kidnappers want $2 Million cash. He has 60 hours to get the money and they know he is a gardener with limited means. They let him know they are serious by shooting a man walking a dog. And like other novels similar to this, no cops or they kill his wife.
Here starts Mitch's journey to rush to get the money. Will he make it to the deadline? Will he get the money? Will he save his wife? What will happen?
The book's direction falls flat. There is a twist that you find out early on who is responsible for this happening.
There are several subplots, one involves his family and his childhood. This includes a sense-deprivation room that his parents used on Mitch and his siblings growing up. You do get to see how experiencing that affects them in both extremes, good and bad. This could be a fabulous plot to be used… in another book.
Overall, I could not recommend this book. I did keep listening to it to see what would happen. When I finished it I did not really have an opinion of the book. This was disappointing as I was hoping it would keep me on the edge of my seat and have me wanting more.
This is my second Koontz book, the first was Life Expectancy which I had rated four stars. Despite being disappointed in The Husband, I will read Koontz again.
[Top]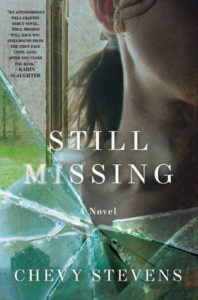 Still Missing
Author: Chevy Stevens
Audiobook
Published: July 6, 2010
Dates Read: August 12-24, 2016
My Rating: 5 Stars
Book Summary from Amazon:
On the day she was abducted, Annie O'Sullivan, a 32-year-old realtor, had three goals—sell a house, forget about a recent argument with her mother, and be on time for dinner with her ever-patient boyfriend. The open house is slow, but when her last visitor pulls up in a van as she's about to leave, Annie thinks it just might be her lucky day after all.
Interwoven with the story of the year Annie spent as the captive of a psychopath in a remote mountain cabin, which unfolds through sessions with her psychiatrist, is a second narrative recounting events following her escape—her struggle to piece her shattered life back together and the ongoing police investigation into the identity of her captor.
Still Missing is that rare debut find–a shocking, visceral, brutal and beautifully crafted debut novel.
---
My review:
I first listened to the audiobook in January 2013. When I was starting this blog, it was the first book I posted my short review for. Reading that review piqued my interest in rereading the book. Luckily, my local library had it! Here is a link to that short review:
Still Missing is not for everyone as it is graphic, shocking, intense, and very well written! It is also very hard to read. There is graphic language as well, so be prepared for that if you read it. Annie explains her use of the strong language: If you went through everything that she did, it would change you. She is an angry person now, trying to adjust to everything that has happened and to move on in her life. If you can not handle multiple graphic scenes dealing with sexual assault this is not the book for you.
I believe that audiobook is a very good medium for this book as Annie is talking to her shrink; it may have made the book easier to read that way.
You know that Annie does get away, since she is talking with her shrink. Annie's description of that year is very graphic and she leaves nothing to the imagination, you can picture everything that happens to her.
I can't go into many details without giving things away. There is a very unexpected twist in the book. You can't help but find the twist hard to believe. And that last line…Wow.
After finishing the book I have to rate it 5 stars as it is so powerful and an amazing debut. It is highly recommended. I have read a few other books written by Chevy Stevens, but it has been a while since I read them. I will have to see if my local library offers any more of her novels on audiobook.
[Top]