Who would have thought that a $10 gift card gift from his Aunt Annette his senior year of college would be the start of a full time occupation of being a "magical educator" 13 years later.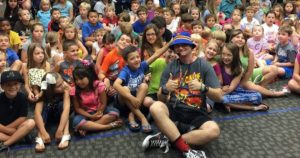 If you live in Georgia or South Carolina, Chad Crews may have appeared at your child's school or local library teaching educational reading programs. He wants to get your children excited about reading!! Each summer there is a national theme for libraries to promote reading. This past summer the theme was "On Your Mark, Get Set, READ!" Chad bases his show around that theme. The theme changes each summer, therefore his show changes each year. And it is working. He has children come to his shows each year. He has gotten to see some of them grow into teenagers now!
Over the course of those 13 years, Chad has seen a lot of changes in his life. He lives near Augusta, Georgia with his wife Lindsay and their four beautiful children (Reagan, Grady, Toby and Viktor). His career has also changed several times. He taught middle and high school for three years, became a pastor at Long Creek Baptist Church, and then his educational programs that we now get to enjoy!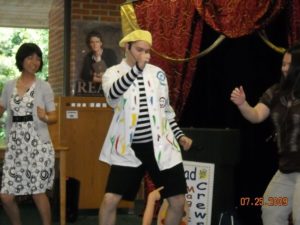 His shows are educational and also very enjoyable. I have personally seen his library shows over the years and have enjoyed them. I do not have children either. There is something for everyone at his shows!
---
I was excited to get the change  to interview Chad about his shows:
JRR(Jessica's Reading Room): How did you get started? What made you think of starting an educational children's show to start excitement with reading? How did you decide on magic?
Chad: I got started in magic after getting my annual $10 gift card from my Aunt Annette at Christmas my senior year of college. I purchased the Mark Wilson "Cyclopedia of Magic" and used it the following summer on a youth mission trip to Savannah, GA. The kids' reactions were priceless and I was hooked.
As I started teaching I would perform birthday parties and any other events that came my way, but it was the following summer when I performed my first library program with an emphasis on reading. Each summer I would come up with a different program that tied into the Summer Reading theme and went from performing for that first library to almost 100 per summer within a few years. When I quit teaching I offered that program to elementary schools and it quickly became a full time occupation!
JRR: You perform mainly in Georgia and South Carolina. Will you travel to other states? How far from home have you traveled?
Chad: I normally try to keep it within 4 hours or so of travel, but I have performed in parts of Florida, Alabama, and I have also flown to Ohio for my middle/high program several years ago.
JRR: How long have you been performing these educational shows? Do you find that you have "repeat visitors" that come to your shows each year? Do you enjoy seeing these children grow each year?
Chad: I have been performing magic since 2002 and I have been performing the educational reading programs since the summer of 2003, so 13 years now!
I do have repeat visitors to the show – some I have been able to watch grow up from kids to teenagers – and many still come to the programs each summer. It is great to be able to see that and have that connection with young people who have made the show a part of their summer tradition.  This school year I will have performed at some of my earliest schools for 10 years in a row, and I have performed at many of my original libraries for the past 13 years in a row. Repeat customers are my favorites!
JRR: What age group are your shows intended for?
Chad: I have shows for Pre-K thru 5th grades as well as for middle and high schools. During the summer the library crowds will include babies all the way up to parents and grandparents and every age in between.
JRR: Adults can enjoy your shows as well. I personally have enjoyed your shows I have been to and I don't have children. Do you see many adults without children come to your shows?
Chad: Lots of adults come to the summer programs, and a few do come without kids just to see the show. I make it a point when I develop a show to try and choose routines that will keep the adults entertained just as much as the younger crowd members.
JRR: Which show do you enjoy doing the most? The library summer shows, school shows, Halloween shows or a different show?
Chad: By far my favorite shows are my middle/high programs – I love the spooky and mysterious themes, and I taught middle and high school and served as a Youth Pastor for many years so that was my favorite age group.
I now have middle/high programs dealing with Poe, the Brothers Grimm, Shakespeare, and Charles Dickens just to name a few – and I love to perform them all!
JRR: What part of the show tends to be the audience's favorite part? A favorite of mine in the past has been the straitjacket escape!
Chad: The straitjacket has been a long time favorite for audiences over the years, as has some of my comedy escapes and, of course, the snakes and other critters featured over the years. My cups and balls routines is also a very popular routine and has been the grand finale in the show a few times over the years.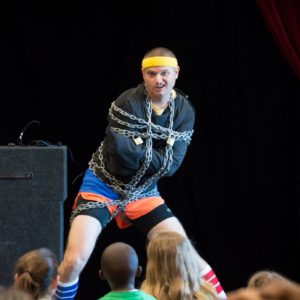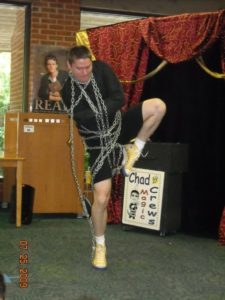 JRR: Will you ever have your children in your shows close to home once they get older? Or are they "off limits"?
Chad: I would love for them to be in the show if they want to and are willing to do the work and practice to do a routine or two – or they can help behind the scenes to set up the shows. I look forward to them getting old enough to help out!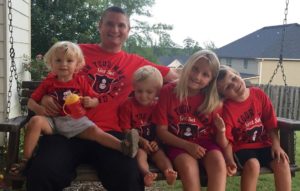 JRR: Do you have any magicians that you strive to be like?
Chad: I have a few influences as far as routines that I have learned and a few other areas, but ultimately I just want to be me and entertain my audiences. I have several friends and colleagues who do school and library programs that I stay in contact with as we are in similar markets and have similar experiences.
JRR: Your calendar fills up quickly. Some libraries and schools have you perform each year. Do you have any that you want to give a shout out to?
Chad: It does fill up quickly – at this point I book a year in advance for the majority of my library and school shows. There are too many of them to give a full shout out, but I'll always be thankful for my local library (Burke County) for giving me a try during that first summer in 2003. There are so many schools and libraries that have had me for going on a decade – and I appreciate them all for their loyalty in choosing me to perform for their audiences and encourage them to read!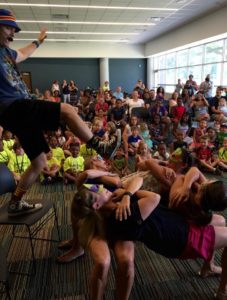 JRR: Pokemon is such a craze right now- do you play? If so what team are you? (Team Valor- red, Team Instinct- yellow, or Team Mystic- blue)
Chad: I know very little about the new Pokemon game, but my wife Lindsay and my older kids have recently started playing it and they absolutely LOVE it! I don't want to get started on it- I need the extra time to prepare for shows and to rehearse and learn my Poe stories and poems!
JRR: Is there anything else you would like to share?
Chad: I am very thankful and blessed to have the job that I have – I could not think of a more awesome way to make a living than entertaining and educating young people with magic and stories.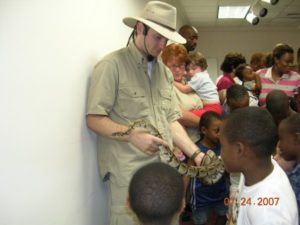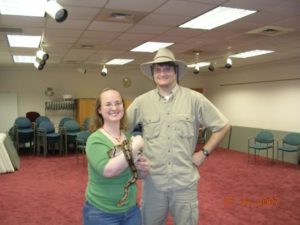 ***Thank you for your time for the interview Chad!
***If you are interested in having Chad perform at your school or library, tell them about him.  That could be all it takes to get him to start performing near you!! His shows are fun and entertaining! And more importantly: He is spreading the love of reading to the children!!!
Chad's Website
Chad Crews Magic Facebook Page
Burke County Library Facebook Page