The Sun Does Shine: How I Found Life, Freedom, and Justice on Death Row
Author: Anthony Ray Hinton
Narrator: Kevin R Free
Published: March 27, 2018
Audiobook: 9 hours 11 minutes
Reviewed By: Jessica
Dates Listened To: January 20-25, 2023
Jessica's Rating: 5 stars
Book Description:
A powerful, revealing story of hope, love, justice, and the power of reading by a man who spent thirty years on death row for a crime he didn't commit.
In 1985, Anthony Ray Hinton was arrested and charged with two counts of capital murder in Alabama. Stunned, confused, and only twenty-nine years old, Hinton knew that it was a case of mistaken identity and believed that the truth would prove his innocence and ultimately set him free.
But with no money and a different system of justice for a poor black man in the South, Hinton was sentenced to death by electrocution. He spent his first three years on Death Row at Holman State Prison in agonizing silence—full of despair and anger toward all those who had sent an innocent man to his death. But as Hinton realized and accepted his fate, he resolved not only to survive, but find a way to live on Death Row. For the next twenty-seven years he was a beacon—transforming not only his own spirit, but those of his fellow inmates, fifty-four of whom were executed mere feet from his cell. With the help of civil rights attorney and bestselling author of Just Mercy, Bryan Stevenson, Hinton won his release in 2015.
With a foreword by Stevenson, The Sun Does Shine is an extraordinary testament to the power of hope sustained through the darkest times. Destined to be a classic memoir of wrongful imprisonment and freedom won, Hinton's memoir tells his dramatic thirty-year journey and shows how you can take away a man's freedom, but you can't take away his imagination, humor, or joy.
Jessica's Review:
It's hard to believe that this story is true!  This memoir telling Anthony Ray Hinton's story is a shocking true story of injustice. In Alabama the mid-1980s he was found guilty of multiple murders and a jury sentenced him to life in prison.  The judge changed his sentence to death. I had no idea that judges could do that! What's even worse is that Anthony Ray Hinton was 1000% innocent and evidence even showed that.  Even more of a travesty was that he spent almost 30 years of his life on Death Row!
Yes, Hinton did have a little bit of a criminal past, but nothing even close to murder! The state of Alabama even knew that he was innocent but still wanted to execute him.  It did not matter that the real killer was out there. The evidence even showed he was innocent: He was at work on the night of one particular murder and he worked 20 minutes away from where the crime happened! His mother's gun had not been shot in 25 years, and he even passed a polygraph which unfortunately not admissible in court. Mr. Hinton was a young black man in Alabama.  And he did not have money.  Most people on death row are poor. Yes, most are guilty, but the injustice that Mr. Hinton suffered over the 30 years just leaves a poor taste in your mouth in regards to our justice system. 
We do get to see what life on Death Row was like for Hinton and the others.  He tells us everything. He spent his first three years silent.  Over time he saw many men executed and he tells the readers what the inmates did when another was in the process of being executed. Over the course of his thirty years the death penalty changed from electrocution to lethal injection.  At one point in his time inside the inmates were to form a book club and talked books! That brought joy to this book lover's heart.  They were able to pass books around to each other and talk books.
Over time we see the losses that Mr. Hinton deals with, and what could bring anger, hatred, and more to an innocent person spending all that time inside. The reader gets to experience Mr. Hinton's mental 'escapes' and meeting the queen of England and 'marrying' several famous actresses.  I hope he was actually able to meet at least one of these women in real life! I listened to the audiobook version and once he was finally released on April 3, 2015, I raised my hand in victory! The travesty of the injustice he experienced just angered this listener.  The narrator was Kevin R Free and he brought the perfect voice to Hinton in narrating this tragic real-life story.  Hinton's life story is one everyone must read or listen to. I would love to hear him tell his story in person one day.
Here are some quotes from the memoir:
"He was a poor man in a criminal justice system that treats you better if you are rich and guilty than if you are poor and innocent."
"My mama always told me that you get more flies with honey than with vinegar."
"No one can understand what freedom means until they don't have it."
Hinton's story just makes you think about the innocent ones on death row who have been executed and who are currently there now.  Our justice system really needs to be looked at. For me it is far worse for someone innocent to be imprisoned than a guilty person walking free. What happens if someone is found innocent and they spend all that time in prison. 
This is a memoir that stays with you and leaves you thinking.
Purchase Links:
Amazon US
Amazon UK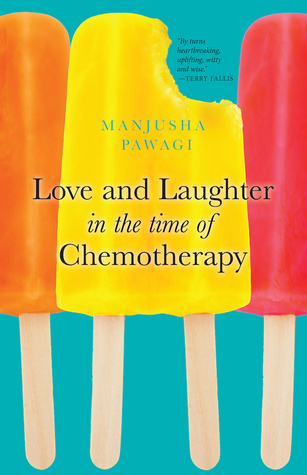 Author: Manjusha Pawagi
To Be Published: October 10, 2017
288 pages
Reviewed By: Jessica
Dates Read: September 20-29, 2017
Jessica's Rating: 4 stars
Book Description from Goodreads:
Manjusha Pawagi, a successful family court judge, has written a not-so-typical memoir about her experience with cancer. Wryly funny and stubbornly hopeful, this is her quirky take on what it's like to face your own mortality when, to be honest, you thought you'd live forever. She describes how even the darkest moments of life can be made worse with roommates; details how much determination it takes to ignore the statistics; and answers the age-old question: what does it take to get a banana popsicle around here?
Jessica's Review:
The title and cover of Love and Laughter in the Time of Chemotherapy caught my attention. The title is catchy and I wondered why does the cover have a popsicle?  This is a candid memoir of Manjusha Pawagi. A Canadian judge who was born in India, she tells it like it is as she gives you her experience with leukemia.  She leaves no tale untold, all the way down to the description of the ileostomy bags.
She is very detailed in her journey as she faces her many fears. My husband battled cancer as a teenager and this gives me an idea of what he went through.  He fought a different cancer than Pawagi had, but it gives the reader an idea of the struggle all cancer patients go through.  A cancer ward has to be a very difficult place to work and visit.
Pawagi is a minority of South Asian descent and you learn how hard it is to find a match for stem cells as according to the memoir ¾ of donors are Caucasian.  She says that only 4% of donors are South Asian and most likely her donor would have to come from the Indian state of Maharashtra where she is from.  Finding a donor is difficult in the first place and many people wait and unfortunately never find their match. Being a minority makes it more difficult. More people should sign up to be donors!
Pawagi also gives humor in this memoir.  She talks about wanting a banana popsicle (so that's where the cover comes in!) and still eating bacon.  She feels that if she stops eating bacon, then cancer wins.  We can't let that happen, keep eating and enjoying bacon!
Please note that Pawagi's journey is not a faith based journey.  She is an atheist and this does not change.  She is convinced that she will go to Heaven: 'I'm an atheist too, but I'm  firmly convinced that if I turn out to be wrong and there is a God, and all the accompanying heaven/hell thing, I am definitely going to heaven. I have no theological basis for this, but I know it would be ridiculously unfair if I were barred because of what I consider to be a mere technicality, which I equate to the minor procedural irregularities I see in court all the time, and which I either ignore or patch up after the fact in some way. Because, while I do not believe in God, I do believe in justice' (Chapter Seven). As a believer myself, I can't agree with her thoughts on this issue.  But this is her memoir to tell as she sees fit and she is free to believe or not believe as she wishes.
Earlier in her book she talks about her son's journal in school and that he took it seriously and wrote down everything he did.  He wrote so much that the teacher set a three page a week limit on the journals and would stop reading at three pages no matter how much was written.  She says:  'I will try not to inflict so much on my own readers, but just like Jack's teacher, you are free to stop reading at any point (Chapter Five).  I like her and her attitude, though it is hard to say I 'enjoyed' her memoir as it is a about a battle with cancer.
Love and Laughter in the Time of Chemotherapy is recommended.
Thank you to NetGalley and Second Story Press for granting me an e-arc copy!
[Top]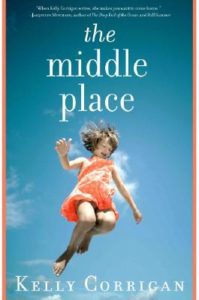 Author: Kelly Corrigan
269 pages in Paperback
Published: December 23, 2008
Dates Read: August 30- September 7, 2016
My Rating: 2.5 Stars
Book Summary from Amazon:
For Kelly Corrigan, family is everything. At thirty-six, she had a marriage that worked, two funny, active kids, and a weekly newspaper column. But even as a thriving adult, Kelly still saw herself as the daughter of garrulous Irish-American charmer George Corrigan. She was living deep within what she calls the Middle Place–"that sliver of time when parenthood and childhood overlap"–comfortably wedged between her adult duties and her parents' care. But Kelly is abruptly shoved into coming-of-age when she finds a lump in her breast–and gets the diagnosis no one wants to hear. When George, too, learns that he has late-stage cancer, it is Kelly's turn to take care of the man who had always taken care of her–and to show us a woman who finally takes the leap and grows up.
Kelly Corrigan is a natural-born storyteller, a gift you quickly recognize as her father's legacy, and her stories are rich with everyday details. She captures the beat of an ordinary life and the tender, sometimes fractious moments that bind families together. Rueful and honest, Kelly is the prized friend who will tell you her darkest, lowest, screwiest thoughts, and then later dance on the coffee table at your party.
Funny yet heart-wrenching, The Middle Place is about being a parent and a child at the same time. It is about the special double-vision you get when you are standing with one foot in each place. It is about the family you make and the family you came from–and locating, navigating, and finally celebrating the place where they meet. It is about reaching for life with both hands–and finding it.
My Review:
Kelly Corrigan's title of her memoir is The Middle Place; which is where she feels she is in life when this journey began. She is in that time between being someone's child and being someone's parent. I am the age Kelly is when she discovers the lump in her breast that ends up being cancer.
From the description of the novel, I expected to read more on her journey of going through the cancer treatments. Yes we do get some of that, but then her father gets his third occurrence of cancer and the book becomes more about her being concerned about losing her father. That may have been her coping mechanism to get through her cancer. But being her age, I wanted more of her story. Yes, this is her story to tell in her way, but it seems I wanted a different book than what I got.
In some ways she also became unlikeable. Again, this was most likely her coping mechanism. In one point of the novel she is angry with her husband for "talking to his parents too much" according to her:
"I'm glad you're bringing your cell. If you get bored, you can call your parents again." (Page 236)
"It bugs me that you're always calling your parents," (Page 237)
Then a couple of pages later, she is calling her parents to check on her dad and her girls. At one point her dad says:
"Lovey! I better let you go! You can't spend your vacation on the phone with us!" (Page 240)
Isn't this what you just got upset with your husband about?
Some reviewers have issues with the language she uses. Again, this is her story to tell in the way she will tell it. There was also no big revelation at the end. She didn't discover faith as some would have liked. This is a memoir and sometimes we don't get what we want as we do with with fiction books.
Overall, I can't recommend this book. It just wasn't for me.
[Top]