Author: Nicola Yoon
Published: November 1, 2016
Audiobook
Reviewed By: Jessica
Dates Read: January 12-23, 2018
Jessica's Rating: 5 stars
Book Description:
Natasha: I'm a girl who believes in science and facts. Not fate. Not destiny. Or dreams that will never come true. I'm definitely not the kind of girl who meets a cute boy on a crowded New York City street and falls in love with him. Not when my family is twelve hours away from being deported to Jamaica. Falling in love with him won't be my story.
Daniel: I've always been the good son, the good student, living up to my parents' high expectations. Never the poet. Or the dreamer. But when I see her, I forget about all that. Something about Natasha makes me think that fate has something much more extraordinary in store—for both of us.
The Universe: Every moment in our lives has brought us to this single moment. A million futures lie before us. Which one will come true?
Jessica's Review:
This novel was perfect for me; in fact it is my first 5 star read of the year.  I listened to the audiobook version. There are two narrators, Natasha and Daniel.  We experience the story through each of them via alternating chapters. The novel takes place in one 24 hour period: The day that Natasha and her family are to be deported. Life goes in a direction she does not expect and that direction is Daniel.
This is a pleasant YA novel.  We know from the beginning of the novel what the end of this day will bring.  We see how Natasha tries to fight to keep that from happening. We see how Daniel is basically 'the perfect son' who seems to be fated to go to Yale and become a doctor because his Korean parents expect it.
Sun was refreshing for me. Unlike most YA reads, the girl is the skeptic of love and the boy is the romantic.  Natasha is math and science oriented, she does not believe in love. Daniel is the poet and falls easily for Natasha. I really liked Natasha and how different both of them were.
There are minor characters that Natasha and Daniel meet throughout the novel who are just as important as our main characters. I liked how we saw little snippets of their lives and how connected we can be to each other without realizing it, and how doing one minor thing can affect someone's life forever. You never know what someone else is going through.
The ending was perfect for me.  It is not a happy ending nor a sad ending: it shows how life can be. Things happen and life goes on.
What drew me to Sun was both the author and narrator.  I enjoyed Yoon's other novel Everything, Everything and I love the narrator Bahni Turpni (whom also narrated Everything Everything). This is the third novel I have listened to that she has narrated. She is becoming a favorite narrator of mine.  There is just something about her voice that I like.
The Sun is also a Star is 100% recommended.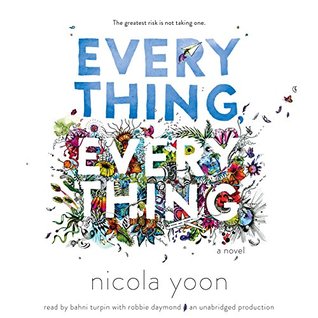 Author: Nicola Yoon
Audiobook
Published: September 1, 2015
Dates Read: April 27- May 6, 2017
My Rating: 4 stars
Book Summary from Amazon:
My disease is as rare as it is famous. Basically, I'm allergic to the world. I don't leave my house; have not left my house in seventeen years. The only people I ever see are my mom and my nurse, Carla.
But then one day, a moving truck arrives next door. I look out my window, and I see him. He's tall, lean and wearing all black—black T-shirt, black jeans, black sneakers, and a black knit cap that covers his hair completely. He catches me looking and stares at me. I stare right back. His name is Olly.
Maybe we can't predict the future, but we can predict some things. For example, I am certainly going to fall in love with Olly. It's almost certainly going to be a disaster.
My Review:
I saw the trailer for the movie version of Everything, Everything and it left me wanting to read the book.  I saw my library had it available as an audiobook, so I reserved it.  It is a shorter audiobook of six discs.  Madeline (Maddie) suffers from SCID (Severe Combined Immune Deficiency Syndrome) and can't leave her home or she will get deathly ill. She only sees her mom and her nurse.  She is fine with the life she is leading, but then a family moves next door. She soon 'meets' Oliver (Olly) and they become friends.  They have conversations via email and instant messenger.  They start to fall for each other and then Maddie begins to want more in her life as she starts to realize what she has been missing.
Everything, Everything is a cute YA novel that I enjoyed.  Maddie is our narrator through her diary. She is very smart, and also a voracious reader (I like her!). Though, in the beginning of the novel Maddie does come off as a little 'stalker-ish' with her constant watching of Olly's family and learning their schedules.  I had to remind myself that she is unable to leave her home so what else is she going to do? A new family moved in and they have a cute son… Of course she is going to watch them!
Olly is adorable and they are delightful 'together' through their communications.  They have the problem of wanting to be together, but her disease is preventing this from happening.  You can't help but want Olly and Maddie to be together despite her disease. Through her diary, we experience all of Maddie's feelings.
SCID is at the forefront of Everything, Everything, but the author did not research it enough as it is not accurately portrayed.  I will say this in regards to that issue: We get a small idea of what SCID or a serious disease could be like for someone that affects all aspects of their life. Although, I feel that if an author is going to use a particular disease at the forefront of their novel then it should be meticulously researched to be accurately portrayed. Despite the inaccurate portrayal of SCID, Everything, Everything is about a girl looking for some kind of normalcy in her life despite her disease.
There is an unexpected twist about ¾ into the novel. People seem to either like the twist or not. I was shocked with the twist and enjoyed all of Everything, Everything.  I can't say anymore without giving away this twist.
The only negative for me with the novel was in the audiobook.  There is a male narrator that was used for Olly when he and Maddie are communicating via email and instant messenger, but when they talked in person he was not used. I did not see the point of having a male narrator for part of the novel when he could have been utilized for all of Olly.
Everything, Everything is recommended.  If you are going to read it, forget the inaccurate portrayal of SCID and enjoy it for the novel that it is. I do plan to see the movie as well.
[Top]