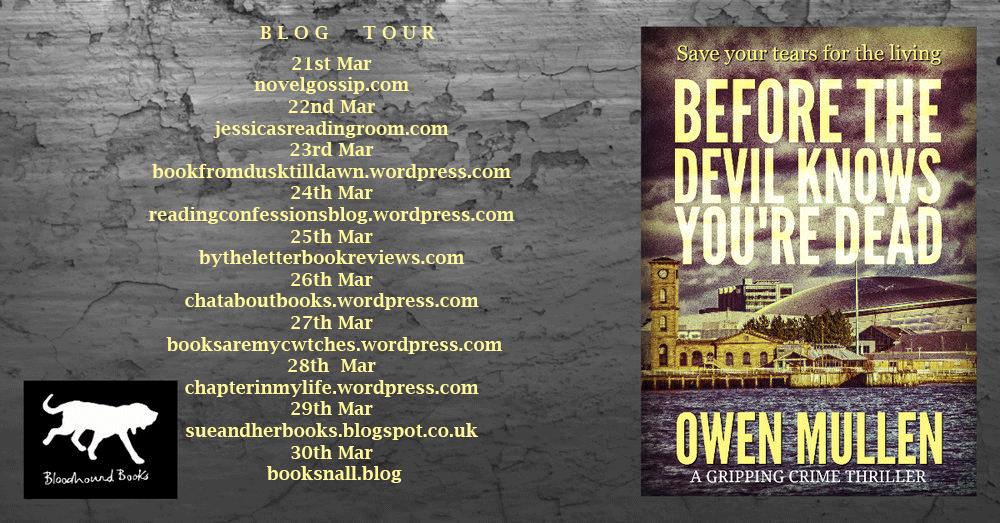 Today is my stop in the Blog Tour with Bloodhound Books for Before the Devil Knows You're Dead by Owen Mullen. Today I am sharing an excerpt of the novel.
Book Description:
Charlie's Back! Gavin Law was a whistleblower. Now he's missing. Just another case for Glasgow PI, Charlie Cameron, until he discovers there is more to Law and his disappearance than anyone imagined. Wallace Maitland, the surgeon responsible for leaving a woman brain-damaged may have abandoned his sacred oath and become a killer. Did the hospital which refused to accept responsibility for the tragedy have Law silenced permanently? Or, with his wife little more than a vegetable, has David Cooper, believing he has been betrayed yet again, taken justice into his own hands? Charlie comes to realise the world of medicine can be a dangerous place.
Across the city, East End gangster, Sean Rafferty is preparing to exploit the already corrupt city council in a multi-million pound leisure development known as Riverside. The project will be good for Glasgow. But not everybody is keen to work with Rafferty. With more than money at stake, Sean will do anything to get his way. His motto, borrowed from his old man, is simple. Never take a no from somebody who can give you a yes. If that means murder, then so be it. Charlie has crossed Rafferty's path before and lived to tell the tale. He may not be so lucky a second time.
Before the Devil Knows You're Dead is available now!:
Amazon US
Amazon UK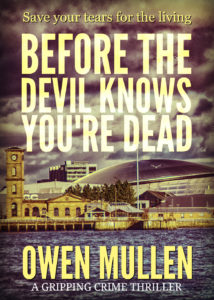 Book Excerpt:
Colin McMillan sat in the car outside the flat and stared at the window. More than once he started to get out and changed his mind. The light was on. She was there; he'd seen the curtain move an hour ago. Since then there had been nothing. For two months he had tried and failed to have a conversation with his estranged wife. Joyce didn't want to speak to him and hung up as soon as she heard his voice.
Without her, the house in Bearsden where they had lived for fifteen years, was just bricks and mortar; rooms filled only with memories of them as Colin and Joyce: The McMillans.
On their last night together they'd made love in the dark. And in the dark, Joyce was more demanding than he had ever known her. She devoured him, scratching his back and beating her fists on his chest like a trapped animal trying to escape. When it was over she turned away, sobbing quietly into the pillow. Because she had known.
The following evening, McMillan returned to find his wife gone, leaving him confused and unhappy and alone to wonder what he had done wrong.
Since then, he had drifted through days that became weeks then months, paralysed with sorrow; unable to come to terms with it. He had been here on other nights, hoping she would talk to him and at least tell him why.
The edge of the curtain drew back a fraction. For a couple of seconds a face peered down at him. Or did it? He couldn't be sure. It had been a long and difficult day in theatre dealing with a series of complicated deliveries; the surgeon was exhausted. Seeing what he wanted to see maybe. So he waited, afraid of causing a scene, knowing it wouldn't help. After twenty minutes he came to a decision. Whatever the problem was it could be put right. He had to have one last go at saving his marriage.
McMillan got out of the car.
His footsteps echoed in the stairwell. A lonely sound. At the top he stopped. The door of the flat was open. He called. 'Joyce! Joyce! Joyce it's me!'
McMillan went inside, along the hall and into the lounge at the end. There was no sign of his wife. He tried a bedroom. Nobody there. Not in the kitchen either. In the second bedroom he found her and his world fell apart.
Joyce was hanging from a cupboard door. She had cut an electrical cable off something and used it as a makeshift noose. Her features were distorted by the agony endured in the minutes before she died. Saliva trickled from her mouth and a viscous strand of mucous hung from her chin, like the beginning of a spider's web. The tip of her tongue poked from between her teeth above bulging eyes that didn't see.
The books she'd been standing on lay scattered on the floor and her arms were by her side, pushed tight inside the belt she had been wearing so she wouldn't be able change her mind. Joyce McMillan hadn't wanted to save herself.
Colin McMillan ran to his wife and threw himself around her waist, sobbing like a child. He eased her lifeless body off the door and carried it into the lounge. On the couch he placed a pillow beneath her head and ran his fingers tenderly through her hair. What kind of hell had she been in to do this?
The answer was on the coffee table. Three crisp pages slipped under a half-finished cup of tea, still warm. Joyce's small unhurried hand explained all her husband hadn't understood and more. At the end she had written 'I'm so sorry. Forgive me. Please.'
Reading it broke McMillan's heart. It hadn't been passion that final night, it was despair. When he finished he was crying. He turned off the light and sat staring into the darkness, drained of every emotion except hate. Joyce's face, horribly twisted in her final moments, would be with him for as long as he lived. He loosened his tie with a trembling hand. Eventually he folded the sheets of paper and put them in his jacket pocket, reached for the telephone and dialled 999.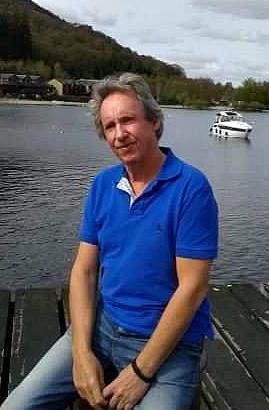 About the Author:
When he was ten, Owen Mullen won a short story competition and didn't write anything else for almost forty years. In between he graduated from Strathclyde University with a Masters in Tourism and a degree in Marketing, moved to London and worked as a rock musician, session singer and songwriter, andhad a hit record in Japan with a band he refuses to name; on occasion he still performs. He returned to Scotland to run a management consultancy and a marketing agency. He is an Arsenal supporter and a serious foodie. A gregarious recluse, he and his wife, Christine, split their time between Glasgow – where the Charlie Cameron books are set – and their villa in the Greek Islands.